(NEWS CENTER) — Jacob Thompson was diagnosed with Stage 4 high-risk neuroblastoma in February 2014 when he was just 5 years old. Amazingly, Jacob is now 9, but the family says his time is limited, he won't be leaving the hospital, he will be having one more Christmas.
"Jacob loves Christmas," says his father Roger Guay.
Jacob and his family will have Christmas this weekend. His hospital room will be decorated with a tree and lights, some fake snow and, of course, Santa Claus will be there. Like any 9-year-old boy, he wants presents and cards from his family and friends. But he also would love some love from anyone who feels inspired to reach out.
"He loves cards from all people. He's also a typical 9-year-old boy. He wants iTunes cards," Guay said. "He plays this game Sim City where he builds an entire city and he can use his iTunes cards to buy gems, which helps the process move a little faster."
Jacob's story has spread through the state and the nation and cards and gifts have been pouring in. What he really wants and loves is homemade Christmas cards. If any toys get sent his way they will be shared with all of the kids who are at the Barbara Bush Children's Hospital at Maine Medical Center.
Jacob received nearly 14,000 letters on Monday alone. That's thirty cartons of letters with more than 460 per carton.
PHOTOS: Jacob receives nearly 14,000 letters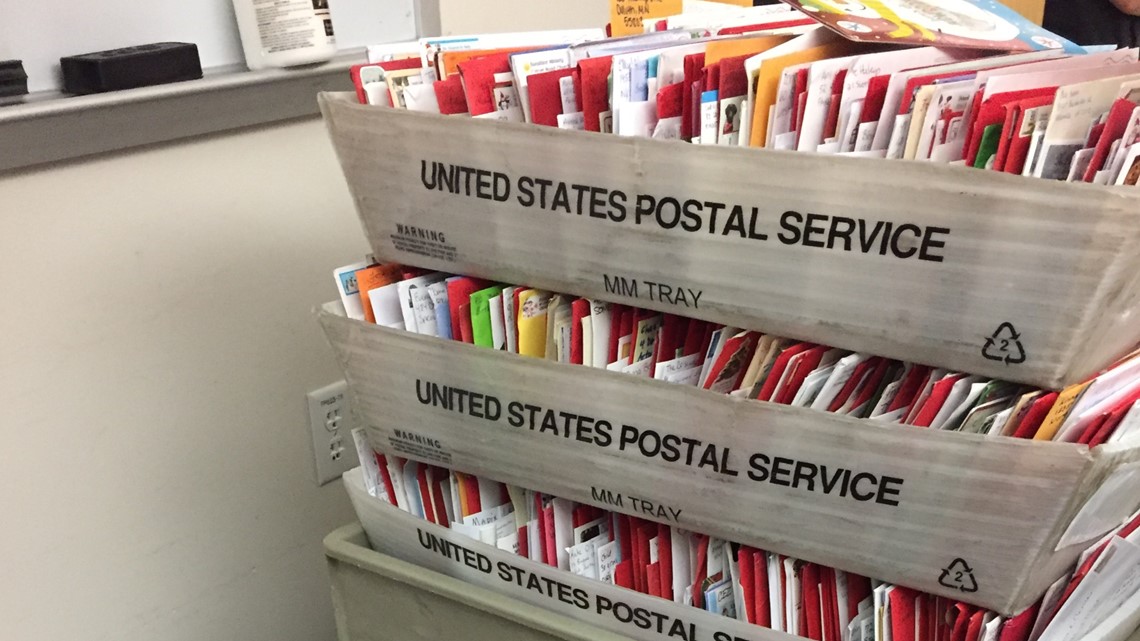 ► PHOTOS: Jacob receives nearly 14,000 letters
Jacob spent part of Friday opening some of the many cards and presents he was sent.
PHOTOS: Jacob reads cards, opens presents
► PHOTOS: Jacob reads cards, opens presentsJacob met members of the University of Maine men's hockey team Thursday night. They brought him a signed Black Bears jersey and hockey stick and posed for pictures.
PHOTOS: Jacob meets Maine Ice Hockey players
► PHOTOS: Jacob meets Maine Ice Hockey playersAlso, people have reached out about coming to sing Christmas carols for Jacob. If anyone wants to do so, they are asked to shoot videos of themselves singing Christmas carols and then post them on the Barbara Bush Children's Hospital Facebook page.We will continue to update this page with as many pictures/videos as possible as they come in to us.If you are interested in sending Jacob a Christmas Card, please send them to him at Maine Medical Center:Jacob Thompson
C/O Maine Medical Center
22 Bramhall St
Portland, ME 04102The family has also started a GoFundMe page: https://www.gofundme.com/xkcjc8
PHOTOS: Jacob Thompson
► PHOTOS: Jacob Thompson