Portland asylum seekers: What we know so far, and the answers we still seek
As city leaders work to help the nearly 300 asylum seekers who have arrived in Portland, NEWS CENTER Maine is getting answers to your questions.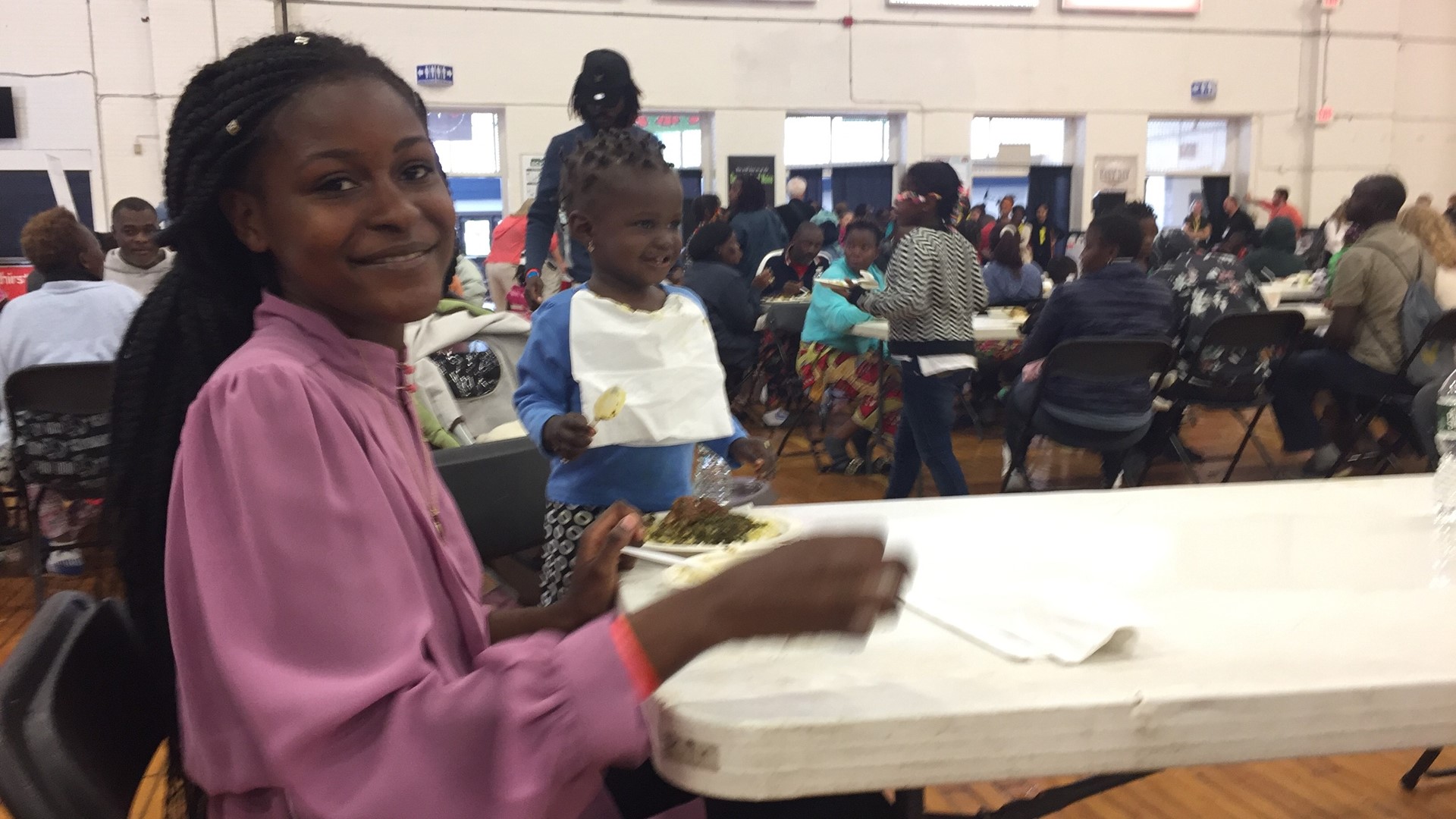 Sunday marks two weeks since the first group of asylum seekers unloaded from buses into Maine's largest city.
In the days that followed, dozens of families – totaling nearly 300 people – arrived as well; creating what city leaders called an 'emergency situation'.
Due to lack of space at the local homeless shelters, the city created a make-shift shelter at the Portland Expo. The families have been packed into the gymnasium full of cots, tables and chairs, children's toys, medical staff and volunteers since last week.
As city officials work to keep everyone comfortable, many things like the cost to the city and where these families will be housed while they seek asylum is still up in the air.
ASYLUM SEEKERS ARRIVE IN PORTLAND
:
In the first three days, 96 asylum seekers arrived in Portland and city leader were told they could expect as many as 150 more in the following days.
The families who arrived, including dozens of children, say it took them anywhere from four to six months to flee their war-torn countries and arrive in the U.S. Many of them came from the African countries of the Democratic Republic of Congo and Angola as well as Cameroon.
City officials say they were given little to no warning about the number of asylum seekers making their move to Portland from the U.S. southern border.
"It was completely unexpected," said Portland City Manager Jon Jennings.
The city would not only have to deal with the increased asylum population but the financial burden that would come with it.
"We're trying to obviously lessen the impact on the city budget, but this is an emergency situation," Jennings said.
EMERGENCY SHELTER CREATED AT PORTLAND EXPO
:
Due to limited space in the city's family shelters, an emergency shelter was created at the Portland Expo Center.
This would become a temporary "home" for the families and give city officials a space to perform their intake process.
A total of 350 cots were delivered by the Maine Emergency Management Agency and the Preble Street Homeless shelter provided meals for the families. In addition to those resources, Maine Medical Center donated linens and the city's metro donated two buses to help shuttle people to the Expo.
"We should not see these people as a liability," said Claude Rwaganje, founder of Prosperity Maine. Rwaganje moved to Maine from the Congo more than two decades ago. "Instead, we should see them as an asset. We have an aging state. I see it on the board of the Chamber and I know that every day when we meet we hear people talking about the need for workers."
KINDNESS COMES WITH A COST, BUT JUST HOW MUCH?
:
Despite the warm welcome from many in the city, the surge of asylum seekers became a point of contention for Portland taxpayers and Mainers across the state.
According to Portland City Manager Jon Jennings, these migrants have not yet started the official asylum seeker process. That means they are not eligible for Maine's General Assistance fund and the city would instead have to turn to its already over-budget Community Support fund.
The Community Support fund is the only of its kind in the entire country. The funds are used specifically for people like asylum seekers, refugees or immigrants who don't qualify for general assistance but need help getting their footing until they are eligible for state funds and programs.
The program led to overcrowding issues in early May, and now Portland City Councilors are worried that the CSF will not be able to fund the number of people coming to the city.
Officials have said on numerous occasions this fund is why Portland, Maine has become a sought-out destination for migrants.
"It is exceedingly difficult, and I want to stress that, to be literally the only government entity in the entire country that is providing any type of financial support for the asylum-seeking population that's coming into our country," Jennings said. "Just because there are some in our community that think the city should literally pay for everything, that doesn't mean that we can."
City leaders say it could be weeks before they know just how much these asylum seekers have and will cost the city in the future. Jennings estimated if all 65 families were to stay in the city for a year, it would cost roughly $1.3 million dollars. That number is based off what these families would receive monthly in GA benefits if they were to qualify. He says that estimate will eb and flow based on the number of families here.
MILLS, LAWMAKERS WEIGH IN ON 'EMERGENCY SITUATION'
:
The arrival of these asylum seekers gained national attention. Prompting Maine Gov. Janet Mills and other Maine lawmakers to weigh in on the 'emergency situation'.
More than 30 leaders from Maine and Portland met last Friday to discuss the recent surge of asylum seekers to the city and how they can help.
"When you see how many thousands of miles these people have traveled from their countries of origin – what they have escaped, the kind of violence and the kind of situations they have escaped – they've come here for us to help them, and I think we owe them a helping hand," Gov. Mills said.
Federal law prevents asylum seekers from applying for work authorization for 180 days after their arrival. Rep. Chellie Pingree, who was also at the meeting, says she is introducing a bill that would shorten the waiting period for asylum seekers to get a work permit. She wants to cut that number down from six months to 30 days.
"Gov. Janet Mills (has) said we're going to see this as a challenge that's affecting the entire state," Pingree told NEWS CENTER Maine. "Frankly, we need new families throughout our state, and we need more people in the workforce everywhere that people live. So, it is something that we should all be a part of, and it shouldn't be just a situation for Portland."
After Fridays meeting it was still not clear how much or if the state would be providing any financial assistance to the city. However, Mills did urge surrounding communities to lend a hand.
PORTLAND CITY OFFICIALS SEEK OUTSIDE HELP
:
City leaders remain confident in their welcoming approach but have since asked surrounding municipalities for help in supporting and housing some of the families.
City councilors in Westbrook and South Portland took up the issue in meetings earlier this and last week.
South Portland has since donated $40,000 in funds to help.
On top of that, close to $400,000 in donations have poured in to the city since last week.
'PHASE TWO' – FINDING ASYLUM SEEKERS LONG-TERM HOUSING
:
Earlier this week, city leaders told NEWS CENTER Maine they were working on what they are calling "phase two" – which includes finding temporary and long-term housing for those families seeking asylum.
The University of Southern Maine's president offered up the school's Gorham campus as an option through the summer, as did the president and CFO of Bowdoin College for their campus. The former Naval Air Base in Brunswick was also put out as an alternative.
However, Wednesday night, city officials announced they would be passing on USM's offer.
"While we are so appreciative of the USM offer and the other offers we've received, the City has come to the conclusion that the best course of action at this time is to focus on finding and providing more long-term housing solutions," Jennings said in a statement from the city Wednesday. "We believe that avoiding short-term housing options would be less disruptive and easier on these families who have already endured so much."
The statement goes on to say city officials attended an emergency meeting Wednesday morning of the Greater Portland Council of Government's Metro Regional Coalition:
"At the meeting, members of neighboring cities and towns agreed to work with local developers and private property owners to find vacant apartments or suitable empty facilities that could house 100 families. Committee members also agreed to ask their city and town councils to contribute money to nonprofit agencies assisting the asylum-seekers.
The Greater Portland Council of Governments will work with the City in organizing the regional response to finding long-term housing for the asylum-seekers. GPCOG will coordinate the creation of a program that will allow families to host asylum-seekers in their homes. The agency will distribute a list of nonprofits that have worked to assist the needs of families staying at the Portland Expo. City and town managers will coordinate financial contributions, so nonprofits receive needed funding."
"I'm so thankful for the productive conversations we had this morning with the Metro Regional Coalition," Jennings said. "We asked for the assistance of our neighbors in finding permanent housing solutions, and I was very pleased with the positive reaction we received."
HOW YOU CAN HELP
:
Jennings said he has heard from many people who wish to donate.
The city has set up a donation text line. Donors can text the word "expo" to 919-99.
The city is asking those who want to volunteer to NOT just show up, due to security concerns.
And last Friday afternoon, the city of South Portland announced it has set up a separate account to support the asylum seekers arriving in Portland.
THE STORIES OF PORTLAND'S ASYLUM SEEKERS
:
Among the dozens of families entering Portland to seek asylum was a woman from Cameroon named Sandrine and her young son.
She didn't want to give her last name or have her face shown but she was willing to recount the more than 10,000-mile journey it took to get her family from her home in Africa to Portland, Maine.
"There is no freedom there," Sandrine said as she held her infant son close on her lap. "We are being asked 'why are you fleeing' -- we're fleeing because we have nothing, there's only war back home."
Like many others seeking asylum here, her journey from Cameroon to the United States was not simple. With the help of an interpreter Sandrine recounted what forced her family to leave everything they knew behind.
"There's war and there's misery," Sandrine said. "There are no schools, there are no hospitals, they have been burned down."
She says she's seen mothers shot and killed while holding their children. Families searching for loved ones believed to be kidnapped. She says a lot of children hide in the woods because their parents have been killed and their homes have been burned down.
So, they started walking.
"There were days we didn't get any food or went without washing -- we had to sleep on the forest floor," Sandrine said. "We couldn't carry much so we left everything behind."
Sandrine and her family spent weeks walking through the forests of Africa. Once they reached Nigeria, they had to wait to get a flight out to Central America.
From there, they walked again.
Only this time through the jungle and tropical forest, crossing rivers and any other obstacles in their path until they reached the U.S. southern border -- eventually boarding a bus to Portland, Maine.
"We would like to have our papers as soon as possible so that we can work," Sandrine said. "Because we do want to work -- we don't want to be just coming here to sleep, no, we want to get up in the morning and go to work."
Her story is not unique. In fact, many of the families housed in the Portland Expo share similar stories.
"I'm very very thankful for everything that you've done for us," Sandrine said.
She says it's not just the hospitality she's thankful for, but the opportunities Maine will bring to her family, especially her baby boy.
"I know that he'll be able to study peacefully and that he'll be able to grow," Sandrine said. "So, it's a great joy."
As the city officials in Portland work to provide Sandrine and others with everything they need, she says what they have now is more than she could have hoped for. Going on to say she can't wait to see what the future holds.
"We are going to start over and we're going to start a new life," Sandrine said. "We're happy to be here, we love the United States and we are really thankful and really happy for everything that you do for us."
WHAT'S NEXT?
:
City officials say next steps for the families include getting them into some type of permanent housing and providing immigration attorneys to help with the next steps of applying for asylum.
While asylum seekers say they are grateful for the food and shelter, they're concerned about what's next.
One volunteer at the Portland Expo, Douglas Mpay, says many of the people staying in the make-shift shelter worry about how long it will take them to get the assistance and housing they need to succeed.
"They have a place to sleep, they have food everyday day but concern is what is next they're asking if they're going to sleep here forever," Mpay said.
Mpay knows that feeling all too well. He came to Portland from the Congo eight years ago. He's now working for Greater Portland Health and helping to provide medical assistance and support to the asylum seekers.
Among those he has helped is Alfonse Miguel.
Miguel along with his wife and kids are staying at the Portland Expo. They've traveled a long way to get here. Speaking through an interpreter, Miguel said, "(it) was difficult to take care of my children in my country, not being able to send them to school also peace was not there."
They left Angola to come to Portland.
"We heard back home that Portland was the place that welcomes immigrants and really take care of them," Miguel said.
Mpay says the asylum seekers are aware their presence is at a cost to others. How much of a cost, the city still doesn't know.
"Their intention is not to be a burden to the city," Mpay said.
Miguel says he and others were promised a meeting with an immigration attorney by Friday to help them sort out their legal affairs.
City officials say attorneys with ILAP -- the Immigrant Legal Advocacy Project -- have been assisting asylum seekers all week at the Expo.
ANSWERING YOUR QUESTIONS
:
Since their arrival, many of you at home have been flooding our email and social media platforms with questions and concerns about the asylum seekers in Portland.
Some of the most common have been:
How are these families getting here all the way from Africa with no identification or money?
I heard some of these people weren't paroled -- what does that mean? Does that mean they are here illegally?
Are these families eligible for assistance from the state?
To get answers for you, NEWS CENTER Maine spoke with Beth Stickney. Stickney is the Executive Director of the Maine Business Immigration Coalition and has been an immigration attorney for more than 30 years.
Q. How are these families getting here all the way from Africa with no identification or money?
After speaking to families over at the Expo, we're learning some of them had family members who were already in the U.S. send them money for a plane or bus ticket ticket. However, Stickney says sometimes it's more complicated than that.
"When you need to get out and you're desperate, you find a way," Stickney said. "Though they may not have passports on them now, that doesn't mean that they did not have some sort of documentation when they left their country."
She went on to say, "Along the way they could have had their passports taken from them by the smugglers that help people move north -- they have these situations where smugglers essentially go with them on the plane and once they get to their destination the smuggler takes the passport back for the next person they are going to be smuggling."
Q. I heard some of these people weren't paroled -- what does that mean? Does that mean they are here illegally?
The short answer is no. However Stickney provided more context to what it means to not be paroled.
"To an immigration lawyer, what that means is that they entered without inspection that's all it means they did not go through a border post," Stickney said. "They didn't go through Logan airport, they didn't go through a land border post -- that's all it means."
She went on to say, "They have been allowed into the country to apply for asylum or relief, they just came in a different way -- each of them has the exact same right to apply for asylum in front of an immigration judge."
Q. Are these families eligible for assistance from the state?
Yes and no. Stickney says anyone seeking asylum in the U.S. has one year from the time they enter the country to file for that status whether they have been paroled or not. But here is where it gets complicated -- those who haven't been paroled are not eligible as quickly for things like general assistance. However, Stickney argues that Maine statute says otherwise.
"The general assistance eligibility criteria in the state statute says someone who is lawfully present is eligible," Stickney said. "So in my opinion, every single one of them is eligible right now for state reimbursed general assistance."
Stickney says she was told the reason these families do not qualify is because Maine does not interpret that "here lawfully" piece to include people like asylum seekers.