PORTLAND (NEWS CENTER Maine) – Former Kennebunk High School teacher Jill Lamontagne spoke to NEWS CENTER Maine in an exclusive interview Friday after being cleared on sexual assault charges.
A jury quickly found Lamontagne 'not guilty' on 14 counts Thursday afternoon. A 17-year-old male student claimed she had a sexual relationship with him in 2017.
"It was really difficult. It was really hard to stay quiet and have the topic being reported and not have my side out too," Lamontagne told NEWS CENTER Maine's Cindy Williams. "It felt like a scarlet letter was being painted on me while my mouth was closed shut."
The wife and mother of two young children detailed how she always cried in the shower to protect her family, and started to see a trauma counselor throughout the ordeal.
She said the process took an emotional toll on her father, who now teaches at Kennebunk High School, and her husband.
Lamontagne, who maintained her innocence, still insists she was not in the wrong to text and Snapchat a student. She said she was simply trying to help him graduate.
"I don't think I went wrong anywhere," she said. "I do think of things that could've gone differently, but I'm a big believer in fate and that things happen for a reason. I can't find the reason of why this happened, but I can't live in a world of regret."
She claimed the now 19-year-old student was "depressed and impulsive" and that he told her he was struggling with addiction.
"I was nervous for him," Lamontagne said.
When asked about why she sent the song 'Who I am with you' by Chris Young to her former student, Lamontagne argued that it was not romantic and was purely to send a message about being able to "change to be a better person."
The now 19-year-old student testified during the trial that he had sex with Lamontagne in her home and in her classroom in 2017. Lamontagne said he was lying the entire time.
"Kids shouldn't be able to do this or they should think twice before they say something or repeat something," Lamontagne said. "One thing that happened on more than one occasion at the time that I was back in school in April and May is kids were having conversations about 'Well we know how to get rid of teachers we don't like.'"
That behavior is why so many of her fellow teachers rallied around her, according to Lamontagne. She said she disagrees with Kennebunk High School's policy that prohibits teachers from contacting students via text and social media.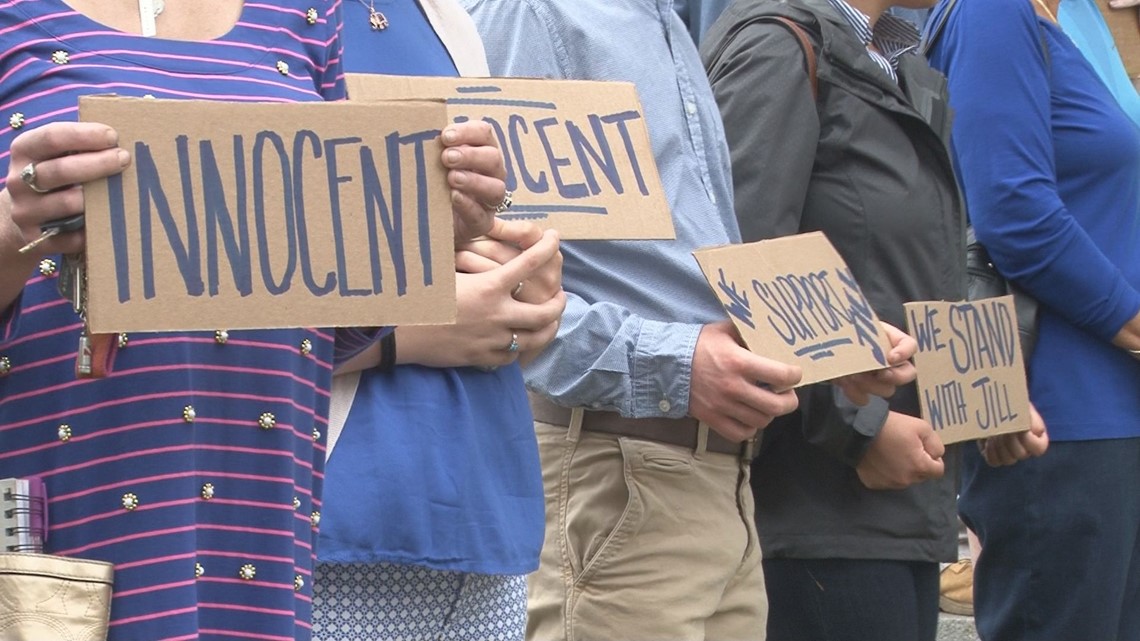 The pair exchanged nearly 200 text messages and phone calls, according to an expert's testimony. As a coach and adviser for several clubs at the school, Lamontagne said it was the only way to contact students.
"The whole thing just felt so unfair," she said. "The line was never black-and-white which was really hard."
Superintendent of Kennebunk Schools Dr. Kathryn Hawes issued the following statement after Thursday's verdict:
Although Ms. Lamontagne was acquitted of the criminal charges, I think it is important to acknowledge that the evidence that was presented during the trial demonstrated a troubling failure by one of our teachers to comply with the standards we expect of all of our employees.
As for her future, Lamontagne told NEWS CENTER Maine she hopes to one day be able to return to Kennebunk High School and hopes her former student learned a valuable lesson.
"I don't have anything to say to him. I guess I hope he gets the help he needs," Lamontagne said.