FRYEBURG (NEWS CENTER Maine) — A massive fire destroyed two buildings and damaged several more Tuesday night at the historic Fryeburg Fairgrounds.
Fire officials said Wednesday that the blaze was caused by an accidental electrical failure in the building that housed sheep.
The Fryeburg Fair's Facebook page confirmed in a post that two buildings – the Beef barn and larger Sheep Barn located near sector No. 18 between Equine Road and Oxen Alley – burned to the ground. Six other buildings were damaged, according to the fair.
Multiple fire departments, including Fryeburg and East Conway, New Hampshire, responded to the fire. East Conway's department wrote on Facebook that a "quick response from many mutual aid departments and strong command got this incident under control quickly."
Fryeburg Fire Chief Andy Dufresne said it's an impact to the community.
"[It's] a very heartfelt place to the community," Chief Dufresne said. "A lot of people spend a lot of time and effort here to make it what it is and it's a great loss to have something like this happen. We were very fortunate – through the hard work of the some-20 communities that came here to help us – to limit the fire to the building of origin and the one next to it with only minor damage to the other buildings."
Dufresne said it's too early to tell whether it'll impact this year's fair. He said his department would be meeting with the state fire marshal to perform an investigation.
PHOTOS: Fryeburg Fairgrounds fire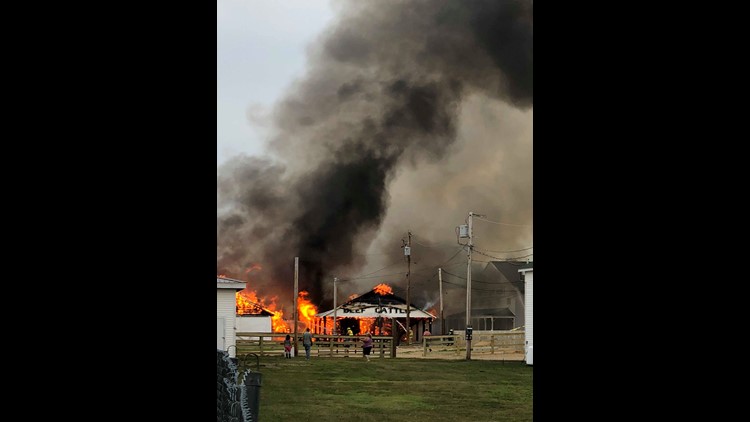 Nearby resident McKenzie Woodward told NEWS CENTER Maine it was hard to witness.
"As someone who was raised and still lives in Fryeburg this is so heartbreaking," Woodward said. "Several generations of my family work there during the week and we love the fair."
The Fryeburg Fair, held annually at the fairgrounds in late September and early October, has existed for more than 160 years. This year's fair is scheduled for Sept. 30 through Oct. 7.