SACO, Maine — A man wanted on multiple out-of-state warrants remains sought by police after apparently escaping from a standoff Friday in Saco.
Todd Shackelford, 43, has warrants out of Connecticut charging him with probation violation on an original charge of robbery, police said.
According to the department, which said it learned of Shackelford's outstanding warrants Friday, the initial authorization has been in effect since 2002 with nationwide extradition, meaning he could be sent back from any state.
Police said they checked several addresses, then began to focus on one in particular on Lincoln Street, an area of the city located along the Saco River. They said surveillance video caught Shackelford returning to the address, at which point officers attempted to take him into custody.
That's when Shackelford allegedly ran into the multi-unit building, and went inside a unit that he did not live in, police said. Officers surrounded the building within minutes and learned there was a woman in the unit he ran into.
Police said officers weren't able to contact the woman by phone, and they became concerned she was possibly being held against her will.
A SWAT team was called in, and shortly after its arrival the woman exited the unit. She told police she never saw Shackelford and that she was unharmed.
Hours passed as the team tried to contact Shackelford. A loud boom was heard while a police negotiator used a megaphone to ask a man to exit the home.
Police activity in Saco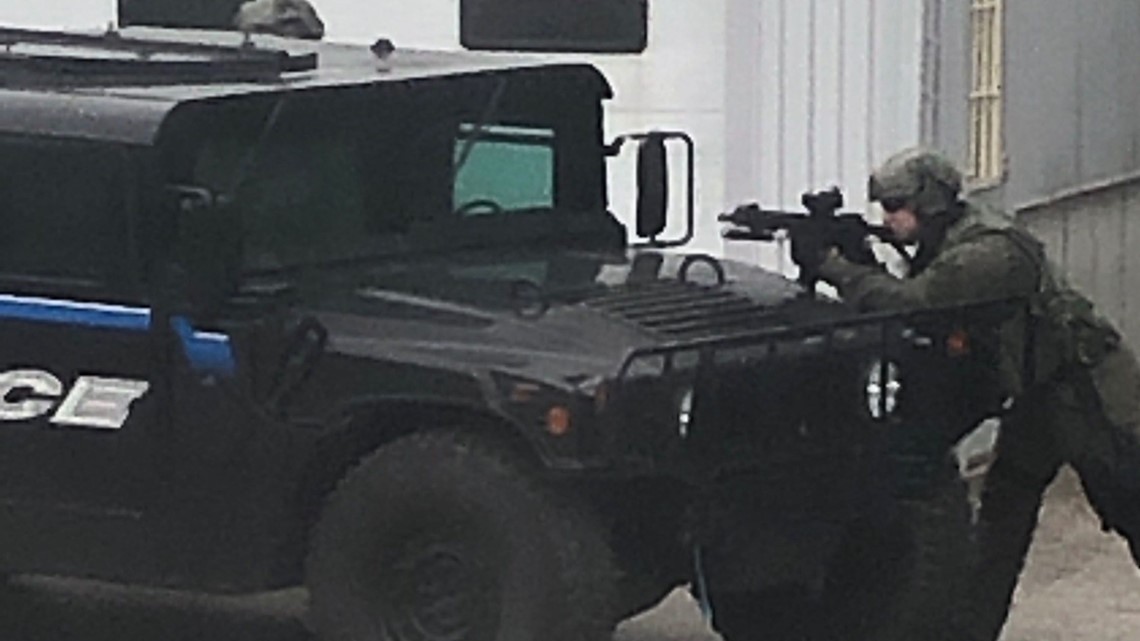 A bystander, Robert McNinch, confirmed earlier to NEWS CENTER Maine that his brother-in-law, Shackelford, was part of a Connecticut armed robbery in the 1990s and either missed a probation hearing or violated his probation.
McNinch said Shackelford is a great guy who has lived in Saco for nearly 20 years. He said his family is not happy with how police handled the entire situation Friday, saying it never should've gotten this out-of-hand.
"There's no guns in the house at all," McNinch said. "There's a BB gun locked up in the shed, so that's where I think they got this idea that there's a gun."
Carrying heavy firearms, the tactical team finally searched the building and couldn't find Shackelford. His whereabouts are now sought by police.
Shackelford, who's not considered to be armed, is described as a white male who is 5 feet, 10 inches tall and about 160 pounds with brown hair and blue eyes. He was last seen wearing a black T-shirt with lettering and jeans.
Anyone with information is asked to contact the Saco Police Department at 207-284-4535, or your local law enforcement agency.
During the standoff, the city asked residents to avoid the area.
Traffic was a major issue in the area. Heavy congestion was particularly present near the site and on Main Street in Saco, and through Springs Island.
The Saco School Department sent out a message to parents shortly before 3 p.m. stating that some kids were being held at their schools due to many roads in the area being closed because of the incident on Lincoln Street.
Buses 723 and 718, as well as pre-K bus 756, were affected, the department said. It advised parents with questions to call their respective schools. Parents could pick up their students or wait until police had given the buses clearance.
Other stories trending on NEWSCENTERmaine.com: