MECHANIC FALLS, Maine — Maddie Yates knows her way around a guitar.
As she sat in a studio in Yarmouth, flat-picking her way through "Devil's Dream," the Greeley High School junior said she has been studying the instrument for five years. On May 21, she will be honored as the 2023 Maine High School Guitar Champion.
"Very shocked," Maddie said of her reaction to the news she had been selected as the winner.
"I go to school all day. I'm a normal person. And when I get home, and Ken called me, I was no longer a normal person: I was Maine teen guitar player of the year."
Ken Brooks who called her is the president of the Maine Country Music Hall of Fame, which is sponsoring the annual award. A longtime musician himself, Brooks has played with Maine's best bluegrass bands and also performs as a duo with his wife, Jane Brooks, who plays stand-up bass.
Ken Brooks was inducted into the Hall of Fame in 2012 and, like Maddie Yates, was surprised at the time.
"When I was told I was going to be nominated, I had never heard of the hall of fame," Brooks said. "I thought it was a joke. What, a hall of fame for country music in Maine?"
Indeed, there is. The hall of fame also has a museum to Maine's history of country music, which is a surprisingly long one. The 150 members already in the hall date back as far as the early 20th century, with acclaimed fiddle player Millie Dunham.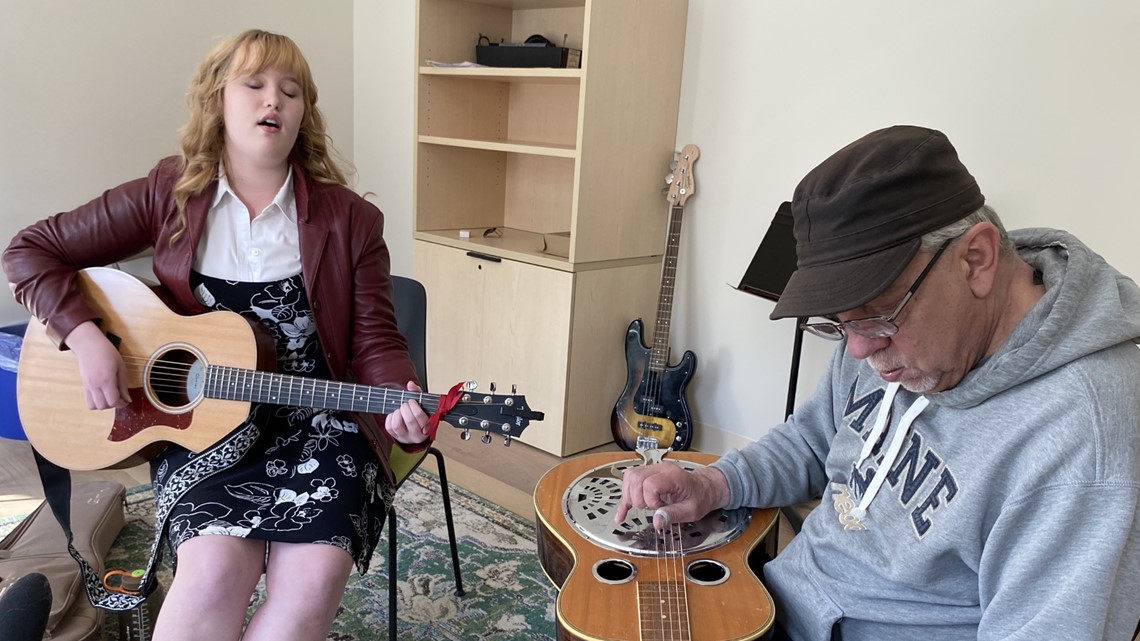 The first inductees, according to Brooks, came in 1978, when Maine country music legends Hal Lone Pine, Dick Curless, and Ken McKenzie were the first to be honored. Hal Lone Pine had been a popular radio and stage performer in the 1940s and '50s, playing in the U.S. and Canada with his wife, Betty Cody. Ken McKenzie was also a popular radio and later a TV performer, known for his playing and yodeling.
Dick Curless was arguably Maine's most successful country music artists, performing nationally in the '50s and '60s. His best-known hit, at least in Maine, was a trucking song "Tombstone Every Mile."
"Curless had national hits," Brooks said. "He was well-liked and well-known all over the world."
Brooks often gives tours of the Hall of Fame, where he can speak about the history of most of the members and the music itself, which has deep roots in Maine.
"Country music has always been about stories, of the workingman, love lost and won, comedy sometimes, and gospel and a combination of those things and bluegrass. But they all tell some kind of a story," Brooks said.
But Ken and Jane Brooks have said that they and many other older country musicians are worried the classic songs they love may disappear if a new generation isn't encouraged to learn and play classic country.
That's where Maddie Yates and the high school guitar competition come in. Yates plays bluegrass right now, and while she isn't sure where music will fit in her future, Ken Brooks said they hope she and others will take an interest in preserving the musical traditions.
"We feel like if we don't make sure young people are learning what we have here, and learning classic country music, it will disappear," Ken Brooks said.
"They are our hope," Jane Brooks added.
Maddie and the new hall of famers will all be honored at a big concert on May 21 at the Silver Spur in Mechanic Falls, right upstairs from the Hall of Fame and museum.
More stories from 207: