SOUTH PORTLAND, Maine — When a 30-year-old man loves a woman and that woman loves a magazine for seniors, he uses it to his advantage.
Sam Weiss and Erin Cohen met on the dating app Tinder. Sam is a rabbinical student who has been living in South Portland since the beginning of the pandemic. Erin was living in Boston up until a few short months ago. She set up a profile on Tinder and selected a five-mile radius around her Boston community to find other singles.
Sam was making trips to Boston in the summer of 2020, to visit his grandmother who was dying of lung cancer. It was these brief trips that put him on Erin's radar. The two matched and then chatted on the phone.
"We talked over the phone and had a long long conversation and really hit it off," says Sam.
"It was far and away the best conversation of my life. I just had a feeling that I would know this person for a very very long time," Erin says.
It wasn't long before Erin was traveling to Maine to visit Sam and after a few months, she simply stopped returning to Boston.
Because of the pandemic, the couple says they were able to "fast-track" a relationship. But what do you do when you are dating during a pandemic? Turns out a lot of grocery shopping and cooking.
It was while at their local grocery store in South Portland that the glossy cover of Maine Seniors Magazine - a free publication geared for Mainers over 50 - caught Erin's eye.
"It's a nice magazine... They do really interesting profiles of people. They have a hilarious advice column in the back and we just started picking it up at the store and reading it together," Erin says.
Sam admits for many months the grocery store was one of only a few places the couple went so to make the most of it they would stock up on "food and literature."
With all the cooking and reading together, it wasn't long before Sam knew he wanted to propose to Erin. He wanted to surprise her but anything he would suggest to do would be a huge tell. He devised a plan. Sam knew if he proposed to Erin through their favorite magazine she would see it.
The magazine was on the rack at Hannaford for several days before the couple finally picked it up. On February 12, the couple's six-month anniversary, they went grocery shopping and finally picked up the special edition of Maine Seniors Magazine. They decided they would read the love stories as a way to celebrate their anniversary.
Maine Seniors Magazine helps out young couple seal the deal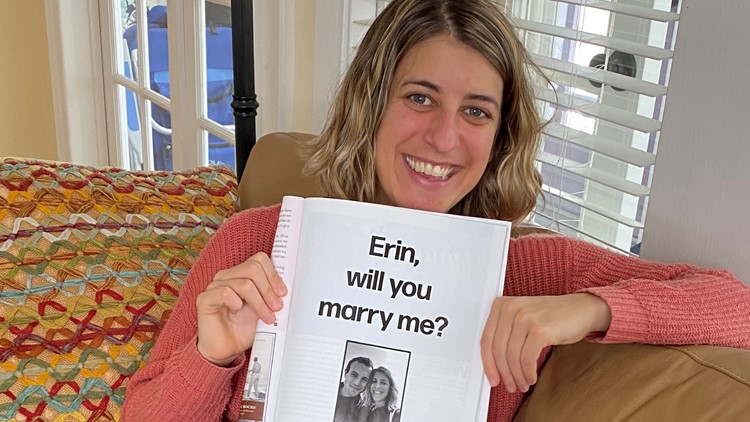 In her pajamas, while eating dinner, Erin flipped through the magazine and almost immediately landed on the question Sam had been longing to ask her.
"I took a bite of my dinner, started to choke. I was totally, totally shocked... I had no clue that anything special was about to happen," Erin recalls with a smile on her face.
Of course, she said yes. (It wouldn't be much of a story if she said no!)
The diamond in Erin's engagement ring was left to Sam from his late grandmother, the same grandmother who visiting her at the end of her life made him pop up on Erin's dating app.
The couple has set a wedding date for September and will get married in Maine.