PORTLAND, Maine — UPDATE: This segment was recorded before the COVID-19 pandemic.
Chef Annie Mahle was the chef and co-captain aboard the Schooner J. & E. Riggin until recently when she and her husband sold it. Mahle is also the author of a handful of Sugar & Salt cookbooks. She shared one of her favorite comfort food dishes with us in the 207 O'Maine Studios kitchen.
Fettuccine with Chicken, Mushrooms and Caramelized Onions
This recipe is perfect for using up leftovers from a whole roasted chicken. If you don't have cooked chicken handy, you can use uncooked, boneless chicken – 1 to 1 1/2 pounds of chicken tenders, breasts, or thighs, cut into 1/4-inch slices. Just add the chicken at the same time as the mushrooms instead of at the end of the recipe and increase the cooking time to 10 minutes.
1 pound fettuccine
2 tablespoons extra virgin olive oil
3 cups sliced onions; about 2 small to medium onions
10 ounces mushrooms, sliced; about 4 cups
1 1/2 teaspoons kosher salt
several grinds fresh black pepper
1/2 cup white wine
1 cup heavy cream
3 cups cooked chicken, pulled into 1-inch pieces
1 ounce grated Parmesan cheese; 1/2 cup lightly packed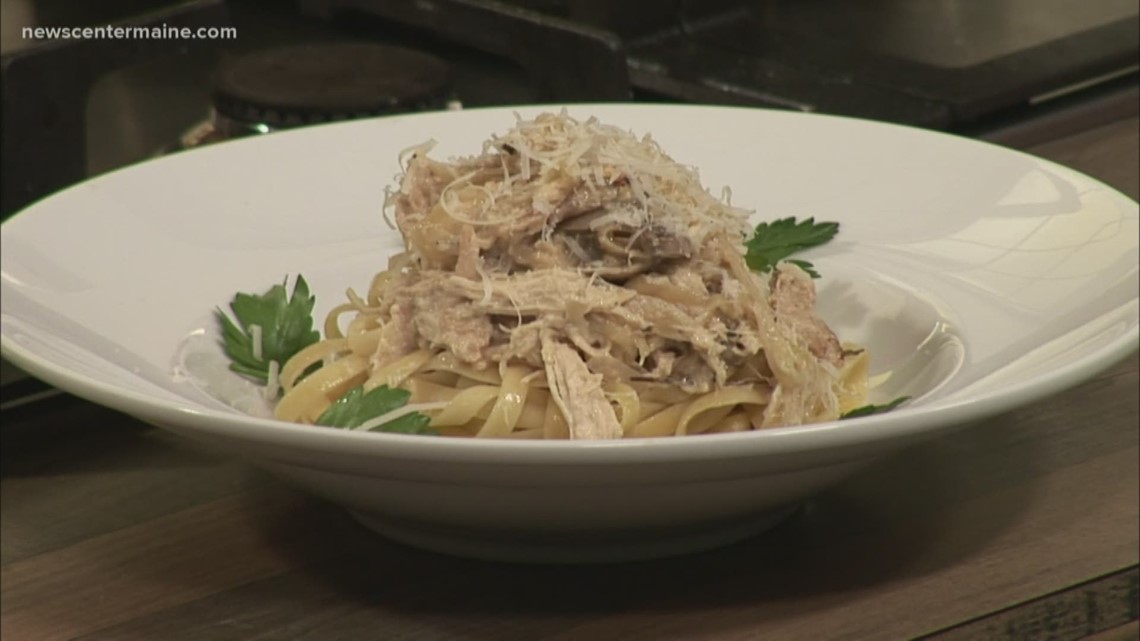 Following the instructions on the package, bring water for the fettuccine to a boil. While the water is heating, heat the oil in a large sauté pan over medium-high heat; once the oil is hot, add the onions. Sauté the onions for 20 minutes, reducing heat to medium-low when the pan begins to brown slightly. When the onions are tender and golden brown, add the mushrooms, salt, and pepper and sauté for another 5 minutes. Add the wine, return the heat to medium-high and bring to a boil. Begin cooking the pasta following the package instructions. Add the heavy cream to the onion/mushroom pan and bring to a boil again. Add the chicken and continue cooking for a few more minutes, stirring frequently, until the chicken is heated through; serve over the pasta with Parmesan as a garnish.
Serves 4 to 6 generously.