John Williams found guilty of murdering Cpl. Eugene Cole
A jury on Tuesday found John Williams guilty of murder in the April 2018 fatal shooting of Somerset County Sheriff's Deputy Cpl. Eugene Cole.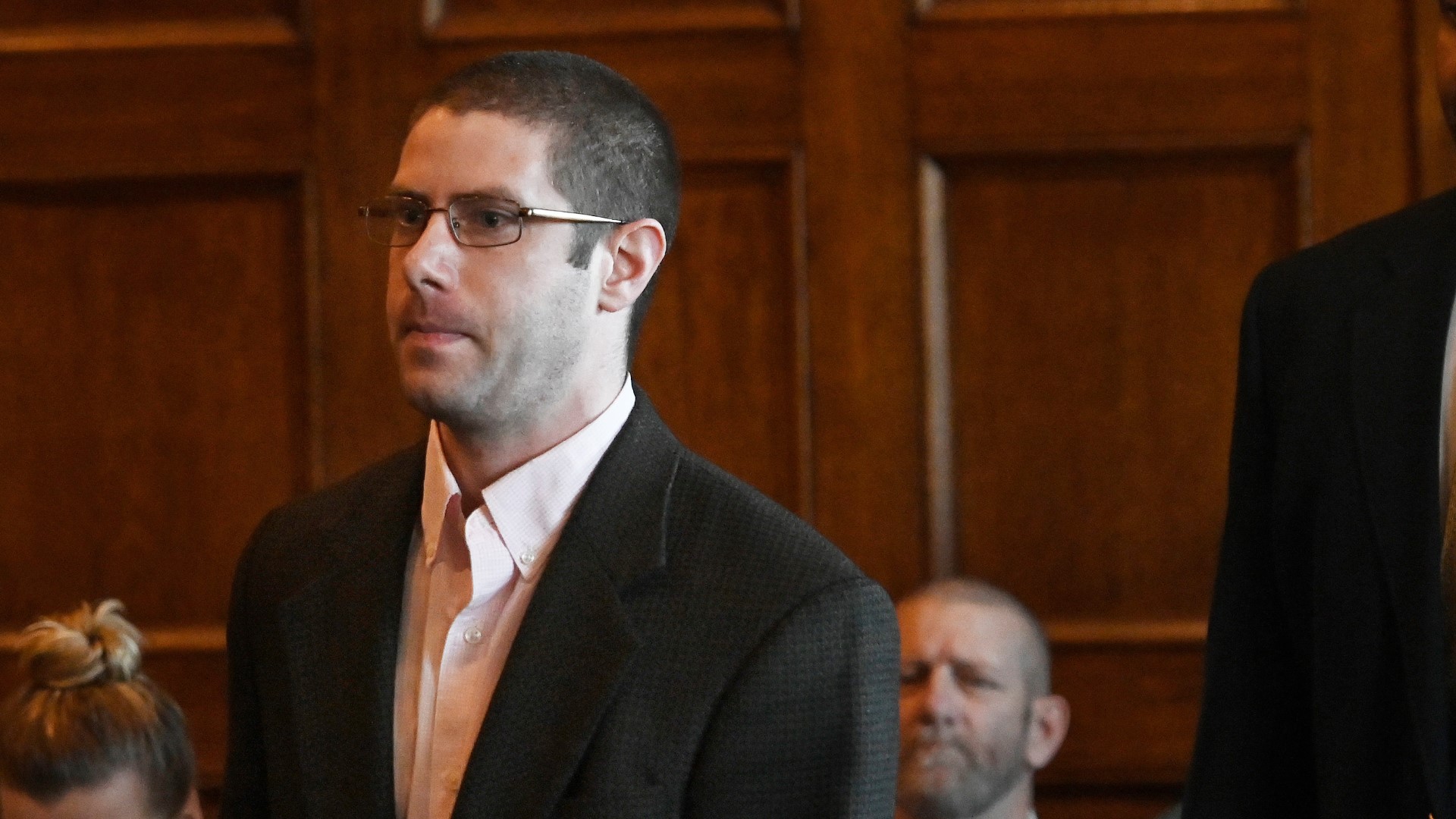 The man accused of murdering a sheriff's deputy last April was found guilty by a jury Tuesday in Cumberland County Superior Court.
Somerset County Sheriff's Deputy Cpl. Eugene Cole was shot and killed on April 25, 2018, in Norridgewock. After a manhunt, Williams was captured and charged.
Both sides of the case agreed at the trial's onset that Williams fired the shot, but the defense claimed he was sleep-deprived and on drugs at the time.
Day six of the murder trial started with closing arguments.
Deputy Attorney General Lisa Marchese told the jury that for the past week the state demonstrated without all doubt that Williams is guilty of murder.
"John Williams knows exactly what happens when you put the muzzle of a 9 mm to a man's neck and pull the trigger," she said. "The target is eliminated. He did what he intended to do."
Deputy AG Marchese pointed to scientific witness testimony and Williams' own confession to police that he knowingly and intentionally shot and killed Cpl. Cole because he didn't want to go back to jail.
Marchese read from Williams' confession: "I pulled my pistol and got the jump on him and shot him.I shot him in the head when he was on the ground.
Williams' defense attorney Vern Paradie asked the jury to remember Williams' excessive drug use at the time, and to consider there was no way Williams could have intentionally killed Cole.
"He didn't mean to," he said. "He told [state witness] Dr. O'Grady it was like I was watching myself in third person, everything was happening so fast, then after I snapped back to reality like a rubber band."
Paradie also wanted the jury to question the state's reenactment of Cole's shooting. The defense didn't agree with the state's forensic evidence that Cole was shot execution style.
"In regards to the reenactment, you decide if you want to give it weight. But I strongly suggest you don't," Paradie said.
The trial was postponed Monday because Paradie was considering calling a witness to counter the state's theory on how close Williams was when he shot Cole. That witness wasn't available until Tuesday, but Paradie ultimately chose not to put the witness on the stand.
After closing arguments, the case was handed to jury. They took less than four hours to reach a verdict.
Williams did not visibly react to the verdict, which was unanimous among jurors. Many of Cole's family members, meanwhile, could be seen tearing up.
As part of the verdict announcement, each juror was asked to repeat their individual decision on the murder charge.
"I hope you feel good by what you've accomplished," Superior Court Justice Robert Mullen told the jurors, thanking them for giving their time to the trial.
Williams will continue to be held without bail until his sentencing, which is expected to be in September.
The prosecution will ask the judge to hand down a life sentence. In Maine, there is no chance for probation or parole with a life sentence.
The defense will ask for the minimum, which his 25 years. Paradie also said he will use the state's reenactment of Cole's shooting as grounds for appeal.
Marchese said she thought Williams' confession was the most compelling piece of evidence in the case against him. Additionally, she said the dash cam video "basically confirmed" that it was Williams who committed the homicide.
"You never know what goes on in the mind of anyone," Marchese said. "We wanted to make sure that the jury understood that by putting the trigger up against the neck of Cpl. Cole, he intended to kill him. That wasn't just a confused, drugged-out person. He did what he wanted to do."
Tom Cole, Eugene's brother, said that although no one wins in a situation like this, the verdict brought a bit of closure for him and his family. He said he would continue to pray for Williams' family, too – "they're hurting."
Cole said he and his family had confidence in what the state brought forward.
He thanked the entire state community for their support.
"Hopefully we can start to sleep at night again," Cole said. "Maybe it won't be out there as much; maybe some of the wounds can start healing, cause it seems like this year as one wound starts to mend it's ripped back open, so hopefully now we'll be able to mend a bit."
Cole also thanked the jurors. When you listen to all the evidence presented, Cole said, they used their common sense. They listened and did their job, he said.
APRIL 25 SHOOTING
:
Cole arrived in the early morning hours of April 25, 2018, to likely arrest Williams on drug charges. A month prior, Williams was arrested in Massachusetts on a charge of illegal possession of a firearm, and was scheduled to appear in court in Massachusetts on the day he allegedly shot and killed Cole.
During a confrontation, Cole fell on the ground and was shot in the neck.
Williams would steal Cole's cruiser and eventually rob a convenience store, shoplifting cigarettes and a bottle of water, as evidenced by dash cam video.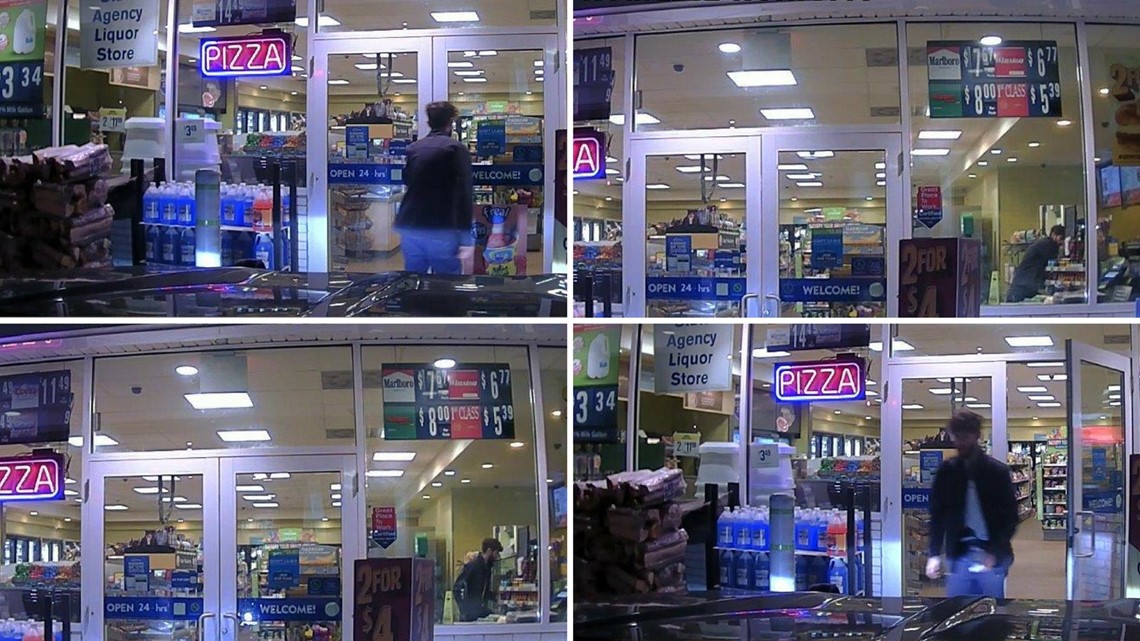 Later that day, Cole's body was found outside a home on Mercer Road by Kimberly Sirois, who yelled and screamed for officers searching nearby. The murder suspect, Williams, had coincidentally lived with Sirois earlier in life.
After the release of an affidavit, the alleged timeline of what took place during those early morning hours in Somerset County became more clear.
MANHUNT FOR WILLIAMS
:
A day after the fatal shooting, the FBI announced a $20,000 reward for any information leading to Williams' arrest.
Shortly after Williams was identified as a suspect in Cole's murder, another man who goes by the same name in Madison was bombarded with messages. The 74-year-old retired mill worker said he received hundreds of comments on his Facebook, some wishing he rot in prison, he die or for harm on his family.
As armed search crews were spotted in several areas between Fairfield and Norridgewock, community members voiced their concerns. Some were on edge, scared about the possibility of a dangerous man nearby. Others were thankful they were armed themselves, prepared for a possible encounter.
"He's got more to fear from the residents up here than we have to fear from him," said Brian Krampert. "We all have guns. We all know how to use them."
Several school districts across Somerset County, including in Norridgewock and Fairfield, were put into lockdown as armed search crews looked for Williams.
While authorities searched Williams' home in Madison, a man who lives across the street was unable to get to his wife, who he said suffers from a number of medical issues. Multiple hours later they were able to reunite.
A friend of Williams told NEWS CENTER Maine they didn't expect he would turn himself in alive. Chris Shulenski of Skowhegan, Williams' former coworker, said he didn't feel like he would see him alive again. "I know him too well," he said.
THE CAPTURE
:
Three days after Cole was killed, a manhunt concluded in the suspect's capture. Williams was taken into custody about a half-mile back from Norridgewock Road.
Williams was brought into custody using Cole's handcuffs, something a law enforcement officer told NEWS CENTER Maine was the plan all along.
Immediately following news of his capture, a followed of Williams being held up by his hair was widely circulated on social media. Its origin was initially unknown until Maine State Police admitted it was theirs and defended its use.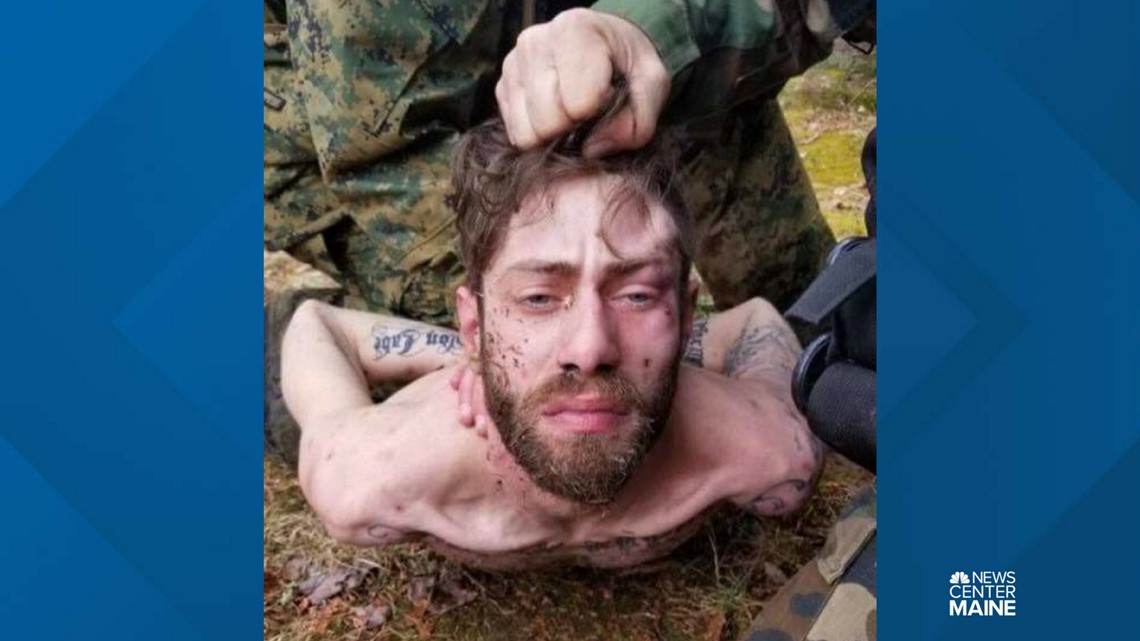 A day after Williams' capture, Somerset County deputies returned to their patrols, attempting to return to a sense of normalcy. They knew it would take some time.
"The hardest part is yet to come," Cpl. Ritchie Putnam said, "when … we realize Gene isn't going to be coming in for his shift every night."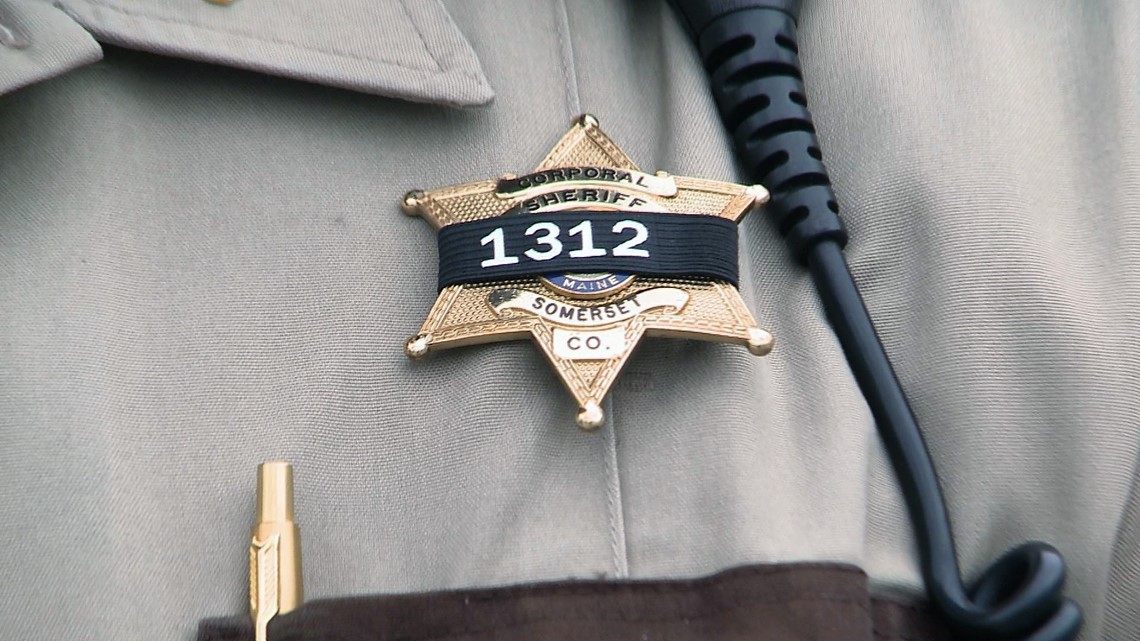 Williams' girlfriend was indicted on drug charges about a week after the fatal shooting. Kimberly Pomerleau said Williams was depressed and nervous.
COLE REMEMBERED, HONORED
:
Following Cole's death, scores of law enforcement and first responder agencies, as well as notable Maine figures, offered condolences to his family and friends.
Norridgewock local and friend Tom Ambrose described Cole as a "nice man" who "did a good job at what he did and had a personality that the community needs."
"I guess they call it life," Ambrose told NEWS CENTER Maine shortly after the fatal shooting. "But it sure don't seem like the right definition to me."
Cole's coworkers and community also shared their thoughts. Devan Rittell recalled his time in EMS and seeing Cole on accident or crime scenes.
"He was a great officer, cared about his community, about the well being of others," he said. "He was compassionate but also knew how to give tough love."
Deputies from across the state a day after the fatal shooting honored their fellow officer by holding a vigil and keeping watch of his body at the funeral home.
Tom Cole, Eugene's brother, reflected on his brother's life two days after the fatal shooting. He said he was devastated to hear the news but as a minister knew he had to forgive his his brother's accused killer, Williams.
"I have to forgive," Tom Cole told NEWS CENTER Maine. "I have done that. I have to pray for his family, they are victims as well."
Another two days later, Cole's wife Sheryl offered through a Facebook post an intimate glimpse into the hours before her husband's death.
"For me, I will always proudly be the wife of Somerset County Sheriff's Corporal Eugene Cole," Sheryl Cole wrote. "I will hold my head high as I work my way through this. When I'm home, alone or with family, where Gene is simply a husband, dad, and Bampi, I will mourn, maybe forever. I know he was many great things to a great many people, but - to me - he was mine. May you rest in peace, my husband, my best friend. You are loved."
Bracelets made in Cole's memory raised at least $1,000. They featured 13 blue beads strung onto a navy blue string, symbolizing the thin blue line.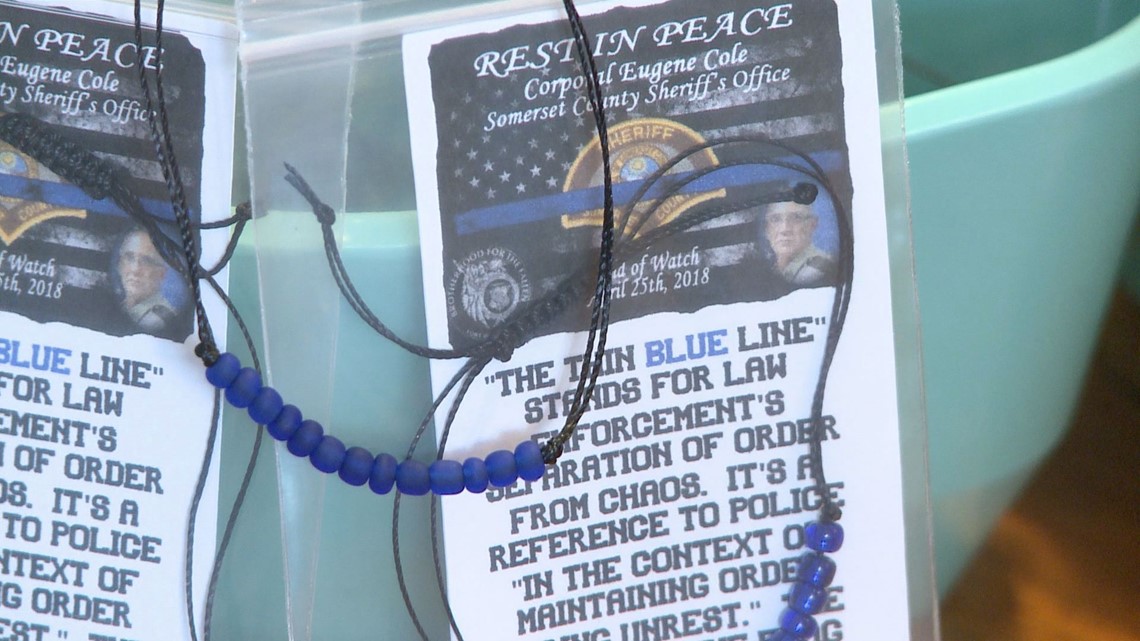 FIRST RESPONDER TRAGEDIES
:
Cole's death came 29 years after that of Maine State Police Trooper Detective Giles Landry, the previous Maine law enforcement officer to be killed in a line of duty death shooting. Detective Landry was investigating a child abuse complaint in March 1989 when he and a woman were shot in his cruiser.
Earlier in the month, 200 miles south in Yarmouth, Massachusetts, a 32-year-old police officer was shot and killed. Officer Sean Gannon was serving a warrant in Marstons Mills, Massachusetts. Following Cole's death just weeks later, Yarmouth Police Chief Frank Frederickson said he was outraged.
"I have a job to do to run a police department and get our officers back on the streets in a healthy way we do the very best we can for them," he said. "I'm caging that fury, but positioning it in the right way so we can make a difference."
Gannon's mother, Denise Morency-Gannon, would later call for change. She said lawmakers across New England need to fix "a horrific nightmare."
INVESTIGATION
:
The affidavit including the charge accusing Williams of "intentional and knowing murder" detailed law enforcement's immediate investigation into the killing.
According to the court documents, someone named Chris Williams got a call from John Williams at 1:15 a.m. Wednesday, and John allegedly told Chris he had shot a deputy in the head. John then asked Chris to meet him, it stated.
Williams' defense attorney would later allege that he was "beat and pummeled" to the point of defecation by law enforcement officers upon capture.