AUBURN (NEWS CENTER Maine) — Its days of flying are done. But a long-retired passenger plane can still take its passengers on a trip back through time.
The vintage Lockheed Constellation has been restored to prime condition after more than 30 years of being parked at the Auburn-Lewiston Airport. Manufactured in 1958, it's one of only four planes of that type still in existence.
The restoration team unveiled its handiwork on Monday, October 8. Technicians and artisans spent the last four months turning back the clock. The fuselage, the seats, the cockpit, the landing gear -- everything was spruced up to look just as it did for TWA passengers in the 1960s, except of course for the fact that it can't fly.
Vintage Lockheed Constellation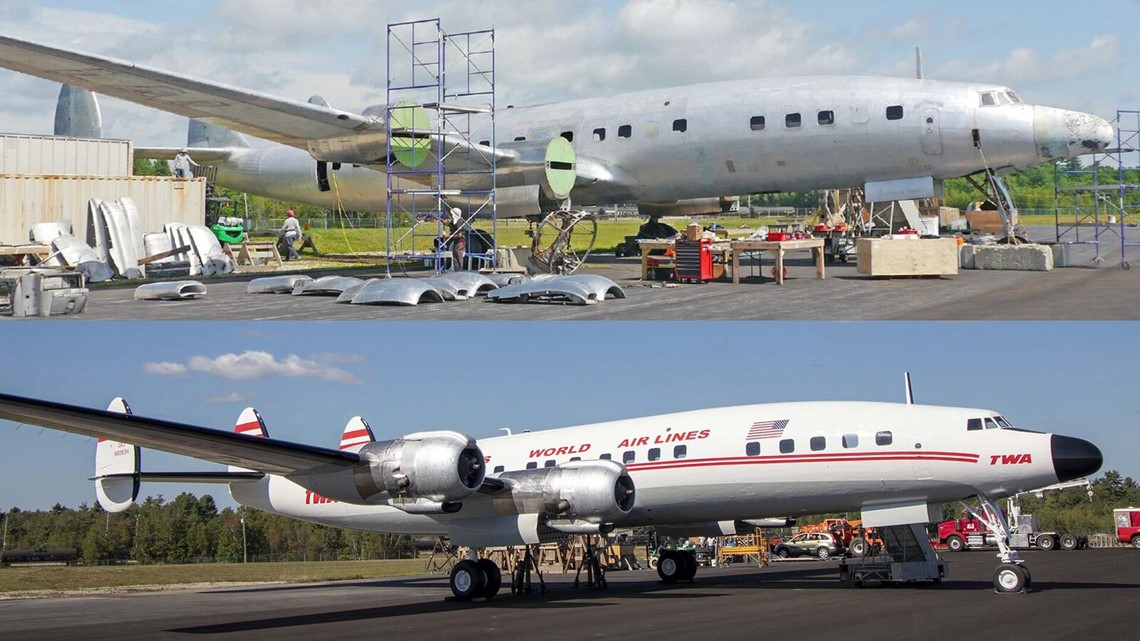 Instead, the plane will soon be loaded in pieces onto a truck for the trip to JFK Airport in New York City where it will serve as a cocktail lounge outside the new TWA Hotel. Even with that constant flow of visitors, it's a much quieter life than the plane had known in the years after it was taken out of service by TWA.
In recounting its history, Tyler Morse with the hotel ownership group, MCR, said, "This plane flew in Alaskan bush country and did the oil runs in the 1960s. Then in the 1970s, it ran drugs through South America. And it got abandoned in San Pedro Sula, Honduras in 1972."
Somehow, the plane made its way to Auburn in 1986. But the long layover in Maine is nearing its end. The plane will hit the road for the 328-mile journey to New York in the next couple of days.
The hotel complex where the plane is headed is slated to open next May. Visitors will be able to sit behind the plane's controls while they're served drinks by a staff fully dressed in TWA uniforms from the 1960s complete with pillbox hats and white gloves.