(NEWS CENTER Maine) — Fifty years ago, Aug. 29, 1968, Maine Sen. Edmund Muskie became the Democratic nominee for vice president. Below we'll look at how a politician from a small state, who was unknown to most Americans, was tapped for a national ticket in that tumultuous year.
Ed Muskie was arguably the most prominent Mainer of the 20th century, serving as governor, U.S. senator, and as secretary of state under President Jimmy Carter. He also very nearly became vice president.
Fifty years ago Wednesday, Muskie was tapped to run on the Democratic ticket along with presidential nominee Hubert Humphrey. Had it not been for Humphrey being shackled to the Vietnam War policies of the Johnson administration, the Democratic ticket might have won the election.
Muskie's rise to national prominence began in the spring of 1968.
After President Lyndon Johnson announced in March that he would not seek re-election, Democrats in Maine had strong disagreements about who should be the party's nominee. George Mitchell, who would later become U.S. Senate majority leader, was state party chairman in 1968. He recalls "it was a tough year to be chairman of any Democratic Party."
Ken Curtis was then governor of Maine, and describes what he calls "interesting" times: "It was sort of like, you get up in the morning and you didn't know what that day will bring."
In the spring of 1968, Curtis and Mitchell found themselves on opposite sides of a divide in Maine's Democratic Party. Curtis and Rep. Bill Hathaway supported Robert F. Kennedy for president.
Kennedy had campaigned for Curtis in his race for governor.
"I really felt that [Kennedy] would win the nomination, so I supported him, as a friend, but also because I felt he would probably be the next president," Curtis recalls. "And there are a lot of people in Maine who thought perhaps I should not have done that."
Mitchell, who had supported President Johnson before his withdrawal, was backing then-Vice President Hubert H. Humphrey. And one reason was what Humphrey might do for Maine.
"It was pretty well-known that Muskie was at least one of several people being considered for vice president," Mitchell says, "and that served as a rallying cry for those of us who supported Sen. Muskie to support Vice President Humphrey."
In the weeks leading up to the state Democratic convention in May, an idea bubbled up: Rather than have the Kennedy, Humphrey or Eugene McCarthy supporters left out in the cold, the delegation would not back any of them, but would make Sen. Ed Muskie a "favorite son" candidate.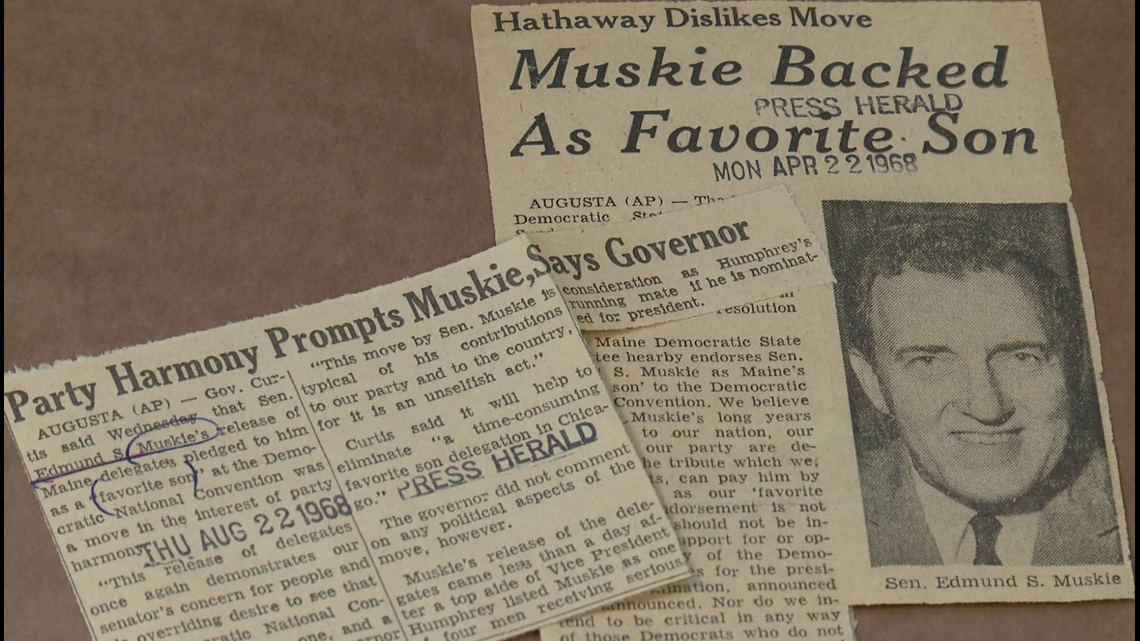 That would allow the delegation to have a unified front, and Muskie would release the delegates to vote as they chose at the national convention.
The idea was not an easy sell to the Kennedy backers. Rep. Hathaway spoke forcefully against it at the state party convention, exposing the considerable tensions.
"And there was no papering over the fact that we were divided," Mitchell says. "People just have different views, good people, responsible people, good friends, there just was disagreement."
Vice President Humphrey spoke at the convention at the Augusta Armory, and joked about what he called "this favorite son business." He admitted one of his favorite sons – and senators – was Ed Muskie. They had become close friends and allies in the Senate.
In the end, the favorite son nomination prevailed.
Less than a month later, Robert Kennedy was assassinated in California, and the reverberations changed the race. Maine Democrats began to focus more on the idea that if Humphrey were the nominee, Ed Muskie might be his running mate.
Photos: Ed Muskie's 1968 run for vice president
Today, presidential nominees are known before the national conventions are held. That gives them time to audition potential vice presidents. But in 1968, Hubert Humphrey had to go to Chicago and that chaotic and violent convention and get himself nominated before he could choose a running mate.
"At that point, they were fighting over the nomination and control of the floor," says Sandy Maisel, chairman of Colby College's political science department. "And nobody was vetting any candidates."
Maisel says Humphrey wound up making a brilliant choice.
"Senator Muskie was named for a number of reasons," she says. "The biggest one being that he was considered very smart and very forceful and very safe."
Safe, because Muskie was a leader on environmental issues, had no whiff of scandal, and could reach out to both sides on the Vietnam question.
Curtis says Muskie "was middle of the road enough so he wasn't wrapped up in all of the anti-Vietnam rhetoric and the problems that were being caused around the country. He could kind of get across that a little bit."
It wasn't until 4 p.m. on the last day of the convention that Hubert Humphrey announced he was choosing his friend Ed Muskie as his running mate. The timing left Muskie scrambling because he had not prepared an acceptance speech.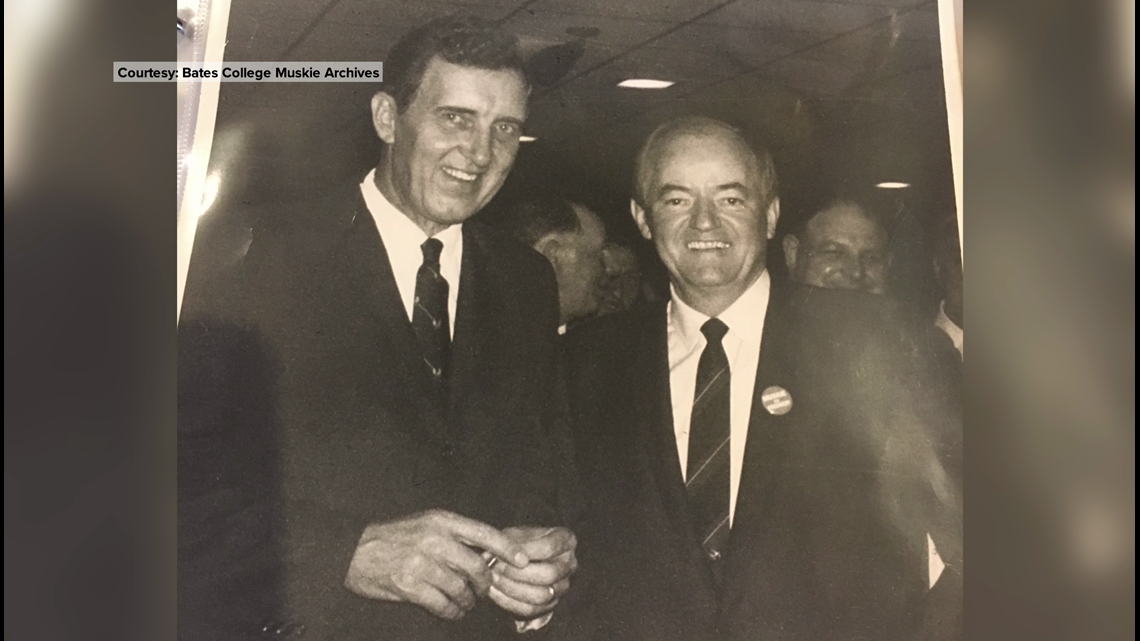 As Muskie told NEWS CENTER in 1993, "I didn't have time that day to write a speech anyway, Hell's bells! I'd barely gotten the nomination out of Hubert."
Muskie wound up repurposing a speech he had recently given to students at Cape Elizabeth High School – one that addressed the discontent among young Americans.
"We must learn to work with these people to ensure their continued and more meaningful participation in the democratic process," Muskie said at the convention. "We must inspire their confidence that their efforts will achieve the dignity, the opportunity, and the quality which they seek."
The Humphrey-Muskie ticket left that convention far behind in the polls.
Muskie was very well received on the campaign trail that fall, and he was featured in TV ads comparing him to Richard Nixon's running mate Spiro Agnew.
The Democrats gained a lot of ground, and by Election Day, the gap had narrowed.
"I felt, and everybody felt, or said they felt, that if the campaign had gone on another two weeks we'd have won," Muskie said in 1993. "Nobody will ever know that answer of course."
Maisel says Humphrey had indeed gained momentum, and it was clear he was more likely to end the war in Vietnam then was Richard Nixon. But, as she points out, "We have elections on the first Tuesday after the first Monday in November, and you've got to figure out how to peak then, and not to peak on the second Tuesday after the first Monday in November."
In the end, Vietman was an insurmountable hurdle.
As Muskie put it, "It was our cross to bear, and it was a goddamned heavy one."
Nixon won 301 Electoral College votes to just 191 for Humphrey. The third party candidate won several southern states to pick up 46 electoral votes.
But the popular vote was extremely close. Humphrey finished behind Nixon by just half a million votes out of about 63 million cast.
The 1968 campaign was a point of pride for a lot of Mainers. It made Sen. Muskie a national figure with a lot of influence in the Senate.
He would fail in his own run for president in 1972, but would eventually become secretary of state.