Everything you need to know about COVID-19 and vaccine rollout in Maine
Maine announced Tuesday, April 13 the state is pausing Johnson & Johnson doses due to call for caution by the FDA and CDC. Updated Tuesday, April 13, 2021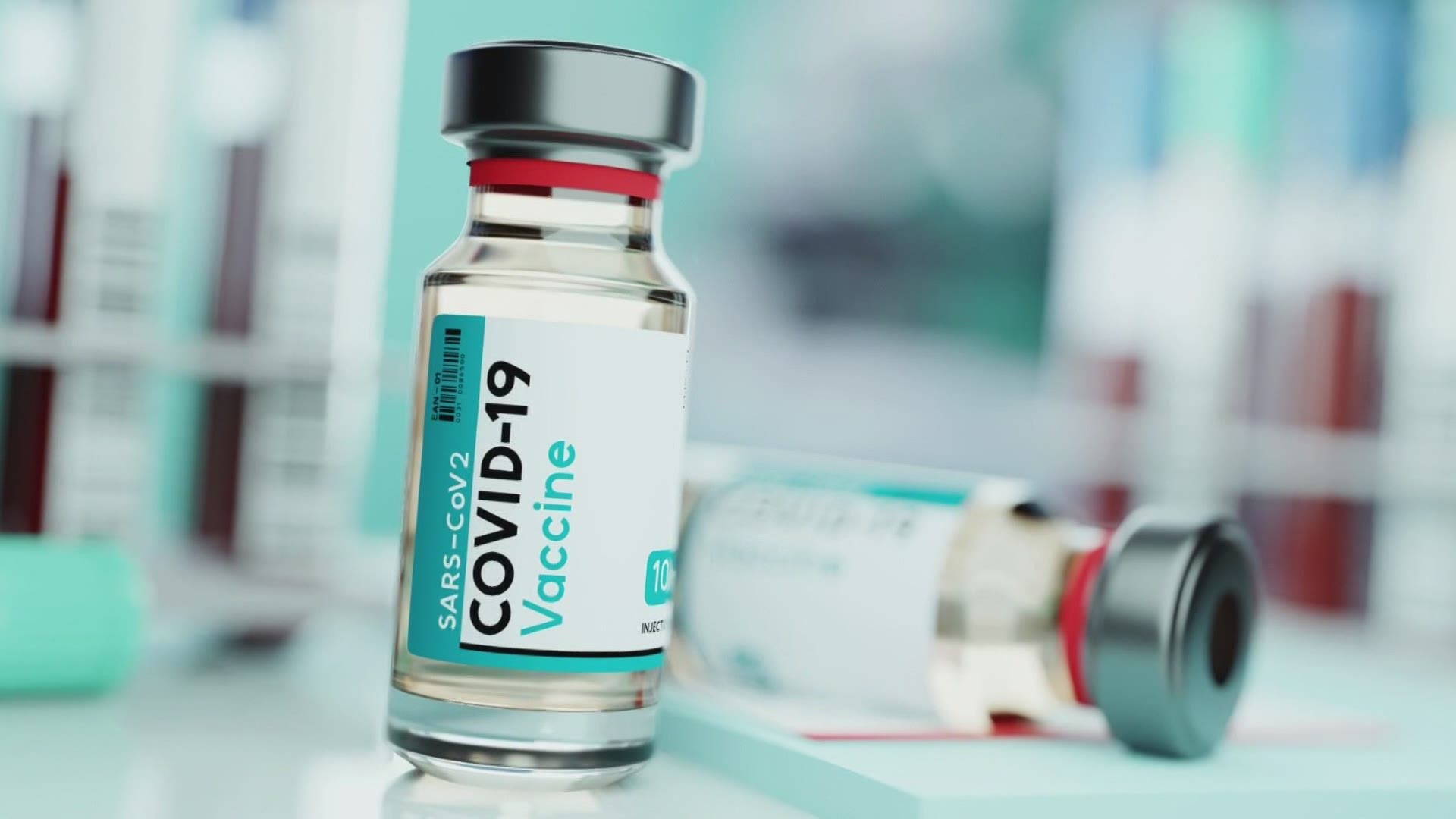 This story is a one-stop-shop for everything you should know about the vaccination process in Maine, and where you can find daily coronavirus updates as we work together to share facts and get answers.
Maine Vaccine Data
:
Current data for Maine's vaccine progress
MAINE DAILY UPDATE COVID-19 VACCINATION DATA
Note: For more information on vaccinations for 16 and 17-year-old Maine residents, click here.
The state's pre-registration and appointment system is now live. Click here to pre-register.
Data as of Monday, April 12, 2021
Total Maine vaccinations: 906,708
1st dose vaccinations: 520,088
Final dose vaccinations: 386,620
Percentage of eligible Maine population to receive first dose: 46.23%
Percentage of eligible Maine population to receive final dose: 34.36%
Note: Johnson & Johnson vaccination data is included in the "Final dose vaccinations" data because it's considered the only dose needed.
The Maine Center for Disease Control has launched a vaccine dashboard that updates at 10 a.m. daily to include data from the previous day.
Daily Coronavirus Updates
:
Daily Maine coronavirus updates on case data, deaths, outbreaks, and more
The Maine CDC reported two additional deaths on Tuesday, bringing the state death toll to 753.
An additional 571 COVID-19 cases were reported. Of the 54,827 total cases in Maine, 41,482 were confirmed by tests, and 13,345 are probable.
The Maine CDC's next state coronavirus update is scheduled for 2 p.m. on Tuesday, April 13.
BREAKING NEWS for Tuesday
The U.S. announced Tuesday morning that the CDC and FDA are recommending a "pause" of the single-dose Johnson & Johnson vaccine to investigate reports of potentially dangerous blood clots.
In a joint statement Tuesday, the Centers for Disease Control and Prevention and the Food and Drug Administration said they were investigating clots in six women that occurred 6 to 13 days after vaccination. The clots were observed in the sinuses of the brain along with reduced platelet counts — making the usual treatment for blood clots, the blood thinner heparin, potentially "dangerous."
Following the national announcement, Maine CDC Director Dr. Nirav Shah announced on Twitter that Maine is pausing the administration of the Johnson & Johnson vaccine out of "an abundance of caution.
In Maine, J&J vaccine doses make up 5.65 percent of those administered in the state.
Gov. Janet Mills, Maine DHHS Commissioner Jeanne Lambrew, and Shah are expected to speak about the matter in the next coronavirus briefing, which is scheduled for Tuesday, April 13 at 2 p.m. NEWS CENTER MAINE will stream it live on air, on our website, mobile app, Facebook, and YouTube.
Tuesday Coronavirus Briefing
The two additional deaths reported Tuesday were both women from Oxford County age 80 or older, Shah said.
Shah explained that the additional 571 COVID-19 cases reported Tuesday weren't all new cases reported in the last 24 hours. Of those 571 cases, 51 are from Monday, while 149 were from Sunday, 166 were from Saturday, and 205 were from Friday, April 9.
Shah said as Maine CDC continues to review and process cases, they may from time to have spikes of this nature, where the number of additional cases reported doesn't necessarily reflect the number of new cases.
Currently in Maine, 96 people are in the hospital with COVID-19. Thirty-six are in the critical care unit and 13 are on a ventilator.
The seven-day PCR test positivity rate is 3.1 percent, with a testing volume of 671 tests per 100,000 people.
Shah noted the increase in cases he and other health officials in New England are seeing is largely driven by the spread of variants, particularly in this part of the country, the B.1.1.7 variant. These variants, Shah said, are more contagious. These variants also cause more outbreaks.
Shah said there's also been a recent increase in hospitalizations, which is concerning. The average age of people who have been hospitalized has decreased, as has the average age of cases in Maine.
As of Tuesday morning, Shah said more than one out of every three eligible Mainers have been vaccinated, and nearly 46 percent have gotten at least their first dose.
Shah took a moment to discuss the nationwide pause on administered the Johnson & Johnson single-dose vaccine due to rare and potentially dangerous blood clots.
Shah said the six cases of rare blood clots reported were seen in combination where individuals also had low levels of platelets after they had received the J&J vaccine. It was this combination, Shah said, that caused the U.S. CDC and FDA to recommend the pause.
All six of these cases occurred among women between the ages of 18 to 48, and occurred between 6 and 13 days after they received their dose. Shah said none of these cases occurred in Maine.
Shah said the reason this reaction is of note is because the treatment for this type of rare blood clot is different from treatments for other types of blood clots. Typically, blood clots are treated with anticoagulant drugs, something that thins out blood, like Heparin, for example.
However, with this type of blood clot (CVSTs), that standard treatment might actually be dangerous and patients who might have this type of blood clot might need another type of treatment, Shah explained.
On Wednesday, an expert advisory committee is expected to meet to review and analyze the data around these six cases. Until that is complete, the FDA and CDC are recommending a pause.
Shah said they recommended this pause to make the health community aware of this possibility so that they are ready to recognize and treat this type of clot.
Shah said the Maine CDC has already notified two groups of people: Vaccination sites with the J&J vaccine and health care providers across the state.
In addition, Shah said the Maine CDC, Maine DHHS, and Gov. Mills are working with the Maine CDC's partners on the federal level to keep up with the information.
Shah said he knows this news raises concerns and questions.
For those who have recently gotten the J&J vaccine, Shah said it's normal to feel some flu-like symptoms, pain in your arms, fatigue, and body aches. But these are not the concerns associated with the J&J vaccine.
If you are within the 6 to 14-day range and have symptoms like a severe headache, abdominal pain, shortness of breath, or leg pain–contact your health care provider, Shah said.
He emphasizes, however, this reaction is extremely rare.
"Six cases that have been detected across the country out of 6.8 million doses of J&J vaccine that have been administered," Shah said. "That's fewer than one in every million."
It's also important to note this reaction is not being seen in the other two vaccines (Pfizer and Moderna).
"And that's why I continue to urge folks to sign up for slots with those vaccines," he said. "Even though the administration of J&J may be on pause right now, our administration of Pfizer and Moderna vaccine is continuing unabated."
"Getting vaccinated remains one of the best things you can do right now."
Shah said the state has been informed by the U.S. CDC and the White House that there will not be state orders for the J&J vaccine for the upcoming week. If that ordering were to become available later this week or whenever that may be, Shah said the state will "absolutely" be ordering up to the allotment.
But, for next week, there is not a planned delivery of J&J doses.
Shah stressed "this is just a pause" and the J&J doses currently at vaccination sites across the state can be saved for later use until more can be understood about these six cases.
The Maine CDC has instructed providers not to throw out their J&J doses, pending additional information and recommendations from the CDC and FDA. Shah said he isn't worried about the 2,500 J&J doses Maine received this week "spoiling on the shelves."
Mills emphasized that this pause recommended by the FDA and CDC is out of an abundance of caution.
"Maine people have adapted in countless ways throughout the pandemic. Today, we're adapting again," Mills said.
One pivot, Mills said, is redirecting Moderna vaccine doses to the new mobile vaccination unit. Only appointments that were made for Tuesday morning had to be canceled. Those will be rescheduled.
Mills said they are working in partnership with FEMA to make sure the mobile unit can and will continue its planned route to 10 other towns across Maine.
"We're as determined as ever to get shots into the arms of Maine people in the rural and underserved areas of Maine, in particular," Mills said.
The mobile unit's next stop will be Windham, starting on Sunday. Appointments can be scheduled by calling 1-888-445-4111. You do not have to be a resident of Windham to get an appointment at the mobile unit.
If you already have an appointment with the mobile site, keep it, Mills said. You will get your vaccine.
For clinics that were expected to administer the J&J vaccine, people should expect to hear from them about rescheduling for a time to get either Moderna or Pfizer instead of J&J (for now).
"I've talked a lot about perseverance the past several months ... and today's another example of it. I'm so proud of the great team we have that is so able to respond to the issues like this morning's."
"Stick with us. Logistical challenges–like this–are to be expected," Mills said.
ANNOUNCEMENT OF NEW MAINE COVID VACCINE ELIGIBILITY TIMELINE
MAINE COVID-19 COUNTY BY COUNTY DATA
How to Get Vaccinated
:
To get the COVID-19 vaccine, you must make an appointment
Appointments are required at most locations. Appointment availability is dependent on vaccine supply. These listings are subject to change and will be updated regularly.
Ways to get an appointment
Note: Online appointments are only available for those age 18 older. The Pfizer vaccine is authorized for individuals ages 16 and 17, but consent from a parent or legal guardian is required to vaccinate children.
For more information on vaccinations for 16 and 17-year-old Maine residents, click here.
If you're booking multiple appointments, be courteous. Once you get your shot, cancel your other appointments.
Vaccine basics
:
Understanding COVID-19
The answers to these questions have been derived from the U.S. CDC, Maine CDC, and various health experts.
What is the vaccine?
Three COVID-19 vaccines, one by Pfizer, one by Moderna, and one by Johnson & Johnson, have received emergency-use authorization by the U.S. Food and Drug Administration (FDA) and are currently in distribution across the U.S. Several others are in development.
Can the vaccine make me sick with COVID-19?
No. The vaccines in distribution do not contain the live virus that causes COVID-19.
So, how do they work?
The vaccines teach our immune systems how to recognize and fight the virus that causes COVID-19. Sometimes this process can cause symptoms such as fever. These symptoms are normal and are a sign that the body is building protection against the virus that causes COVID-19.
Are there any side effects?
Common side effects include soreness or swelling at the injection site, fever, chills, tiredness, and/or a headache in the days following vaccination. Occasionally, there are more serious reactions or "adverse reactions" to the vaccine. Federal authorities are tracking those reactions through an online database.
Learn more about side effects here.
How many doses do I need?
The Pfizer and Moderna vaccines each call for two doses. An interval of 21 to 28 days between doses is recommended, but the World Health Organization has said that the interval can be extended up to six weeks amid vaccine supply constraints.
The Johnson & Johnson vaccine only requires one dose.
In fact, you can't choose which vaccine you get. Here's a VERIFY about that.
How much does the vaccine cost?
The COVID-19 vaccine will be provided by the federal government at no cost to enrolled COVID-19 vaccination providers. Administration fees may vary.
Should I get vaccinated if I've already had the virus?
Yes. Regardless of the previous infection, the U.S. Centers for Disease Control and Prevention says people should be vaccinated when it's their turn. If you've been infected in the last three months, the CDC says it's OK to delay vaccination if you want to let others go first while supplies are limited.
Will vaccines be effective against COVID-19 variants?
Scientists believe current vaccines will still be effective against the variants, but they are working to confirm that. British officials reiterated that there is no data suggesting the new variant hurts the effectiveness of the available vaccines. Vaccines induce broad immune system responses besides just prompting the immune system to make antibodies to the virus, so they are expected to still work, several scientists said.
After I get the vaccine, do I have to keep wearing a mask?
Yes. While experts learn more about the protection that COVID-19 vaccines provide under real-life conditions, it is important that everyone continue using all tools available to help stop the pandemic, like covering your mouth and nose with a mask, washing hands often, and staying at least six feet away from others.
Click here for more vaccine information from the U.S. CDC.