MAINE, USA — Editor's Note: The above story details the effects social distancing and isolation can have on the elderly.
Governor Mills announced Maine lodging establishments may now begin serving out-of-state visitors to Maine on Friday, June 26 rather than Wednesday, July 1 (Stage 3).
Gov. Mills and Heather Johnson, Commissioner of the Department of Economic and Community Development, joined Dr. Shah at the briefing to discuss the accelerated plan for out-of-state visitors.
Mills said the decision to move up the start date was based on balancing the public health priorities and the need to support the economy to the highest extent possible under the circumstances.
Johnson echoed Mills' reasoning, saying they understood the weekend and week leading up to the Fourth of July were vital to Maine's tourism economy.
Mills said they are also encouraging Mainers to "staycation" and support the Maine economy.
There was an increase of 54 cases from yesterday, 40 of which are lab-confirmed.
Dr. Nirav Shah says the new increase is concerning and his investigators are looking at where these cases may have come from.
Maine CDC closed the outbreak at Oxford St Shelter in Portland. 15 total cases have been closed.
Other breakouts being monitored are:
Abbott facility - 25 total cases
Nichols Manufacturing - 7 total cases
Procter and Gamble in Auburn - 13 total cases
Overall, 71,764 Mainers have been tested. 67,376 cases have been the PCR tests with a positivity rate of 4.63%. Dr. Shah said it is a continuing downward trend.
Questions were raised about the new plan that allows out-of-state visitors coming into Maine to show a negative COVID-19 test result if it's within 72 hours as an alternative to the 14-day quarantine. Some are concerned that testing sites don't turn around results that quickly.
Dr. Shah said while that can be the case for larger commercial labs, local and state labs like the one in Augusta are often able to return results within 24 hours.
Dr. Shah recommends people check with the provider to ensure they would be able to get the results back within 24, 48, or 72 hours before coming to Maine.
Dr. Shah said the 72-hour threshold was chosen because it's the length of time before someone can come to Maine, it preserves their ability to come here if they test negative, and it gives the State the security of knowing that the negative test really is negative because not so much time has passed to allow someone to potentially get exposed to the virus.
When asked about York County's continued declining numbers and whether that means businesses there may soon be able to reopen as rural counties have, Dr. Shah and Mills said those discussions are underway, but emphasized the reason they are declining, is likely because of the restrictions still in place, and they want to be careful that cases won't increase if they do fully reopen.
Dr. Shah said the high number of recoveries in recent days can't be directly attributed to the drug remdesivir, but largely due to the fact that most who have become ill have sought medical care and have followed their doctors' orders. He does say the increase in recoveries is a positive and encouraging sign, but simultaneously the Maine CDC is continuing to be on the lookout for concerning numbers, like hospitalizations.
There were no additional deaths reported for Friday, leaving the state total at 100.
Total cases = 2,721
Confirmed cases = 2,420
Probable cases = 301
Cumulative hospitalizations = 308
Recovered = 2,105
Deaths = 100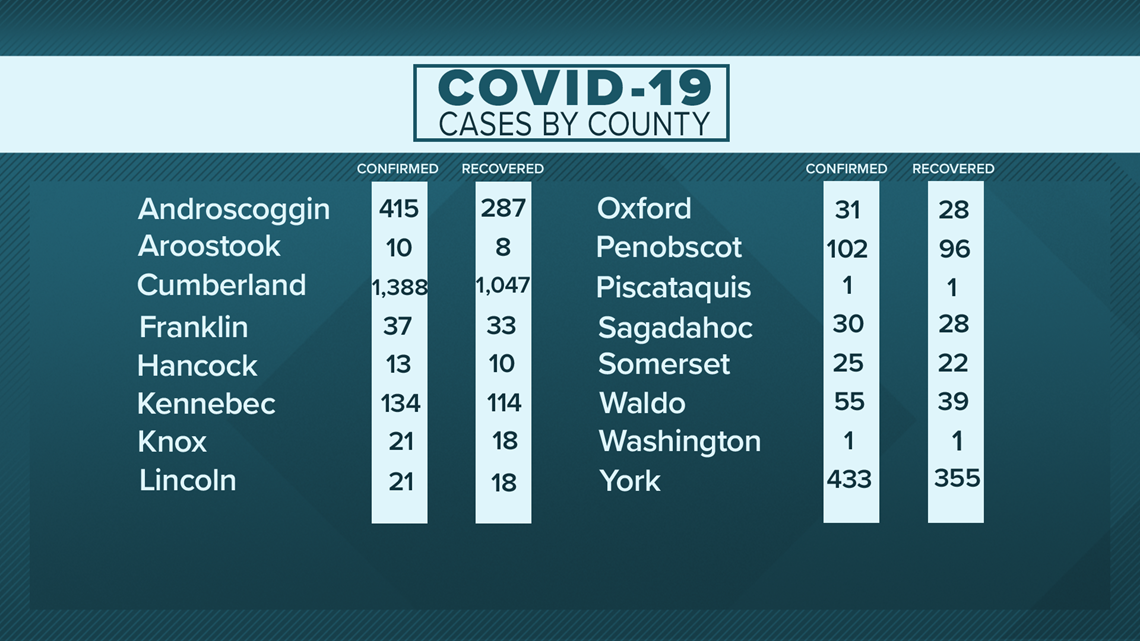 Maine CDC Director Dr. Nirav Shah and Commissioner Heather Johnson of the Department of Economic and Community Development will provide an update remotely at 2 p.m. today. NEWS CENTER Maine will be airing it live on-air, streaming live on our website, mobile app, and on our Facebook, Twitter, and YouTube pages.
THE DATA
Dr. Nirav Shah made clear that when the Maine CDC reports deaths, they are reporting that someone has died who had been confirmed positive with COVID-19, not the cause of death specifically. The cause of death determination is left to the medical examiner.
According to Maine CDC Director Dr. Nirav Shah, as of a few days ago, there were roughly 2,900 Mainers tested each week. This includes people tested through the state lab in Augusta, as well as large commercial testing companies like LabCorp. Dr. Shah said right now, the positivity rate is over 5%, meaning for every 100 people tested, about 5 or 6 are positive. Compared to other states, whose positivity rates are 10 or 15%, Maine is doing better, Dr. Shah says. He says he'd like to see Maine's positivity rate around 2%, which is what South Korea's is. To do that, Dr. Shah says testing must increase two or three-fold.
RESOURCES
Coronavirus, COVID-19 Background
The official name for the coronavirus is "SARS-CoV-2" and the disease it causes is named "coronavirus disease 2019" or "COVID-19" for short. Coronavirus is a family of viruses, which can infect people and animals. The viruses can cause the common cold or more serious diseases like SARS, MERS, and COVID-19.
The CDC says symptoms of the coronavirus include fever, cough, difficulty breathing, and in some cases sore throat.
The CDC says there are simple steps to take to reduce the possible spread of COVID-19:
Wash your hands often with soap and water for at least 20 seconds or use alcohol-based hand sanitizer
Avoid close contact with people who are sick
Avoid touching your eyes, nose, and mouth with unwashed hands
Stay home while you're sick and avoid close contact with others

The Maine Centers for Disease Control (CDC) announced on Tuesday, March 10 that they would be holding daily coronavirus briefings with director Dr. Nirav Shah to keep the public up to date on the situation in Maine.