The Maine CDC reported zero additional deaths of people with COVID-19, meaning the state death total remains at 124.
Of the 3,997 total COVID-19 cases in Maine, 3,582 are confirmed by test and 415 are probable.
907 of Maine's total cases have been among healthcare workers.
390 Mainers have been hospitalized at some point during their COVID-19 illness. 11 people in Maine are currently hospitalized due to COVID-19, with three in intensive care units and one on a ventilator.
3,475 Mainers have recovered from COVID-19.
Maine CDC Director Dr. Nirav Shah compared wearing a face mask to going on a diet. I's something that forces you to change your lifestyle and it's not pleasant. But when you do it, you see results. And Dr. Shah said Maine is seeing good results compared to the rest of the U.S.
Maintaining distance from others and wearing a mask are two things Dr. Shah said all Mainers can achieve, and they're the two most important steps in slowing the spread.
"Although things in Maine have been encouraging to date, the reason that they have been encouraging is because of that strict diet that all of us have been sticking to. Diets are not fun, they're not easy, no one likes being on them. But the reason that we look good right now is because of that diet that we've been on, starting in March, all through the summer," Dr. Shah said. "We can't let up right now. We've got an opportunity to keep our numbers low given that we know that COVID-19 rates are rising in other states very close by us. There is still the risk that COVID-19 rates in Maine could spike but we've got within our power the tools to keep those numbers as low as possible."
Dr. Shah was asked what Maine CDC's protocol would be if a child tests positive in a Maine school. He outlined the following three things they would take into account:
- What to do with the child - Maine CDC would make sure the child is isolated, removed from the school setting, and provided testing (for COVID-19 and other illnesses that may display similar symptoms)
- What to do with contacts of the child - In some cases a child's close contacts could be an entire classroom or even more. Those children will have to quarantine and will need to be tested if they develop symptoms.
- What to do with the school - Anyone who came into contact with the child would need to be offered testing and monitored for symptoms of COVID-19.
Dr. Shah said if the prevalence of COVID-19 in a particular state is higher than that of Maine, the likelihood of a person from that state raising the risk to Maine people is greater. If the prevalence of COVID-19 is lower in another state than it is in Maine, the risk to Maine people is not raised. This is the main principle that Maine CDC and the Mills' administration have used in exempting travelers from certain states, according to Dr. Shah.
Maine CDC has closed the outbreak (meaning an outbreak is no longer considered to be occurring at the facility) at The Mooring on Foreside, an assisted living facility in Falmouth. There had been a total of six cases at the facility.
At the Pine Point Center in Scarborough, two residents and two staff members have tested positive. The facility will be conducting further rounds of testing and Dr. Shah said further results will be available in the coming days.
There are a total of 11 cases at Hancock Foods in Hancock.
At Merrill Blueberry Farms in Ellsworth, there are a total of nine cases.
At Wyman's Farm in Milbridge, there are a total of four cases.
There are now a total of 15 cases at Central Maine Medical Center.
At the Marshwood Center in Lewiston, there are now a total of 25 cases - 16 among residents and nine among staff.
The Maine CDC reported one additional death of someone in Maine with COVID-19, bringing the state death total to 124.
The additional death reported Wednesday was a woman in her 70s from Cumberland County, according to Maine CDC Communications Director Robert Long.
Of the 3,992 total COVID-19 cases in Maine, 3,568 are confirmed by test and 424 are probable.
390 Mainers have been hospitalized at some point during their COVID-19 illness.
3,456 Mainers have recovered from COVID-19.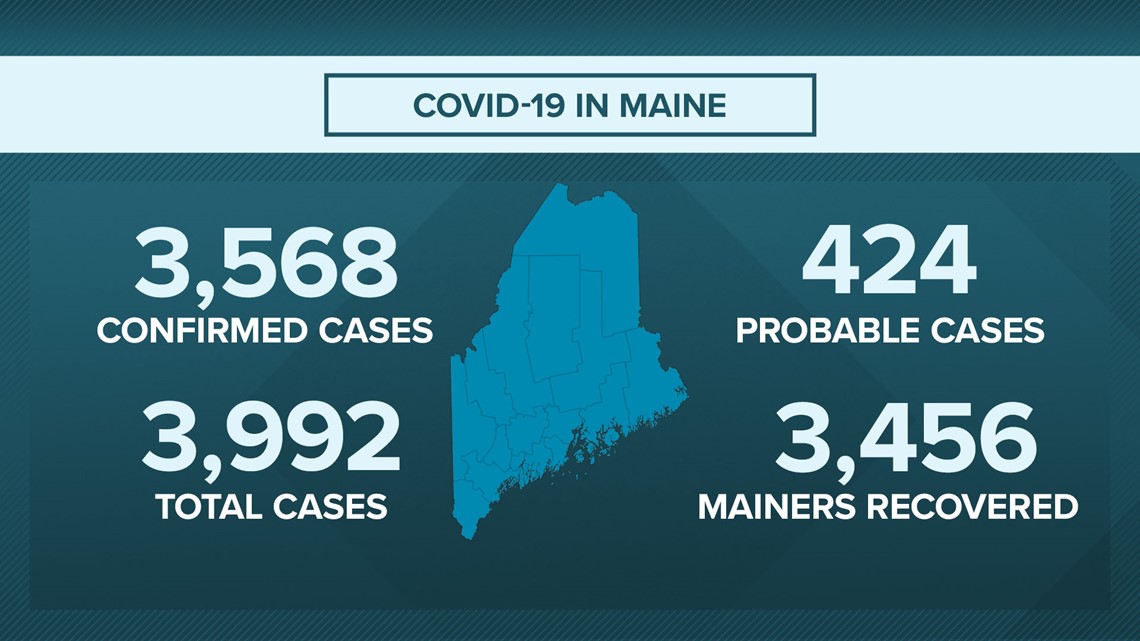 THE DATA
Dr. Nirav Shah made clear that when the Maine CDC reports deaths, they are reporting that someone has died who had been confirmed positive with COVID-19, not the cause of death specifically. The cause of death determination is left to the medical examiner. According to Maine CDC Director Dr. Nirav Shah, as of a few days ago, there were roughly 2,900 Mainers tested each week. This includes people tested through the state lab in Augusta, as well as large commercial testing companies like LabCorp. Dr. Shah said right now, the positivity rate is over 5%, meaning for every 100 people tested, about 5 or 6 are positive. Compared to other states, whose positivity rates are 10 or 15%, Maine is doing better, Dr. Shah says. He says he'd like to see Maine's positivity rate around 2%, which is what South Korea's is. To do that, Dr. Shah says testing must increase two or three-fold.
RESOURCES
Coronavirus, COVID-19 Background
The official name for the coronavirus is "SARS-CoV-2" and the disease it causes is named "coronavirus disease 2019" or "COVID-19" for short. Coronavirus is a family of viruses, which can infect people and animals. The viruses can cause the common cold or more serious diseases like SARS, MERS, and COVID-19.
The CDC says symptoms of the coronavirus include fever, cough, difficulty breathing, and in some cases sore throat.
The CDC says there are simple steps to take to reduce the possible spread of COVID-19:
Wash your hands often with soap and water for at least 20 seconds or use alcohol-based hand sanitizer
Avoid close contact with people who are sick
Avoid touching your eyes, nose, and mouth with unwashed hands
Stay home while you're sick and avoid close contact with others

The Maine Centers for Disease Control (CDC) announced on Tuesday, March 10 that they would be holding daily coronavirus briefings with director Dr. Nirav Shah to keep the public up to date on the situation in Maine
NEWS CENTER Maine YouTube COVID-19 Playlist