MAINE, USA — Editor's note: You are starting to hear the term 'flattening the curve' as a way to stem the tide of coronavirus cases. The above video explains what that means.
LATEST CORONAVIRUS UPDATE
Maine CDC announced there are now 537 confirmed COVID-19 cases in the state.
Maine CDC also announced two additional deaths Wednesday, bringing the state total to 14. One of the deaths was a woman in her 80s from Waldo County. The other was a man in his 80s from Cumberland County.
101 people who have tested positive in Maine have been hospitalized at some point during their illness. 187 people in Maine have fully recovered from the virus.
There is at least one confirmed case in 15 of Maine 16's counties. Piscataquis County is the only remaining county without a confirmed case.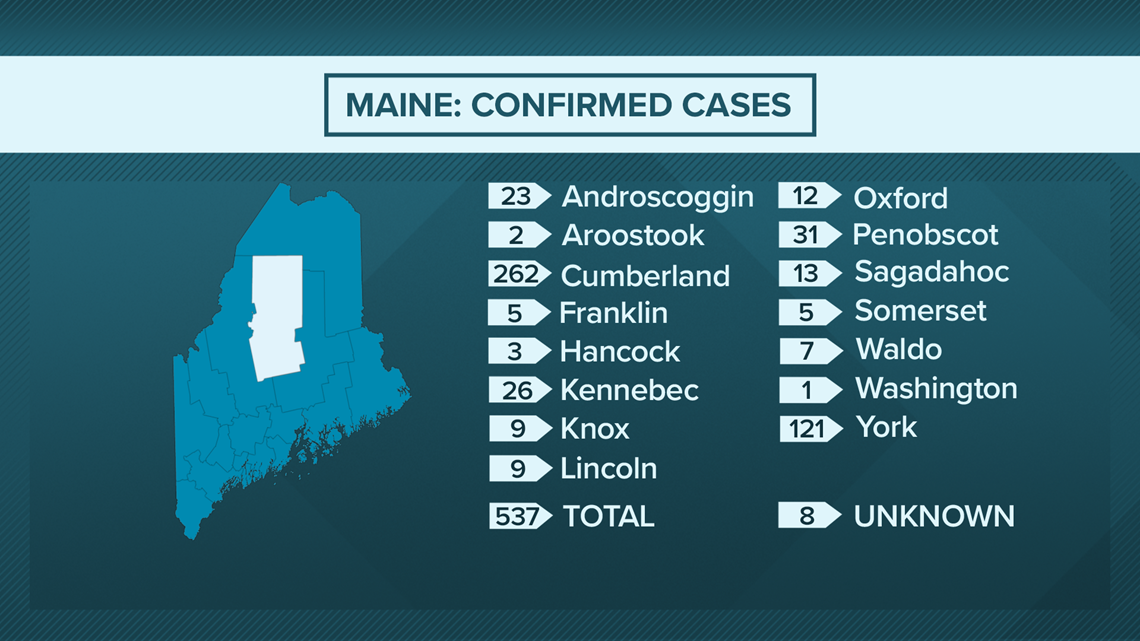 Maine CDC Director Dr. Nirav Shah said he is under the impression that Maine will not receive any more personal protective equipment (PPE) from the Strategic National Stockpile. Maine CDC will have to turn to other sources for PPE, as well as look to manufacture PPE.
When asked if, when we reach the warmer months, transmission of COVID-19 will decrease, Dr. Shah noted the outbreaks in warmer states like Florida and warmer countries like India. Dr. Shah said the drop-off likely won't be as drastic as influenza but it's an interesting scientific question and time will tell.
Dr. Shah said the most common myths and misconceptions he's encountered among friends and families surrounding COVID-19 are the belief that certain medications will help specifically protect someone from the virus. The other is the misconception that because someone is young, healthy, and in a low-risk group, they are immune to getting COVID-19. The virus can affect anyone.
"I can't comment on how other states have gone about their planning," Dr. Shah said. "But I know that we've been quick, we've been concise, and we've been aggressive. And that's because our approach is one that's motivated by our desire to take care of people and grounded in data and science."
Dr. Shah took a moment Wednesday to thank the people of Maine for their efforts to physically distance amid the pandemic.
"Everyone in Maine has had some part if not the whole part of their lives completely upended by the coronavirus situation. What's been remarkable is not simply how much has change but how quickly it has all changed. Changes to our lives that were utterly inconceivable a month ago are now commonplace and have been accepted by people all across Maine. And I think that's because all Maine people understand that what we are trying to accomplish via these physical distancing recommendations is nothing short of saving lives," Dr. Shah said. "But that doesn't mean it's not disruptive and I'd like to take a moment to acknowledge those disruptions and thank everyone for abiding them. We fully recognize that book club and bingo nights have been replaced by virtual board games and big cats. Ever since Governor Mills issued her executive order to stay safe, people across the state have been all-in in every since of the phrase and I'd like to thank every single person in Maine for helping all of us flatten the curve and keep the rest of us safe. But I acknowledge that doing so has entailed personal sacrifice."
RESOURCES
Coronavirus, COVID-19 Background
The official name for the coronavirus is "SARS-CoV-2" and the disease it causes is named "coronavirus disease 2019" or "COVID-19" for short. Coronavirus is a family of viruses, which can infect people and animals. The viruses can cause the common cold or more serious diseases like SARS, MERS, and COVID-19.
Wash your hands often with soap and water for at least 20 seconds or use alcohol-based hand sanitizer
Avoid close contact with people who are sick
Avoid touching your eyes, nose, and mouth with unwashed hands
Stay home while you're sick and avoid close contact with others
The Maine Centers for Disease Control (CDC) announced on Tuesday, March 10 that they would be holding daily coronavirus briefings with director Dr. Nirav Shah to keep the public up to date on the situation in Maine.
NEWS CENTER Maine YouTube Coronavirus Playlist