Gov. Mills has released additional prevention checklists for Stage 2 of her reopening Maine plan. She has also updated guidance for some businesses that are already open, including barbershops and hair salons, drive-in theaters, and restaurants, among others.
Read more about the checklists HERE.
Governor Janet Mills announced an update to her administration's plan to restart Maine's economy as the state approaches the scheduled June 1 start date for Stage 2 of the plan.
The Mills administration is postponing the full reopening of restaurants for dine-in services in York, Cumberland, and Androscoggin counties. Restaurants in these counties were tentatively scheduled to reopen to dine-in services on June 1 (Stage 2) but are now restricted to reopening to outside dining service only beginning on that date in addition to continuing to provide take-away and delivery services. The decision to limit their reopening comes amidst an increase in hospitalizations as well as an increase in case counts in these three counties, both of which are metrics monitored by the Maine Center for Disease Control and Prevention (Maine CDC). A date for the reopening of dine-in services in these counties is yet to be determined.
"Given the trends we are seeing in certain parts of Maine, our Administration is revising the plan to align with what is in the best interest of public health. To that end, rather than permitting dine-in services in Androscoggin, Cumberland, and York Counties as we had originally planned, we will be allowing outside dining only with precautions, a move we believe is safer for the health of Maine people and that balances the economic needs of these businesses," Mills said.
In the wake of this change, the Department of Health and Human Services and the Department of Administrative and Financial Services, which have licensing authority, are streamlining and expediting approval of licenses to facilitate outside-only dining.
Aside from this update, Stage 2 will move forward as planned. This means that on June 1 restaurants in Penobscot County will be allowed to voluntarily reopen for both indoor and outdoor dining services with strict health and safety precautions, joining the twelve other rural counties where such establishments have been permitted to reopen as part of the governor's rural reopening plan. Although Penobscot County has been identified as an area with community transmission, the decision to allow it to reopen as scheduled results in part because the county has not had more than three new cases a day since April.
More on the Mills Administration's announcement can be found HERE.
Two more Mainers who had been confirmed with COVID-19 have died: a woman in her 70s from Cumberland County, and a man in his 80s, also from Cumberland County.
The Maine CDC is reporting the following updates for Wednesday:
Total cases = 2,137
Confirmed cases = 1,914
Probable cases = 223
Cumulative hospitalized = 260
Recovered = 1,357
Deaths = 81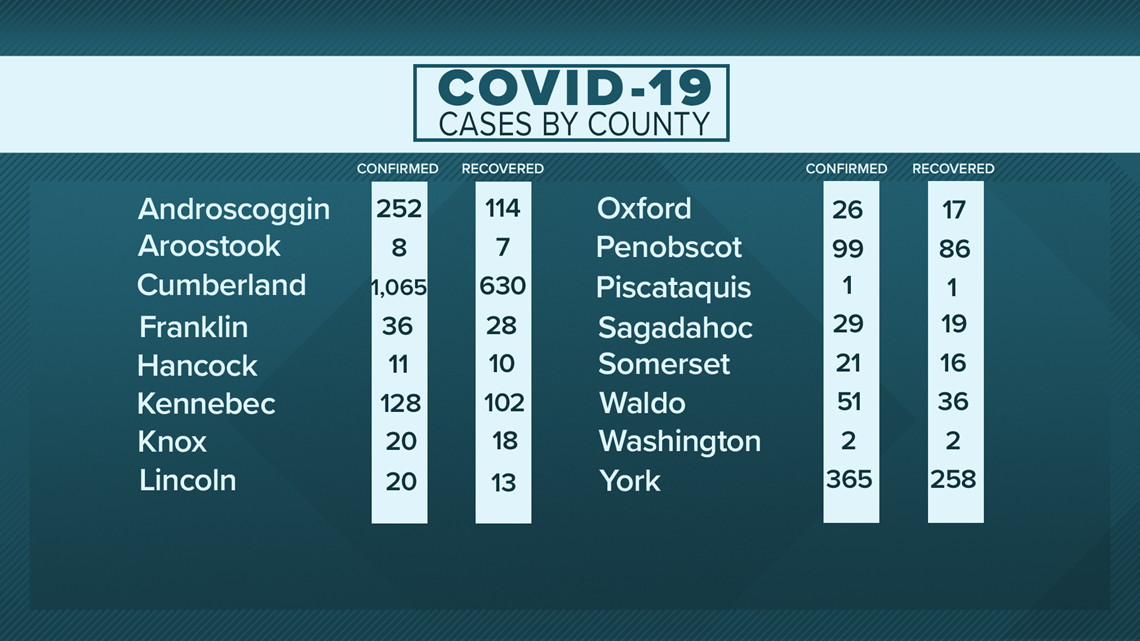 In addition to the cases in the above chart, there are three confirmed cases of COVID-19 whose county is unknown.
Dr. Shah announced there is now an outbreak of COVID-19 at the Ubuntu Care facility in Lewiston, where four staff members have tested positive. Maine CDC has opened up an outbreak investigation at the facility.
At the Cape Memory Care Center, there is now a total of 68 cases: 47 among residents, and 21 among staff.
THE DATA
Dr. Nirav Shah made clear that when the Maine CDC reports deaths, they are reporting that someone has died who had been confirmed positive with COVID-19, not the cause of death specifically. The cause of death determination is left to the medical examiner.
According to Maine CDC Director Dr. Nirav Shah, as of a few days ago, there were roughly 2,900 Mainers tested each week. This includes people tested through the state lab in Augusta, as well as large commercial testing companies like LabCorp. Dr. Shah said right now, the positivity rate is over 5%, meaning for every 100 people tested, about 5 or 6 are positive. Compared to other states, whose positivity rates are 10 or 15%, Maine is doing better, Dr. Shah says. He says he'd like to see Maine's positivity rate around 2%, which is what South Korea's is. To do that, Dr. Shah says testing must increase two or three-fold.
RESOURCES
Coronavirus, COVID-19 Background
The official name for the coronavirus is "SARS-CoV-2" and the disease it causes is named "coronavirus disease 2019" or "COVID-19" for short. Coronavirus is a family of viruses, which can infect people and animals. The viruses can cause the common cold or more serious diseases like SARS, MERS, and COVID-19.
Wash your hands often with soap and water for at least 20 seconds or use alcohol-based hand sanitizer
Avoid close contact with people who are sick
Avoid touching your eyes, nose, and mouth with unwashed hands
Stay home while you're sick and avoid close contact with others
The Maine Centers for Disease Control (CDC) announced on Tuesday, March 10 that they would be holding daily coronavirus briefings with director Dr. Nirav Shah to keep the public up to date on the situation in Maine.
NEWS CENTER Maine YouTube Coronavirus Playlist