MAINE, USA — EVERY NUMBER IS A LIFE: Celebrating the life of loved ones during the faceless anonymity of Maine coronavirus COVID fatalities.
LATEST CORONAVIRUS UPDATES
Latest Tyson food plant update:
Dr. Shah also gave an update on the outbreak at the Tyson food plant in Portland. There are now 51 total confirmed cases at the facility, which makes specialty frozen chicken products.
The facility's production has been idled while they continue to work with the Maine CDC to clean and complete testing investigations. Tyson has taken safety measures such as installing plastic shields and separating workers.
The Maine CDC is not only working to identify those who are already infected but people they've been in contact with, which is presenting some challenges. Many of the individuals that work at Tyson are from immigrant communities, Dr. Shah said, and for many English isn't their first language. The Maine CDC has brought in special medical translators in addition to epidemiologists to help them understand what's happening.
Tyson shared this statement with NEWS CENTER Maine:
The health and safety of our team members continues to be our top priority, and we take this responsibility extremely seriously. we're grateful for the assistance from our third-party medical provider which has been testing all of our team members and for the collaboration with Maine CDC. we've suspended all operations until the results of the tests are known.
Tyson also says they don't believe there are any food safety concerns. The U.S. CDC and FDA say there is no evidence COVID-19 can be a foodborne illness.
The Maine CDC reported one additional death, for a total of 62. There are 1,254 total cases; 1,174 are confirmed and 80 are probable. There have been 766 people who have recovered.
The additional death announced Wednesday was a woman in her 70s from York County.
Dr. Nirav Shah, director of the Maine CDC, said they are working on hiring more gumshoe epidemiologist disease investigators and standard contact tracers. He said they may have a total force of up to 100 people conducting contact tracing but that it all depends on where the cases go and how successful they are at keeping cases down. He also said Maine CDC will soon be rolling out a technical system to keep tabs on how the outbreak is evolving and changing.
Maine Governor Janet Mills took to the podium Wednesday and began by noting the chain reaction effect that the coronavirus pandemic has on Maine's economy. For example, the affect Maine's restaurant shutdowns have had and will continue to have on Maine's agricultural industries.
Mills said she is convening an economic recovery committee charged with developing recommendations to mitigate the damage to Maine's economy and jumpstart a long-term economic recovery for Maine people, businesses, and organizations.
The thirty-seven member committee, co-chaired by Laurie Lachance, former Maine State Economist and President of Thomas College, and Josh Broder, CEO of Tilson, includes representatives of small businesses, non-profits, financial institutions, unions, municipalities, tribal and immigrant communities, hospitality and tourism industries, and educational institutions as well as a bipartisan delegation of legislative designees.
"This pandemic is wreaking havoc on our national economy and dealing heavy losses to businesses of all sizes and millions of people who find themselves newly unemployed. Like all states, Maine will be impacted both in the short- and long-term," Mills said. "While we work to protect public health and safely restart Maine's economy, I am convening a committee of experts and stakeholders from various industries and with vast experiences to develop recommendations that can guide our economic recovery. Together, drawing on the hard work and resilience of Maine people, we will rebuild and strengthen our economy and rise from this unprecedented challenge to be a stronger state."
Mills said she is not doing internal polling or "putting her finger to the wind" to try and figure out the public pulse.
"That's now what this is about. It's not about politics, it's not about popularity. It's about protecting the lives of Maine people," Mills said. "That is our highest priority."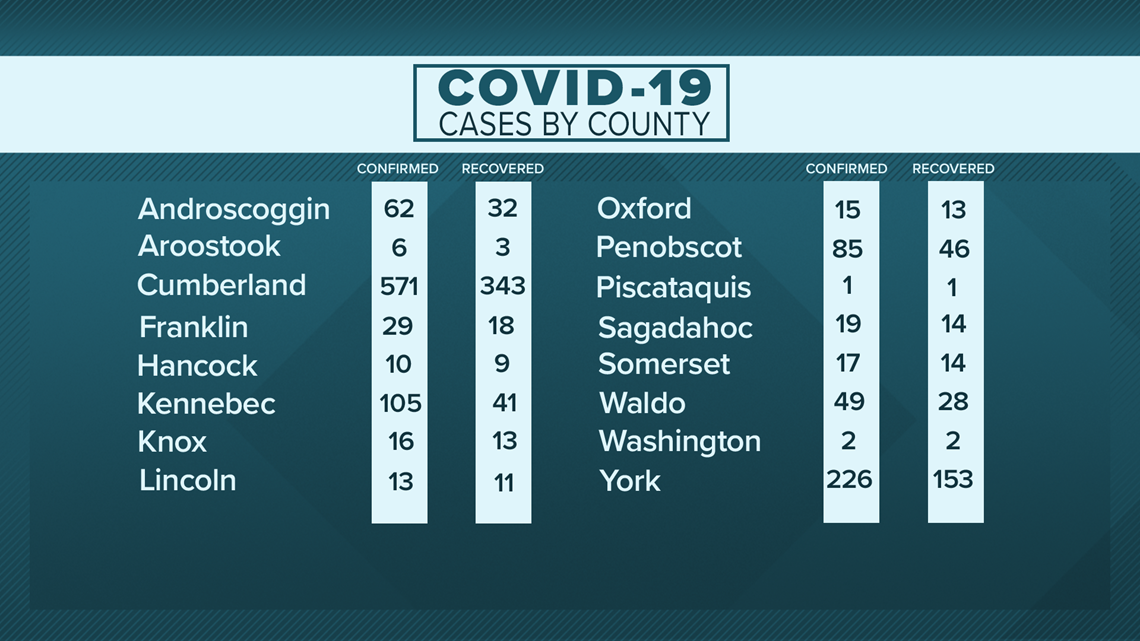 Gov. Janet Mills will be joining Dr. Nirav Shah at the Maine CDC coronavirus briefing, which is scheduled for a 2 p.m. start. NEWS CENTER Maine will stream it live on-air, as well as on our website, Facebook, YouTube, Twitter, and mobile app.
Dr. Shah made clear that when the Maine CDC reports deaths, they are reporting that someone has died who had been confirmed positive with COVID-19, not the cause of death specifically. The cause of death determination is left to the medical examiner.
According to Maine CDC Director Dr. Nirav Shah, as of a few days ago, there were roughly 2,900 Mainers tested each week. This includes people tested through the state lab in Augusta, as well as large commercial testing companies like LabCorp. Dr. Shah said right now, the positivity rate is over 5%, meaning for every 100 people tested, about 5 or 6 are positive. Compared to other states, whose positivity rates are 10 or 15%, Maine is doing better, Dr. Shah says. He says he'd like to see Maine's positivity rate around 2%, which is what South Korea's is. To do that, Dr. Shah says testing must increase two or three-fold.
TAKE A MOMENT FOR 'A BREATH OF FRESH AIR'
RESOURCES
Coronavirus, COVID-19 Background
The official name for the coronavirus is "SARS-CoV-2" and the disease it causes is named "coronavirus disease 2019" or "COVID-19" for short. Coronavirus is a family of viruses, which can infect people and animals. The viruses can cause the common cold or more serious diseases like SARS, MERS, and COVID-19.
Wash your hands often with soap and water for at least 20 seconds or use alcohol-based hand sanitizer
Avoid close contact with people who are sick
Avoid touching your eyes, nose, and mouth with unwashed hands
Stay home while you're sick and avoid close contact with others
The Maine Centers for Disease Control (CDC) announced on Tuesday, March 10 that they would be holding daily coronavirus briefings with director Dr. Nirav Shah to keep the public up to date on the situation in Maine.
NEWS CENTER Maine YouTube Coronavirus Playlist