The Maine CDC reported 0 additional deaths of people who tested positive for COVID-19, meaning the state death total remains at 99.
Of the 2,588 COVID-19 cases in Maine, 2,305 are confirmed by test and 283 are probable (meaning someone who has not tested positive but has been in close contact with someone who has).
1,891 Mainers have recovered from COVID-19.
301 Mainers have been hospitalized at some point during their COVID-19 illness. 37 Mainers are currently hospitalized due to COVID-19, with 12 being treated in intensive care units and 7 on ventilators.
The outbreaks at Hope House in Bangor and Edgewood Rehabilitation in Farmington have been closed. Maine CDC Director Dr. Nirav Shah said those facilities have gone the requisite number of days and are no longer considered to have COVID-19 outbreaks.
On Monday, Governor Janet Mills' administration unveiled an alternative to the state's 14-day quarantine requirement for people entering Maine. According to the governor, the multilayered plan, called 'Keep Maine Healthy,' aims to protect the health of Maine people and visitors while allowing the opportunity for people to visit Maine and support Maine small businesses during the summer months.
The plan rests on three cornerstones: 1) having visitors certify that they have received a recent negative COVID-19 test to stay in lodging establishments, such as hotels, as an alternative to quarantine; 2) increasing symptom checks at places where visitors tend to go; and 3) supporting community promotion of COVID-19 prevention best practices and public health education.
"The COVID-19 pandemic has loomed large over our state's tourism industry. Many Maine people are fearful that more visitors will increase the spread of the virus while many small businesses are fearful that a lack of visitors will force them to permanently close their doors," Mills said. "It is my hope that by creating layers of protection to reduce the risk of transmission of the virus this plan will protect public health, establish Maine as a safe place to visit, and allow tourists to come to Maine to support our small businesses."
More on Governor Mills' announcement can be found HERE.
When Dr. Shah was asked if he recommends that all people who have attended protests in recent days be tested, he said he recommends all protesters wear masks, use hand sanitizer, and take measures to stay safe and prevent the spread. He said the state's standing order provides an avenue for testing for anyone who wants it.
Gov. Mills was asked about voting in Maine's July primary, and cited her administration's expansion of absentee voting to give Mainers more time to vote by mail. She said her administration wants to preserve the right to vote in person but also ensure absentee voting is accessible to all.
"If you show up to vote in person, you may have to wait a longer time," Mills said, citing a plan for reduced numbers of polling places around the state due to COVID-19.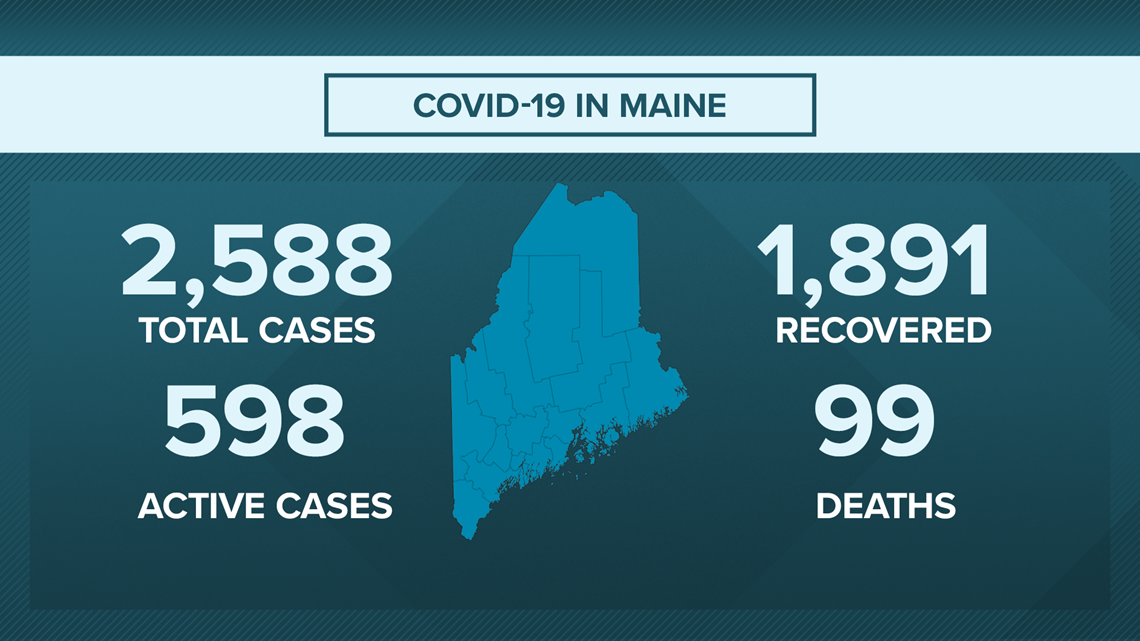 The Mills Administration announced the state is expanding its partnership with IDEXX Labs that will quadruple the state's testing capacity in Maine beginning in July.
THE DATA
Dr. Nirav Shah made clear that when the Maine CDC reports deaths, they are reporting that someone has died who had been confirmed positive with COVID-19, not the cause of death specifically. The cause of death determination is left to the medical examiner.
According to Maine CDC Director Dr. Nirav Shah, as of a few days ago, there were roughly 2,900 Mainers tested each week. This includes people tested through the state lab in Augusta, as well as large commercial testing companies like LabCorp. Dr. Shah said right now, the positivity rate is over 5%, meaning for every 100 people tested, about 5 or 6 are positive. Compared to other states, whose positivity rates are 10 or 15%, Maine is doing better, Dr. Shah says. He says he'd like to see Maine's positivity rate around 2%, which is what South Korea's is. To do that, Dr. Shah says testing must increase two or three-fold.
RESOURCES
Coronavirus, COVID-19 Background
The official name for the coronavirus is "SARS-CoV-2" and the disease it causes is named "coronavirus disease 2019" or "COVID-19" for short. Coronavirus is a family of viruses, which can infect people and animals. The viruses can cause the common cold or more serious diseases like SARS, MERS, and COVID-19.
The CDC says symptoms of the coronavirus include fever, cough, difficulty breathing, and in some cases sore throat.
The CDC says there are simple steps to take to reduce the possible spread of COVID-19:
Wash your hands often with soap and water for at least 20 seconds or use alcohol-based hand sanitizer
Avoid close contact with people who are sick
Avoid touching your eyes, nose, and mouth with unwashed hands
Stay home while you're sick and avoid close contact with others

The Maine Centers for Disease Control (CDC) announced on Tuesday, March 10 that they would be holding daily coronavirus briefings with director Dr. Nirav Shah to keep the public up to date on the situation in Maine.