LATEST CORONAVIRUS UPDATES
Portland City Council members, along with Mayor Kate Snyder discussed business practices in the city with regards to 'non-essential" businesses. NEWS CENTER Maine's Hannah Dineen will have the full story shortly. Here is the full meeting below
The Maine CDC announced there are now 875 confirmed COVID-19 cases in the state. 414 people in Maine have fully recovered from the virus.
Dr. Nirav Shah, Director of the Maine CDC, announced one new death Monday, bringing the state total to 35. The new death was a woman in her 70s from Waldo County.
212 of the 875 confirmed cases are health care workers.
There have been three deaths in individuals associated with the Augusta Center for Health and Rehabilitation and eight deaths at the Tall Pines facility in Belfast. Dr. Shah said long term care facilities are still Maine CDC's priority, with outbreaks at a number of them across the state.
There are currently 16 people in Maine who are being treated in intensive care units. There are 23 people who are being treated in hospitals but not in intensive care units. 9 people in Maine are on ventilators due to COVID-19.
Dr. Shah said he is concerned about the spread of the virus in rural parts of Maine, citing spiked numbers in rural states such as Iowa and North Dakota.
Maine CDC's current approximate personal protective equipment (PPE) inventory:
199,000 N95 masks
126,000 surgical masks
4,000 face shields
19,000 gloves
3,000 disposable protective suits
7,400 surgical gowns
Maine CDC also announced that Piscataquis County now has one confirmed case, which means there is now at least one confirmed case in every Maine county.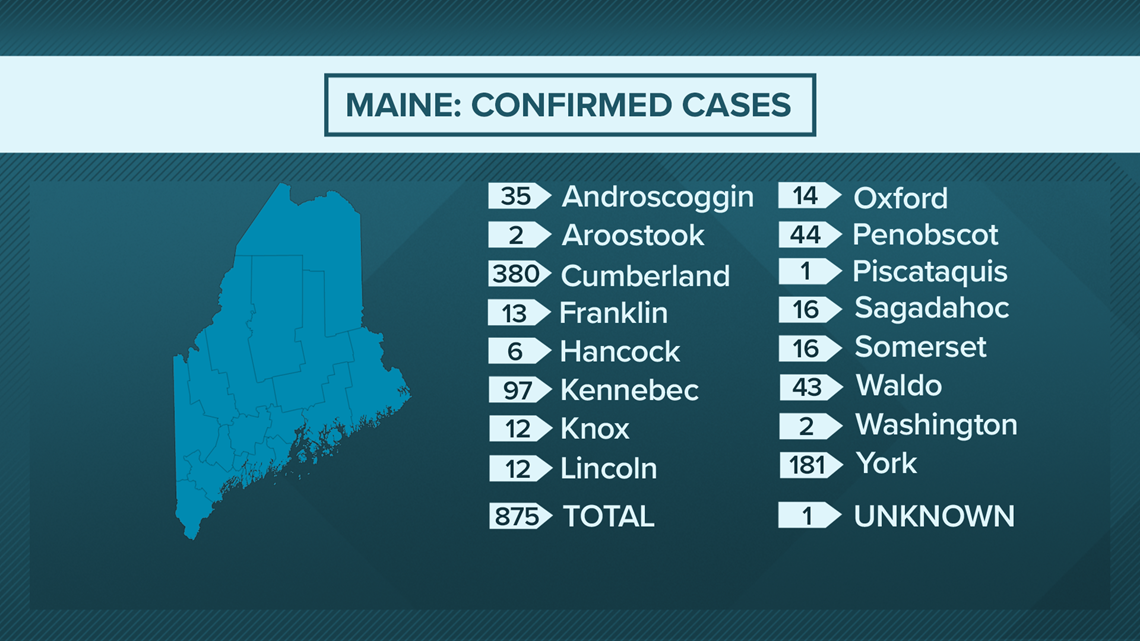 TAKE A MOMENT FOR 'A BREATH OF FRESH AIR'
RESOURCES
Coronavirus, COVID-19 Background
The official name for the coronavirus is "SARS-CoV-2" and the disease it causes is named "coronavirus disease 2019" or "COVID-19" for short. Coronavirus is a family of viruses, which can infect people and animals. The viruses can cause the common cold or more serious diseases like SARS, MERS, and COVID-19.
Wash your hands often with soap and water for at least 20 seconds or use alcohol-based hand sanitizer
Avoid close contact with people who are sick
Avoid touching your eyes, nose, and mouth with unwashed hands
Stay home while you're sick and avoid close contact with others
The Maine Centers for Disease Control (CDC) announced on Tuesday, March 10 that they would be holding daily coronavirus briefings with director Dr. Nirav Shah to keep the public up to date on the situation in Maine.
NEWS CENTER Maine YouTube Coronavirus Playlist