The Maine CDC reports there are now 2,637 total cases. Of those, 2,350 are confirmed and 287 are probable. 650 of Maine's total cases have been among healthcare workers.
Recoveries have surpassed 2,000, and 100 Mainers have died with COVID-19.
Maine CDC Director Dr. Nirav Shah thanked the Taiwanese government and people on Wednesday, saying the Taiwanese consulate donated 30,000 N95 masks to Maine. These masks are critical for protecting Maine's healthcare workers who are fighting on the front lines of COVID-19.
The Maine CDC has been provided with 500 bottles of a crucial solution needed for fit testing, thanks to the University of New England. Dr. Shah said the Maine CDC would be four months behind if not for UNE, as the solution is very difficult to obtain.
Dr. Shah personally thanked the sign language interpreters who participate in the daily briefings, as well as everyone who supports them and helps them. He emphasized the importance of the fact that they allow the Maine CDC to get its message to as many people in the state as possible. He also thanked them for their tireless work and effort, and their ability to roll with unexpected changes.
The Maine Department of Health and Human Services (DHHS) announced will use nearly $1 million in federal funding awarded this week for a program to help Maine people cope with the psychological effects of the COVID-19 pandemic, through both direct support for individuals exposed to the virus and proactive outreach aimed at reducing the long-term behavioral health impacts of the pandemic.
Maine's Intentional Warm Line, which offers non-crisis peer support to adults, has received more than 6,000 calls since March 30, 2020, an increase of 40 percent. Call duration increased 60 percent over the same period to an average of nearly 22 minutes.
"The COVID-19 pandemic has taken a toll on not only people's physical health, but also their mental health and emotional wellbeing," DHHS Commissioner Jeanne Lambrew said. "This funding will support additional boots on the ground to help those in Maine facing behavioral health challenges now and to prevent post-COVID challenges in the long-term."
According to DHHS, it will use $989,045 from the Substance Abuse and Mental Health Services Administration to:
Contract with behavioral health providers and organizations to offer crisis counseling to individuals diagnosed with COVID-19, close contacts of such individuals, and people living or working in an outbreak setting. Community health workers will be trained to provide psychological and emotional support, assessment and case management, and facilitate connections to Maine CDC contact tracers. Behavioral health providers will stand ready to offer additional support to individuals with more significant psychiatric needs. This work supplements the ongoing work of Maine CDC's Behavioral Health Response Team, whose trained volunteers have been responding to outbreak settings to help minimize the impacts and support those affected.
Launch a public awareness campaign offering information on expected emotional reactions to public health emergencies, building resilience and coping skills, knowing what warning signs to watch for, and when and how to seek help. While the campaign will serve the general public, it will target those with pre-existing behavioral health conditions, first responders and health care workers, and those experiencing significant economic impacts from the pandemic.
Support the Maine Frontline Warmline for first responders and health care workers, NAMI Maine's Teen Text Support Line, bolster the Intentional Warm Line, and add Psychological First Aid as a service accessible through Maine's 211 system.
Maine DHHS also will assess the behavioral health needs of various communities, including people of color such as new Mainers, Tribes, first responders, and health care workers, to determine how best to direct future resources. DHHS plans to apply for a second round of federal funding to extend this project over a longer term, recognizing that public health emergencies have both immediate and long-term psychological impacts.
The Maine Emergency Management Agency is the direct recipient of this award and will transfer the funds to DHHS.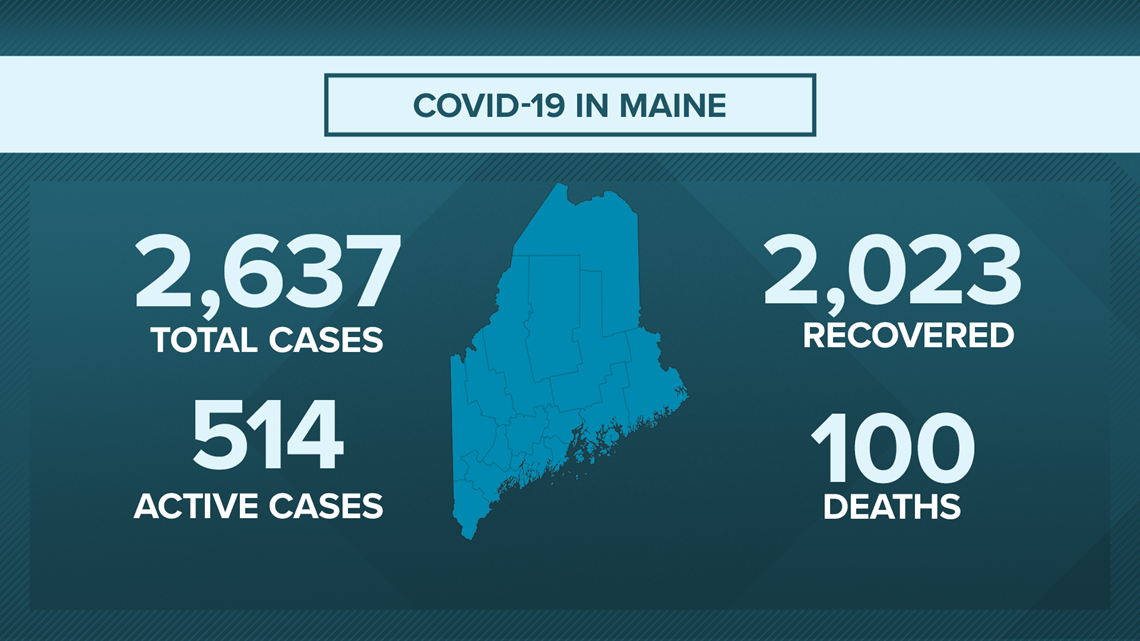 Nichols Manufacturing in Portland is testing all of its employees, after Maine CDC was made aware of an outbreak at the facility on Tuesday.
Maine CDC is investigating an outbreak at Abbott Laboratories in Scarborough, and are in the process of contact tracing employees there.
THE DATA
Dr. Nirav Shah made clear that when the Maine CDC reports deaths, they are reporting that someone has died who had been confirmed positive with COVID-19, not the cause of death specifically. The cause of death determination is left to the medical examiner.
According to Maine CDC Director Dr. Nirav Shah, as of a few days ago, there were roughly 2,900 Mainers tested each week. This includes people tested through the state lab in Augusta, as well as large commercial testing companies like LabCorp. Dr. Shah said right now, the positivity rate is over 5%, meaning for every 100 people tested, about 5 or 6 are positive. Compared to other states, whose positivity rates are 10 or 15%, Maine is doing better, Dr. Shah says. He says he'd like to see Maine's positivity rate around 2%, which is what South Korea's is. To do that, Dr. Shah says testing must increase two or three-fold.
RESOURCES
Coronavirus, COVID-19 Background
The official name for the coronavirus is "SARS-CoV-2" and the disease it causes is named "coronavirus disease 2019" or "COVID-19" for short. Coronavirus is a family of viruses, which can infect people and animals. The viruses can cause the common cold or more serious diseases like SARS, MERS, and COVID-19.
The CDC says symptoms of the coronavirus include fever, cough, difficulty breathing, and in some cases sore throat.
The CDC says there are simple steps to take to reduce the possible spread of COVID-19:
Wash your hands often with soap and water for at least 20 seconds or use alcohol-based hand sanitizer
Avoid close contact with people who are sick
Avoid touching your eyes, nose, and mouth with unwashed hands
Stay home while you're sick and avoid close contact with others

The Maine Centers for Disease Control (CDC) announced on Tuesday, March 10 that they would be holding daily coronavirus briefings with director Dr. Nirav Shah to keep the public up to date on the situation in Maine.