LATEST CORONAVIRUS UPDATES
2 p.m.: Maine CDC Director Dr. Nirav Shah provides coronavirus updates for Friday
There are 827 confirmed cases, 29 deaths, 133 hospitalizations, and 352 recoveries
The two new deaths reported Friday: a woman in her 70s and a woman in her 80s, both from Waldo County.
There are currently 27 individuals who are hospitalized in non ICU settings, and 28 are hospitalized in ICUs, for a total of 55 current hospitalizations. There are eight individuals on ventilators due to COVID-19.
Dr. Shah gives an update on the five outbreaks at long-term care facilities:
Tall Pines in Waldo County: There has been an increase of two residents who have tested positive, bringing the total to 28. Ten staff members have tested positive, an increase of one. There is a total of 38 confirmed cases at the facility. Five individuals have died.
Falmouth by the Sea in Falmouth: There are currently three residents and one staff member with confirmed cases of COVID-19. Maine CDC delivered an emergency order of PPE to the facility on Thursday.
Augusta Center for Health and Rehabilitation: A total of 70 individuals have COVID-19: 46 residents and 24 staff members. Two individuals have died.
The Cedars in Portland: There are four new cases among residents for a total of seven. Three staff members have tested positive.
Maine Veterans' Home in Scarborough: 28 residents have tested positive, no increase since Thursday; 14 staff members, an increase of one. There have been two deaths due to COVID-19.
All told, there are 164 people among residents and staff of the five long-term care facilities that have COVID-19. Maine CDC continues to investigate these outbreaks.
PPE the Maine CDC has on hand as of Friday:
201,000 N95 masks
138,500 surgical masks
6,000 face shields
3,290 disposable protective suits
just under 10,000 surgical gowns
23,390 gloves
The Maine CDC, working with the National Guard and the Dept. of Transportation, 76 total orders of PPE are being filled. Approximately 80 percent of those orders are going to congregate care settings, especially long-term care facilities. About 18 percent are going to the community, such as local fire departments, EMS, and law enforcement. The rest is going to hospitals.
Since the Maine CDC began filling PPE order, 1,009 facilities across the state have received at least one shipment of PPE, and many have received multiple shipments.
Dr. Shah ended his updates on a personal note:
Today's Friday...or Tuesday. I've heard it both ways. It's evidently a holiday weekend, but who knew about that--and that's sort of the point. These are very tumultuous times. It's 2020 and I don't know about you, but I thought in 2020 I'd be tuning up my time machine, or programming my own personal flying pod. But instead, I've been learning how to use bar soap properly and singing 'Happy Birthday' to myself eight to 12 times a day.
It's more than confusing, it's downright bewildering...and I've been trying to get a sense of how I, myself, personally feel. I alternate from being upset, disappointed, powerless, confused, and frankly, sometimes unmoored. And what is all of that? At least for me, when I throw it all into a blender, what I get is one thing: which for me, is grief.
I think many of us right now are grieving not only the lives of Maine people we've lost, but also grieving the lives that we ourselves used to have not too long ago; our own personal remembrances of things past. The hobbies that used to define us, the habits and haunts we used to enjoy.
For many of us, those have been replaced by...nothing. And I think for a lot of us we're collectively grieving that loss, that rapid, sudden change.
Dr. Shah says you have to recognize that grief is not a problem to be solved, it's a feeling to be reckoned with and discussed.
He says a way to get through this is to talk to somebody. "And when you call up that friend, when you call up that family member, when you call up that shrink in Beverly Hills...you know the one...be open to sharing your feelings of grief."
"These are difficult times, but I just want everyone to know that in this life, you are not on your own."
The Maine CDC is reporting two new deaths due to COVID-19. There are 29 total deaths, 827 confirmed cases, 133 hospitalizations, and 352 have recovered.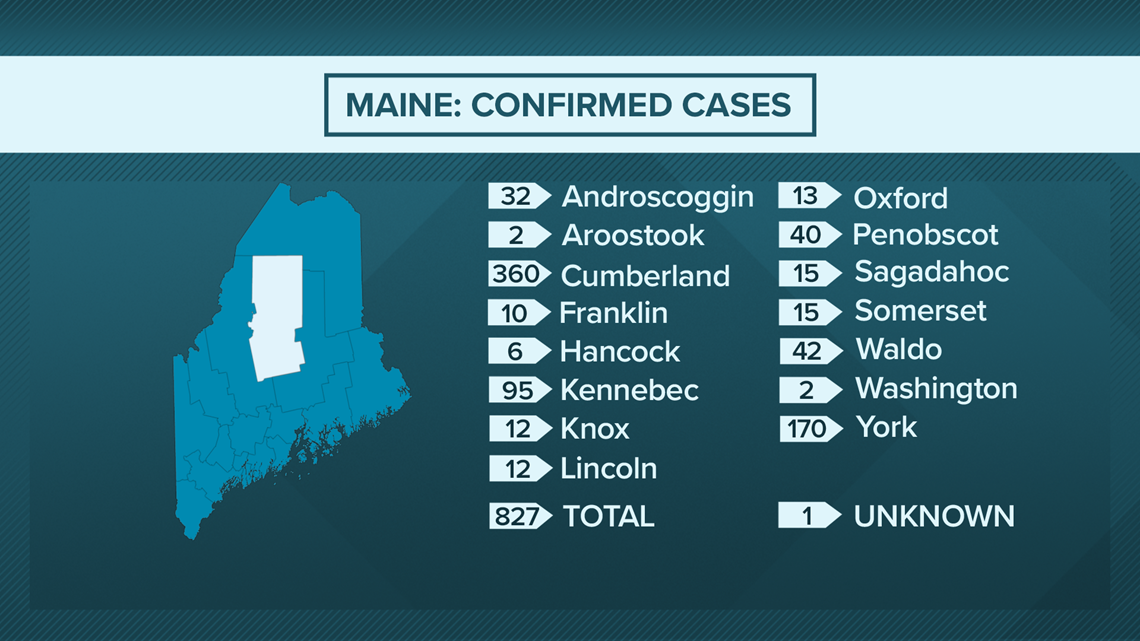 RESOURCES
Coronavirus, COVID-19 Background
The official name for the coronavirus is "SARS-CoV-2" and the disease it causes is named "coronavirus disease 2019" or "COVID-19" for short. Coronavirus is a family of viruses, which can infect people and animals. The viruses can cause the common cold or more serious diseases like SARS, MERS, and COVID-19.
Wash your hands often with soap and water for at least 20 seconds or use alcohol-based hand sanitizer
Avoid close contact with people who are sick
Avoid touching your eyes, nose, and mouth with unwashed hands
Stay home while you're sick and avoid close contact with others
The Maine Centers for Disease Control (CDC) announced on Tuesday, March 10 that they would be holding daily coronavirus briefings with director Dr. Nirav Shah to keep the public up to date on the situation in Maine.
NEWS CENTER Maine YouTube Coronavirus Playlist