MAINE, USA — Next update: Wednesday 11:00 a.m., conference at 2:00 p.m.
LATEST CORONAVIRUS UPDATES
Next update: Wednesday 11:00 a.m., conference at 2:00 p.m.
The Maine CDC announced on its website there are now 888 confirmed COVID-19 cases in the state and 443 recovered cases.
Maine CDC also announced one additional death, bringing the state total to 36. The latest death was a man in his 80s from Cumberland County.
There are now more recovered cases (443) than active cases (409) in the state of Maine.
40 people in Maine who have tested positive are in the hospital, 16 of which are in intensive care. Eight people in Maine are on ventilators due to COVID-19.
215 health care workers have been affected by COVID-19. Dr. Nirav Shah, Director of the Maine CDC, announced a new "FrontLine WarmLine" for anyone who is directly responding to the pandemic across the state. It is a telephone line run by volunteers aimed at helping responders deal with the anxiety and stress that comes with being on the frontlines fighting the virus.
The numbers for the FrontLine WarmLine are (207) 221-8196 and 866-367-4440. It will be open seven days a week from 8 a.m. to 8 p.m.
"Maine's health care professionals and first responders have worked tirelessly to protect Maine people in response to the COVID-19 pandemic," Maine DHHS Commissioner Jeanne Lambrew said. "We recognize that this work takes an emotional toll so we're proud to support the FrontLine WarmLine as a resource offered by behavioral health peers who know how to help."
There are 120 residents and 63 staff workers affiliated or associated with long term care facilities across the state who have been affected by COVID-19.
Maine CDC's current approximate personal protective equipment (PPE) inventory:
194,000 N95 masks
117,000 surgical masks
1,500 face shields
12,000 gloves
2,600 disposable protective suits
5,700 surgical gowns
Maine CDC delivered 26,000 pieces of PPE to various health care facilities and hospitals across the state on Monday. PPE has now been delivered to 1,070 health care facilities across the state since the coronavirus outbreak began.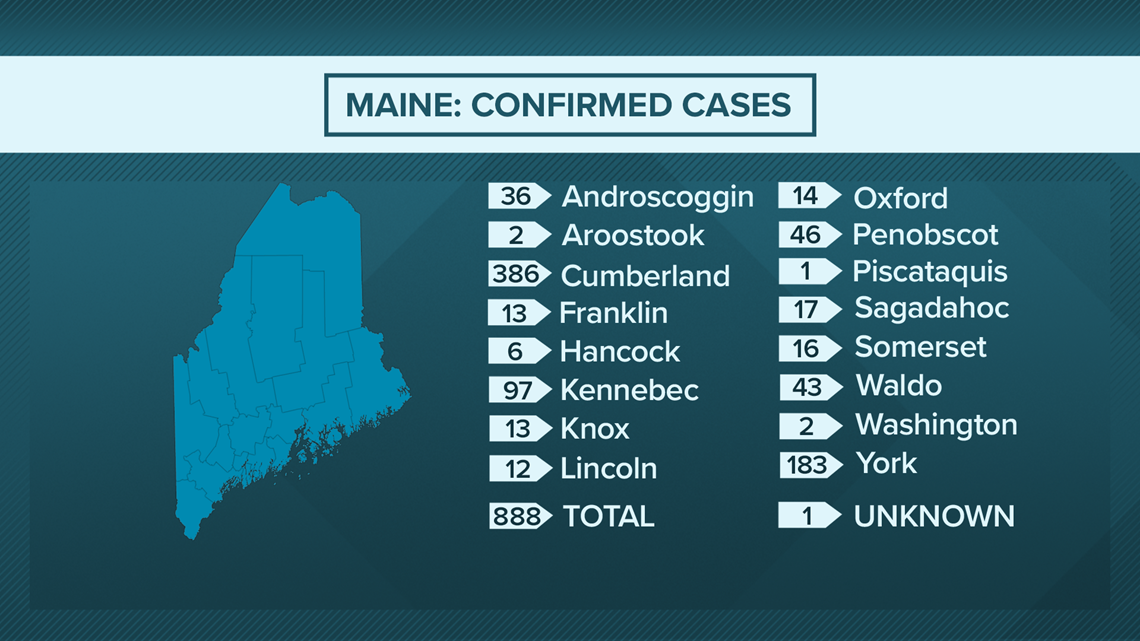 TAKE A MOMENT FOR 'A BREATH OF FRESH AIR'
RESOURCES
Coronavirus, COVID-19 Background
The official name for the coronavirus is "SARS-CoV-2" and the disease it causes is named "coronavirus disease 2019" or "COVID-19" for short. Coronavirus is a family of viruses, which can infect people and animals. The viruses can cause the common cold or more serious diseases like SARS, MERS, and COVID-19.
Wash your hands often with soap and water for at least 20 seconds or use alcohol-based hand sanitizer
Avoid close contact with people who are sick
Avoid touching your eyes, nose, and mouth with unwashed hands
Stay home while you're sick and avoid close contact with others
The Maine Centers for Disease Control (CDC) announced on Tuesday, March 10 that they would be holding daily coronavirus briefings with director Dr. Nirav Shah to keep the public up to date on the situation in Maine.
NEWS CENTER Maine YouTube Coronavirus Playlist