LEWISTON, Maine — It was strangely quiet in Central Maine Medical Center's Intensive Care Unit as Dr. Al Teng made his rounds.
"It's very different compared to one month ago, actually," Teng said. "What we just saw the last two years is like nothing we've seen in our lifetime."
What was once a burgeoning ICU COVID unit now only has a handful of severely ill COVID patients.
March 12 marks two years since the state's first confirmed virus case was detected at CMMC.
Since then, they have seen dozens and dozens of patients. There were as many as 20 patients in the ICU at the peak of the latest Omicron surge in December.
Teng and his team are getting the chance to reflect on what they have endured for the first time in months.
"There was quite a delay before we actually saw our first patient, and we thought we got lucky, but we sure did not," Teng said.
NEWS CENTER Maine got exclusive access inside the facility to look first-hand at how frontline workers continue to cope with stress, trauma, and burnout.
One of those workers, Suzi Morin, will be the first to tell you luck was never really on their side.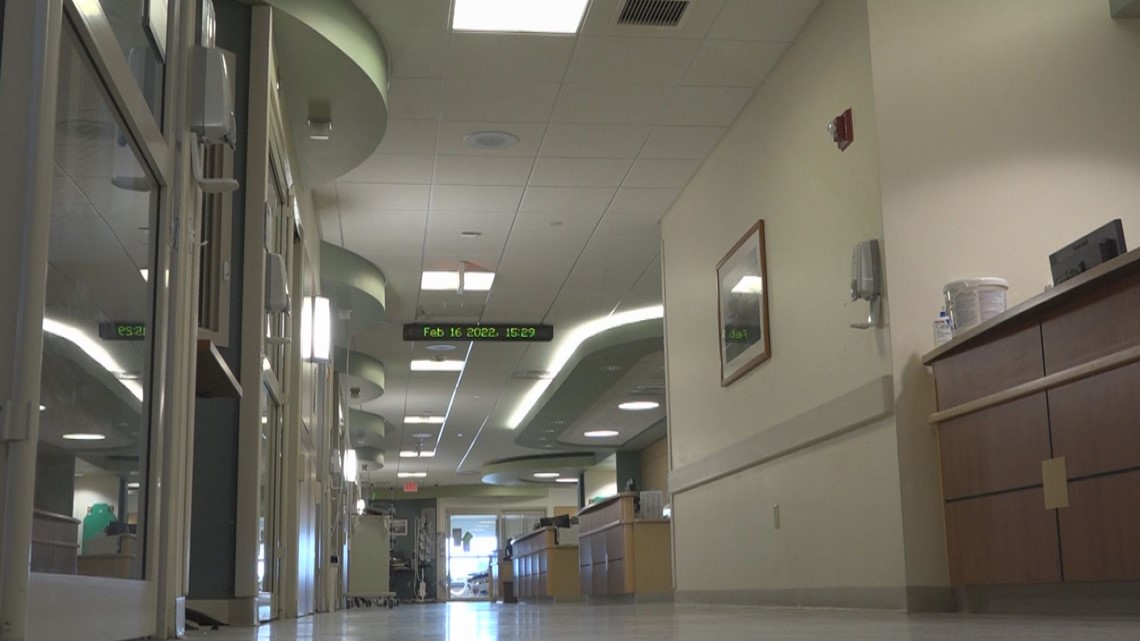 "Nobody really wants to hear about it, to be perfectly honest," she said when asked what the public should know about what she and her colleagues have experienced. "It's not a happy-go-lucky story, but it's so challenging that the story that people are seeing online isn't that same as what's really happening."
She and countless other health care members have constantly been adapting to an ever-changing virus.
They are even turning to Facebook groups of other frontline workers across the country to find solutions to unique problems like administering IVs without entering a patient's room.
"We realized that going in and out of the room, we were wasting so much PPE, and we couldn't do it quickly," Morin said. "So we found this cool thing on Facebook, and two years later, it's doing really well."
The system essentially has the devices that pump fluids and drugs into a critically-ill person by their bedside outside the door to the room with long tubes feeding from the hallway to the patient.
It did save on personal protection equipment and saved time and limited contact.
That is just one of many ways Morin and her team have adapted. They have not gotten used to watching those they care for die.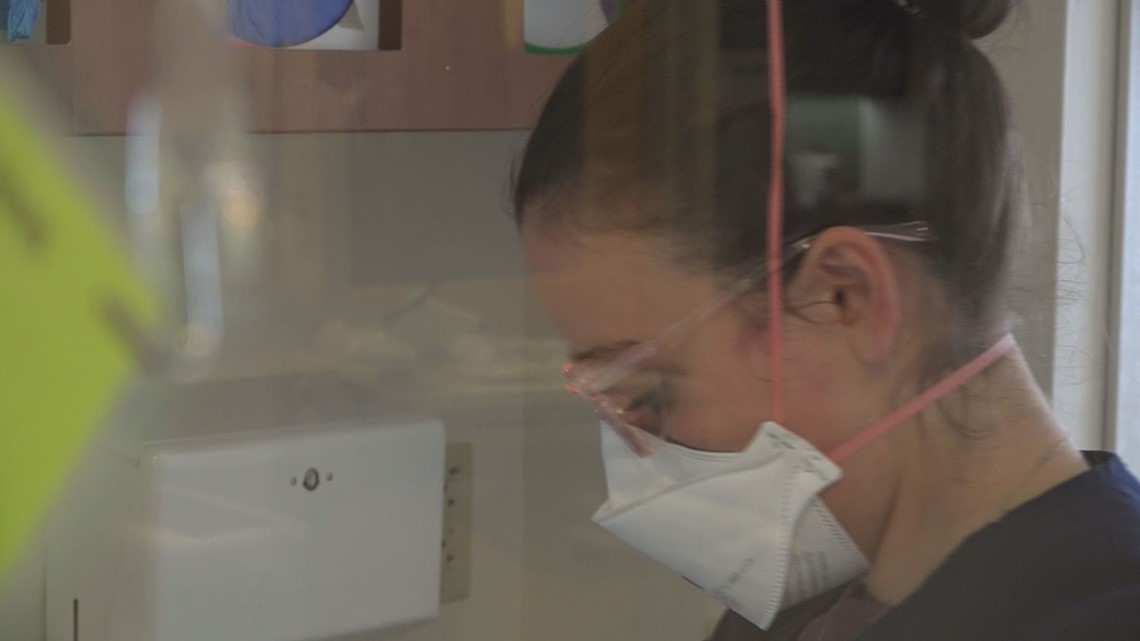 "It's horrible watching this many patients die," Morin said. "When you sit down and process all the death and the absolutely horrible diagnoses these patients have had, it's absolutely emotional."
It was hard for many of the people we spoke with to articulate what that has been like. In many cases, there are no words.
What made it even harder was how many of the patients they saw were unvaccinated, and they said many were under the age of 40.
"I was shocked at how sick and how young the patients were that were coming in," critical care nurse leader Kaitlyn Smith said.
While the number of critically ill patients appears to be waning, the hospital's primary COVID unit continues to handle less severe cases.
"It's been wild," Dr. Zack Mueller said. "It has been a sort of unpredictable ride, I would say. It's been trying for everybody around here."
Muller said in some cases, staff members have been pushed to their breaking points. Dozens have even chosen to leave the job altogether.
"Seeing patients that are sick and scared and it's hard," Mueller said. "So you're doing that day in and day out. It takes a lot of you."
That point is not lost on Central Maine Healthcare President and CEO Steve Littleson.
"We have a core group of people at Central Maine Healthcare that have stayed with us through thick and thin," Littleson said. "Even getting sick with COVID themselves and coming back to work with COVID patients."
He noted that there have been immense challenges with staffing shortages that existed even before the pandemic but said those who have chosen to stay in the fight are true "heroes."
"They're going to see us through this," Littleson said. "Looking at the numbers of our team members that have gotten too sick and have chosen to hang in there and go find something else to do, we don't have enough staff to care for all the patients that need our services."
The state's Trauma Advisory Committee then voted to ensure some critical trauma care remained at the hospital.
The members assisted in non-clinical roles, like monitoring patients, taking vitals, and welcoming visitors.
Littleson said that has not entirely eased the burden on frontline workers, though.
"We're recognizing the situation they're in," he said. "We've heard people talk about the need for health care workers to be resilient. We don't use that term. In our mind, that means suck it up, and they're well past that. What we're focusing on is well-being."
He and his leadership team have taken unique steps to engage with staff and foster an environment where there is no longer stigma surrounding mental health concerns.
The health system's new chief experience officer, Mendy Goonan, has played a crucial role in ensuring every staff member has the resources they need to handle the weight of this moment.
They have even introduced spaces where workers can relax and escape the stress of the hospital floors.
"Every single one of our team members really is a health care hero," Goonan said. "And we want to thank them for it."
Despite all of this, public health experts are not yet declaring the COVID pandemic over. The good news: cases are declining.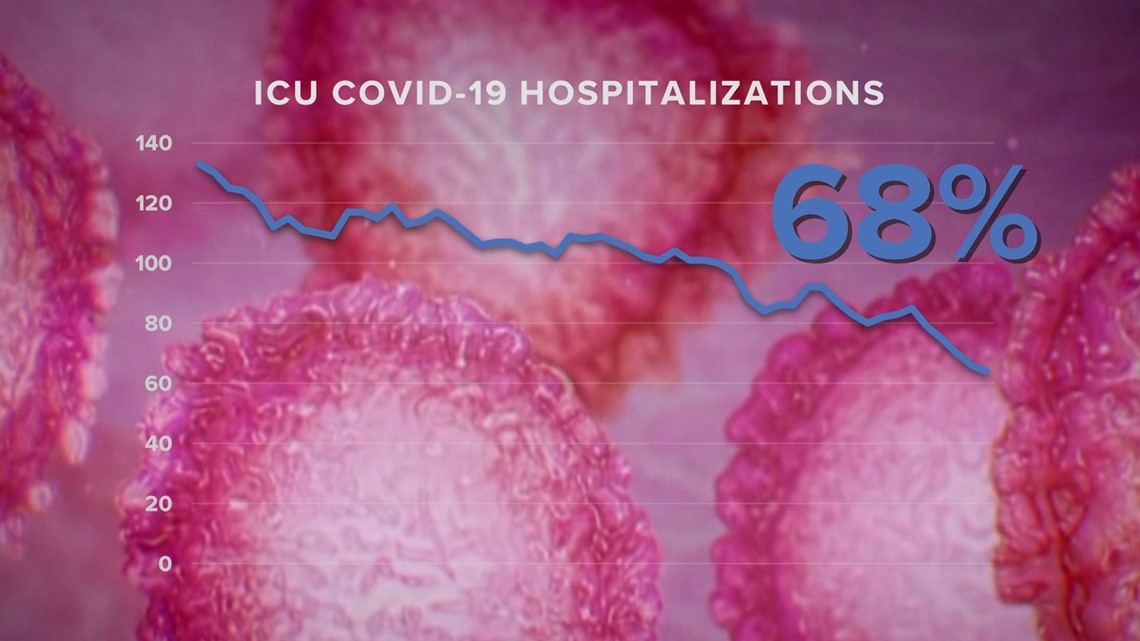 ICU hospitalizations across the state have dropped nearly 68 percent since peaking mid-December, according to Maine CDC data.
But the brave men and women risking their lives in the hallways of CMMC every single day say they are not giving up.
"I'm always hopeful, even in the depths of despair," Teng said.
This moment to reflect has only made them stronger in their resolve. Because while things have gotten quiet in the hallways-turned-pandemic-warzone, the fight is far from over.
"It is what is," Morin said. "We have our community to care for."
More NEWS CENTER Maine stories