Coronavirus in Maine: Thursday, March 12 - Tuesday, March 17
Tuesday Update: The Maine CDC said there are now 23 confirmed positive and 9 presumptive positive COVID-19 cases in Maine. There are now cases in 7 Maine counties.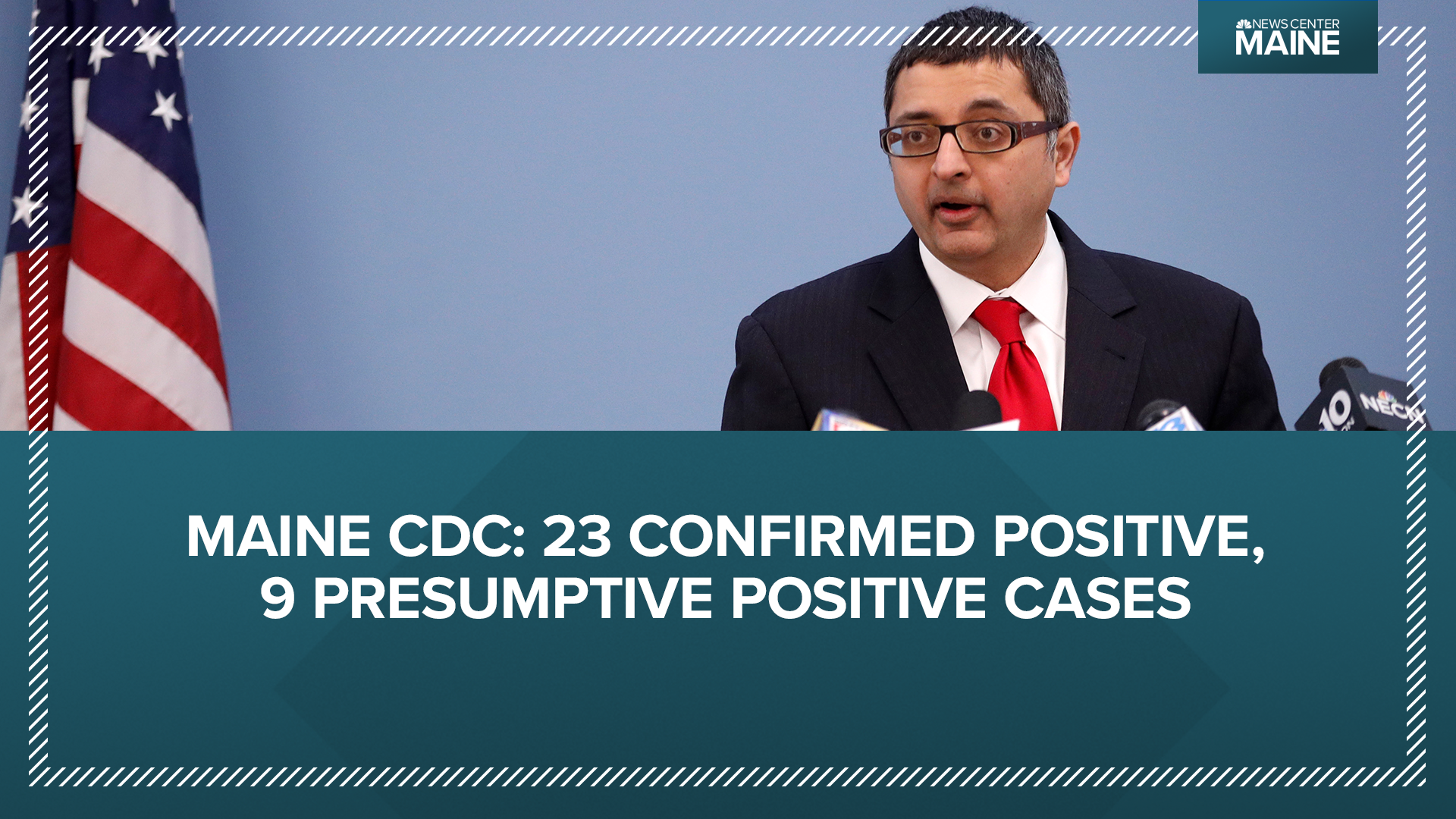 The situation in Maine
:
As of Tuesday, March 17, there are 32 combined positive and presumptive positive cases in Maine.
What is COVID-19?
:
The official name for the virus is "SARS-CoV-2" and the disease it causes is named "coronavirus disease 2019" or "COVID-19" for short.
The novel or new coronavirus, COVID-19 for short, was first detected in Wuhan City, China in December. Since then, it has spread to more than 100 countries around the world. In the U.S., 35 states have reported cases with 423 total cases and 19 deaths as of 1 p.m. on Monday, March 9 according to the U.S. CDC.
Johns Hopkins University has compiled a real-time interactive map showing the number of confirmed cases of COVID-19, how many deaths the virus has caused, as well as how many people have recovered since being diagnosed.
The official name for the virus is "SARS-CoV-2" and the disease it causes is named "coronavirus disease 2019" or "COVID-19" for short. Coronavirus is a family of viruses, which can infect people and animals. The viruses can cause the common cold or more serious diseases like SARS, MERS, and COVID-19.
The CDC says symptoms of the coronavirus include fever, cough, difficulty breathing, and in some cases sore throat. Symptoms may appear two to 14 days after exposure. People with underlying medical conditions may experience more severe respiratory illness, but most patients with mild symptoms can recuperate at home, according to the CDC.
How to prevent the spread
:
The coronavirus seems to be contagious in the same way the flu is, through respiratory droplets from coughing and sneezing.
The virus may spread through the air by coughing and sneezing, close personal contact such as touching or shaking hands, or touching an object or surface with the virus on it and then touching your mouth, nose, or eyes.
Dr. Dora Mills, Senior Vice President of Community Health for Maine Health, says the coronavirus seems to be contagious in the same way the flu is, through respiratory droplets from coughing and sneezing.
The CDC says there are simple steps to take to reduce the possible spread of COVID-19:
Wash your hands often with soap and water for at least 20 seconds or use alcohol-based hand sanitizer
Avoid close contact with people who are sick
Avoid touching your eyes, nose, and mouth with unwashed hands
Stay home while you're sick and avoid close contact with others
Stock up on supplies.
Take everyday precautions to keep space between yourself and others.
When you go out in public, keep away from others who are sick, limit close contact and wash your hands often.
Avoid crowds as much as possible.
Avoid cruise travel and non-essential air travel.
During a COVID-19 outbreak in your community, stay home as much as possible to further reduce your risk of being exposed.
In an early-morning Facebook post on Tuesday, March 10, Dr. Mills noted just how easily this virus may be transmitted. She wrote in part:
"One emerging and fascinating story on COVID is the number of cases who attended a Biogen conference at the Marriott Hotel in Boston on February 24 – 27. As of today, there are 32 in MA and several from other states (5 from NC, 2 from IN, 1 from TN, and 1 from DC) and countries who attended this conference and are positive for COVID-19. This may be an indicator of how easily this can be transmitted in the right conditions. It is also giving pause to a number of conference planners who have attendees who are supposed to attend from around the country or globe. I've seen a large number of such conferences cancelled or are planning to carry on virtually. Another place we've seen rapid spread has been Italy - from 9 cases only ~two weeks ago, to the entire country being shut down. Yet other countries have seemingly been spared so far. (See link below to WHO daily situation reports.) "
"CDC also issued guidance for colleges and universities (see link below) that reviews many prevention and mitigation strategies and also encourages these institutions to consider cancelling international travel plans and recalling students currently in them. It also encourages them to develop ways to teach using distant technologies. Because boarding schools are especially challenging settings to mitigate disease transmission, a number of them in areas with outbreaks have temporarily closed."
What's working in our favor, Dr. Mills says, is the government's travel restrictions.
"Our country hasn't implemented this strict of travel restrictions for decades. I've never seen it implemented so strictly."
If you have traveled to or from countries with a travel advisory, the CDC recommends self-quarantining for 14 days. If you develop symptoms within those 14 days, the CDC says you should contact your health care provider before going to their office or to the hospital.
A Level 3 travel advisory recommends avoiding all nonessential travel. The current countries with Level 3 travel advisories are China, South Korea, Italy, and Iran. Japan has a Level 2 advisory, which recommends that older adults or those who have chronic medical conditions consider postponing travel.
NCM YouTube Coronavirus Video Playlist
:
Subtitle here