Total cases: 3,723
Confirmed cases: 3,300
Probable cases: 423
Hospitalizations: 377
Recoveries: 3,191
Deaths: 118
Case rate per 10,000 people: 27.8
The additional death announced Tuesday was a man in his 70s from Cumberland County.
12 people in Maine are currently hospitalized with COVID-19. Eight of those people are being treated in intensive care units and four are on ventilators.
Maine CDC Director Dr. Nirav Shah took a second to expound upon an uptick in probable cases reported by the Maine CDC on Sunday. He said those 19 probable cases arose from a single camp for young people in Maine. He said that camp was testing some campers with antigen tests. He said the camp found a high number of positive tests using this test, which is typically less accurate and gets results quicker. For this reason, the Maine CDC considers all positive antigen tests to be 'probable cases.' All 19 of the results that were positive from the antigen tests done by the camp came in negative when tested in the Maine CDC laboratory.
The Maine CDC also recommends all people who test positive using antigen tests be tested using the methodology that the Maine CDC lab in Augusta uses. So, as is the Maine CDC's standard procedure, they recommended all campers who tested positive with antigen tests be tested again using PCR tests from the Maine CDC, thus resulting in all the tests coming back negative.
These antigen test cases will be reclassified as negative tests rather than probable tests on the Maine CDC's website starting Wednesday.
As of Tuesday, the Maine CDC has followed up on 120 cases in Maine which, following an investigation, were determined to be residents of other states such as New Hampshire, New York, and Massachusetts. 2,074 negative cases from residents of other states that have been reported to Maine CDC.
There have also been 57 cases of Maine people in other states that have been reported to the Maine CDC.
Maine's 7-day weighted average for PCR tests is 1.0 percent. The rate of testing in Maine is 177.6 per every 100,000 Maine residents.
More "Swab and Send" Sites
The Maine Department of Health and Human Services (DHHS) announced Tuesday four additional COVID-19 "swab and send" testing sites, the award of $1 million in federal funding to rural hospitals to increase their labs' capacity to process COVID-19 tests, and a second round of grants to municipalities under the Keep Maine Healthy Plan to support local COVID-19 public health, education, and prevention efforts.
DHHS is finalizing agreements with the following four additional organizations for "swab and send" testing:
City of Westbrook
Redington-Fairview General Hospital, Skowhegan
Penobscot Valley Hospital, Lincoln
York County Community Action Corp./Nasson Health Care, Sanford
These 22 sites complement the roughly 40 current testing sites already available to the public. DHHS aims to further increase the number of testing sites outside of health care office settings and continues to accept applications for the swab and send effort to ensure access throughout Maine.
The Maine CDC is aware of three confirmed cases among employees at the Walmart in Presque Isle. The Maine CDC is working with management there to conduct testing and help keep people safe both in the store and the surrounding area. Dr. Shah said he does not believe there is any added risk of going to the Walmart in Presque Isle, as long as people are taking proper precautions.
Dr. Shah said the Maine CDC is continuing to work with the American Roots manufacturing facility in Portland. Last week it was reported that there were 11 confirmed cases there. Dr. Shah said management is conducting another round of universal testing at the facility.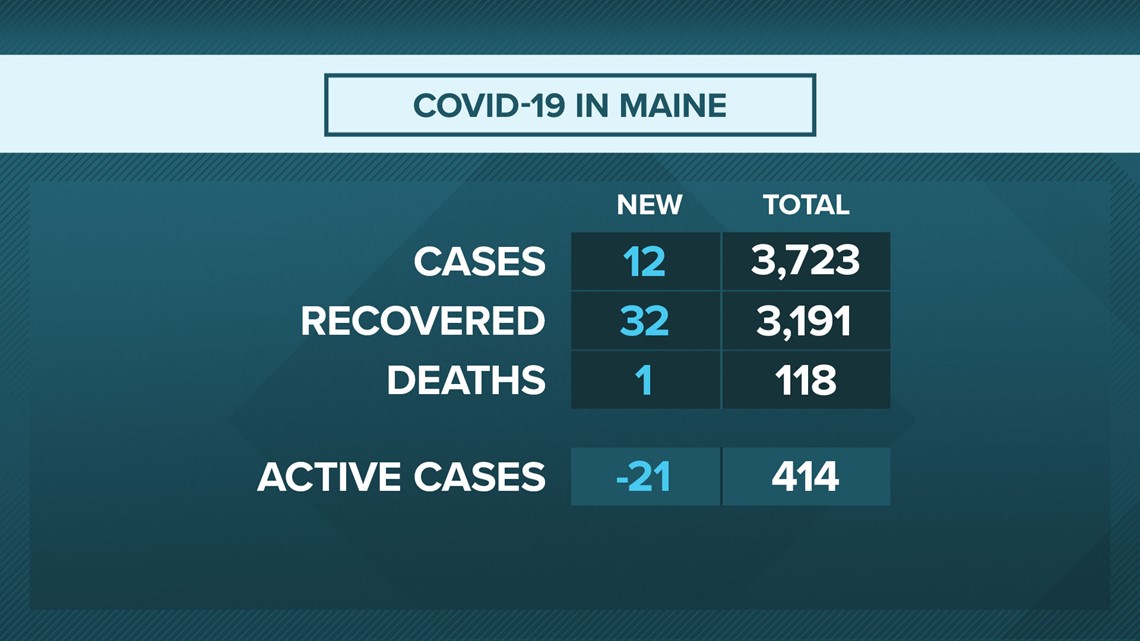 Total cases: 3,711
Confirmed cases: 3,287
Probable cases: 424
Hospitalizations: 375
Recoveries: 3,159
Deaths: 117
Case rate per 10,000 people: 27.7
THE DATA
Dr. Nirav Shah made clear that when the Maine CDC reports deaths, they are reporting that someone has died who had been confirmed positive with COVID-19, not the cause of death specifically. The cause of death determination is left to the medical examiner. According to Maine CDC Director Dr. Nirav Shah, as of a few days ago, there were roughly 2,900 Mainers tested each week. This includes people tested through the state lab in Augusta, as well as large commercial testing companies like LabCorp. Dr. Shah said right now, the positivity rate is over 5%, meaning for every 100 people tested, about 5 or 6 are positive. Compared to other states, whose positivity rates are 10 or 15%, Maine is doing better, Dr. Shah says. He says he'd like to see Maine's positivity rate around 2%, which is what South Korea's is. To do that, Dr. Shah says testing must increase two or three-fold.
RESOURCES
Coronavirus, COVID-19 Background
The official name for the coronavirus is "SARS-CoV-2" and the disease it causes is named "coronavirus disease 2019" or "COVID-19" for short. Coronavirus is a family of viruses, which can infect people and animals. The viruses can cause the common cold or more serious diseases like SARS, MERS, and COVID-19.
The CDC says symptoms of the coronavirus include fever, cough, difficulty breathing, and in some cases sore throat.
The CDC says there are simple steps to take to reduce the possible spread of COVID-19:
Wash your hands often with soap and water for at least 20 seconds or use alcohol-based hand sanitizer
Avoid close contact with people who are sick
Avoid touching your eyes, nose, and mouth with unwashed hands
Stay home while you're sick and avoid close contact with others

The Maine Centers for Disease Control (CDC) announced on Tuesday, March 10 that they would be holding daily coronavirus briefings with director Dr. Nirav Shah to keep the public up to date on the situation in Maine
NEWS CENTER Maine YouTube COVID-19 Playlist