The Maine CDC reported one additional death of a person who tested positive for COVID-19, bringing the state death total to 122.
The additional death announced Thursday was a man in his 80s from Kennebec County.
Of the 3,888 total COVID-19 cases in Maine, 3,477 are confirmed by test and 411 are probable.
386 Mainers have been hospitalized at some point during their COVID-19 illness. Eleven people in Maine are currently hospitalized due to COVID-19, with eight being treated in intensive care units and three on ventilators.
Maine CDC Director Dr. Nirav Shah said Maine's hospitalization rate is about 1 per every 100,000 people. He said the nationwide rate of hospitalization is about 18 per every 100,000 people.
3,345 Mainers have recovered from COVID-19.
On Friday, July 31, the Maine Department of Education will release its first guidelines, designating school districts as green, yellow, or red COVID-19 risk zones. Those will determine whether students can return to classrooms in the fall.
There are a total of three positive cases among workers at Merrill Farm in Ellsworth. The Maine CDC has opened an outbreak investigation at the farm.
At Central Maine Medical Center, there are a total of 14 positive cases - 12 among staff members and two among patients. According to Dr. Shah, the facility is planning to retest selected members of their staff. Dr. Shah said he will share the results of the second round of testing at the facility when the results come in.
There are now a total of eight positive cases among staff members at Hancock Foods, a facility in Hancock that processes and packages blueberries. The Maine CDC continues to work with the farm to conduct another round of testing in the near future.
The Marshwood Center in Lewiston recently undertook a round of universal testing. Dr. Shah said the results should be available later on Thursday.
At Sedgewood Commons in Falmouth, there have been a total of 57 positive cases thus far. Dr. Shah said results came back from the facility's most recent round of universal testing and all results for residents came back negative. Dr. Shah said they should have results for the facility's staff testing soon.
Expanded COVID-19 Rent Relief Program
At the height of the coronavirus pandemic, Gov. Janet Mills issued an executive order that said landlords could not evict tenants for non-payment of rent until the courts reopen. On Thursday, just days before courts are set to reopen on August 3, Mills signed an executive order expanding the timeframe protections for renters in the evictions process.
The new order says "no landlord or agent of a landlord or property owner may attempt during this state of emergency to evict a tenant by means not authorized by law."
The Governor's order allows evictions scheduled for hearing prior to, and unrelated to, the pandemic to move forward. However, it continues to protect tenants who are considered "at will", meaning they do not have a legal agreement with their landlord, and cannot make their rent payment, by requiring a landlord to provide at least 45 days' notice, rather than 30 under law, to a tenant to leave. If the landlord is attempting to evict those at-will tenants, the order also extends an eviction notice timeframe from 7 to 30 days.
The Governor also maintained strengthened penalties for landlords who may try to evict tenants by unlawful means, such as, for example, turning off utilities.
More on this can be found HERE.
Addressing Racial Disparities
On Thursday, the Governor Janet Mills administration announced steps it's now taking to address the disparities with a $1 million investment from the Coronavirus Relief Fund.
The Mills administration says the funding, which comes through the Maine Department of Health and Human Services (DHHS), will expand education, prevention, and eligibility for services currently supported by the Coronavirus Relief Fund. Generally, it will include individuals referred to DHHS by communities at elevated risk of COVID-19.
More on this can be found HERE.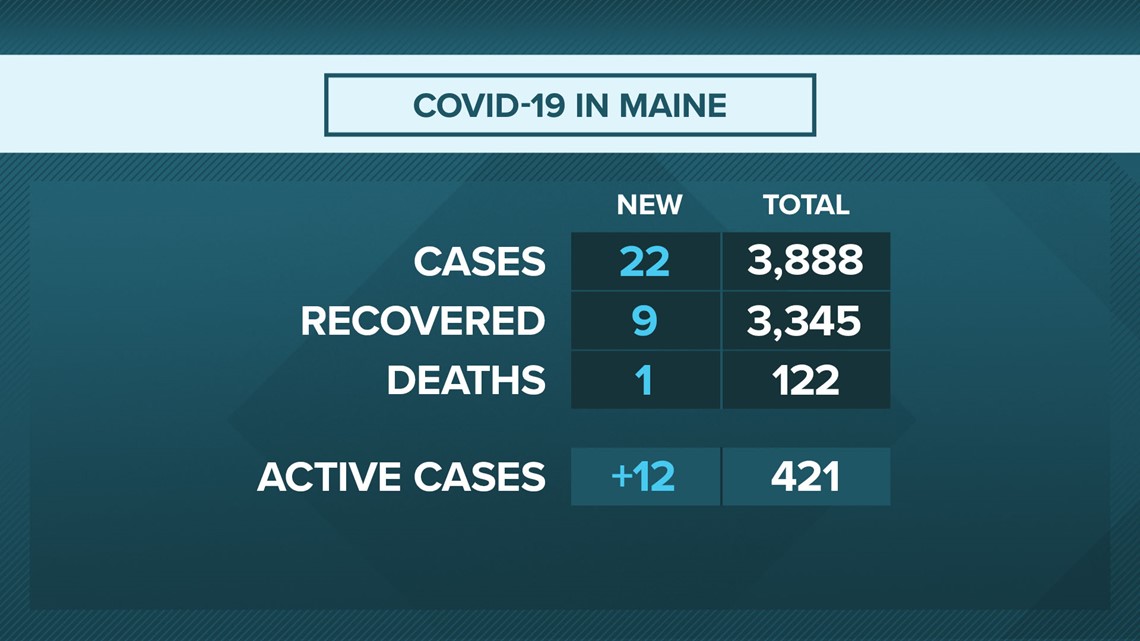 The Maine CDC reported zero additional deaths Wednesday of people who tested positive for COVID-19, meaning the state death total remains at 121.
Of the 3,866 total COVID-19 cases in Maine, 3,457 are confirmed by test and 409 are probable.
385 Mainers have been hospitalized at some point during their COVID-19 illness.
3,336 Mainers have recovered from COVID-19.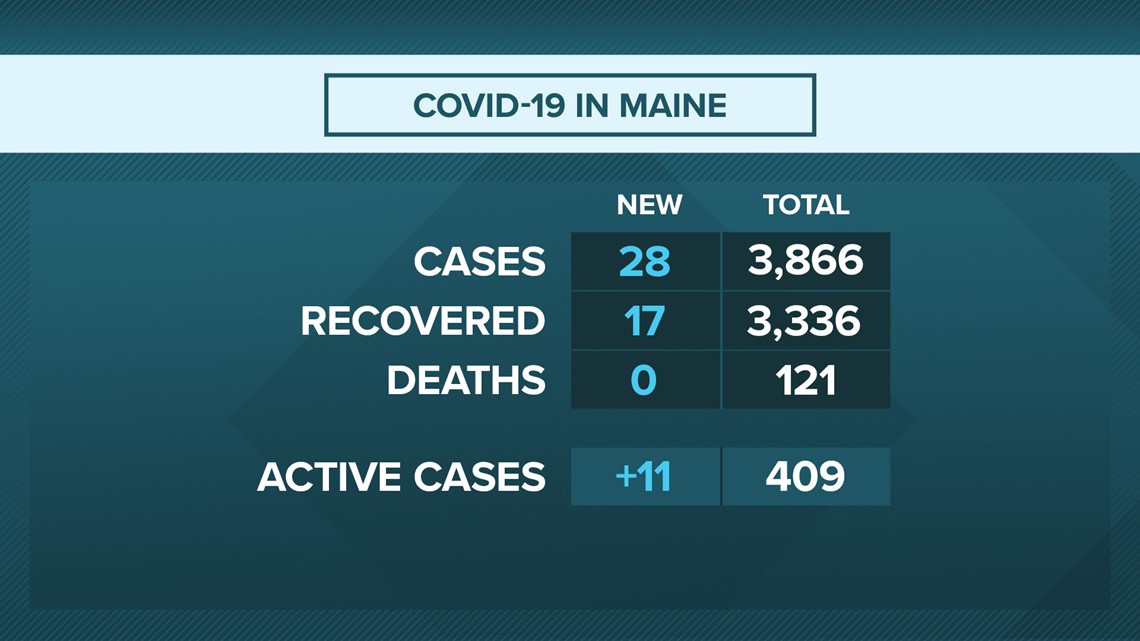 THE DATA
Dr. Nirav Shah made clear that when the Maine CDC reports deaths, they are reporting that someone has died who had been confirmed positive with COVID-19, not the cause of death specifically. The cause of death determination is left to the medical examiner. According to Maine CDC Director Dr. Nirav Shah, as of a few days ago, there were roughly 2,900 Mainers tested each week. This includes people tested through the state lab in Augusta, as well as large commercial testing companies like LabCorp. Dr. Shah said right now, the positivity rate is over 5%, meaning for every 100 people tested, about 5 or 6 are positive. Compared to other states, whose positivity rates are 10 or 15%, Maine is doing better, Dr. Shah says. He says he'd like to see Maine's positivity rate around 2%, which is what South Korea's is. To do that, Dr. Shah says testing must increase two or three-fold.
RESOURCES
Coronavirus, COVID-19 Background
The official name for the coronavirus is "SARS-CoV-2" and the disease it causes is named "coronavirus disease 2019" or "COVID-19" for short. Coronavirus is a family of viruses, which can infect people and animals. The viruses can cause the common cold or more serious diseases like SARS, MERS, and COVID-19.
The CDC says symptoms of the coronavirus include fever, cough, difficulty breathing, and in some cases sore throat.
The CDC says there are simple steps to take to reduce the possible spread of COVID-19:
Wash your hands often with soap and water for at least 20 seconds or use alcohol-based hand sanitizer
Avoid close contact with people who are sick
Avoid touching your eyes, nose, and mouth with unwashed hands
Stay home while you're sick and avoid close contact with others

The Maine Centers for Disease Control (CDC) announced on Tuesday, March 10 that they would be holding daily coronavirus briefings with director Dr. Nirav Shah to keep the public up to date on the situation in Maine
NEWS CENTER Maine YouTube COVID-19 Playlist