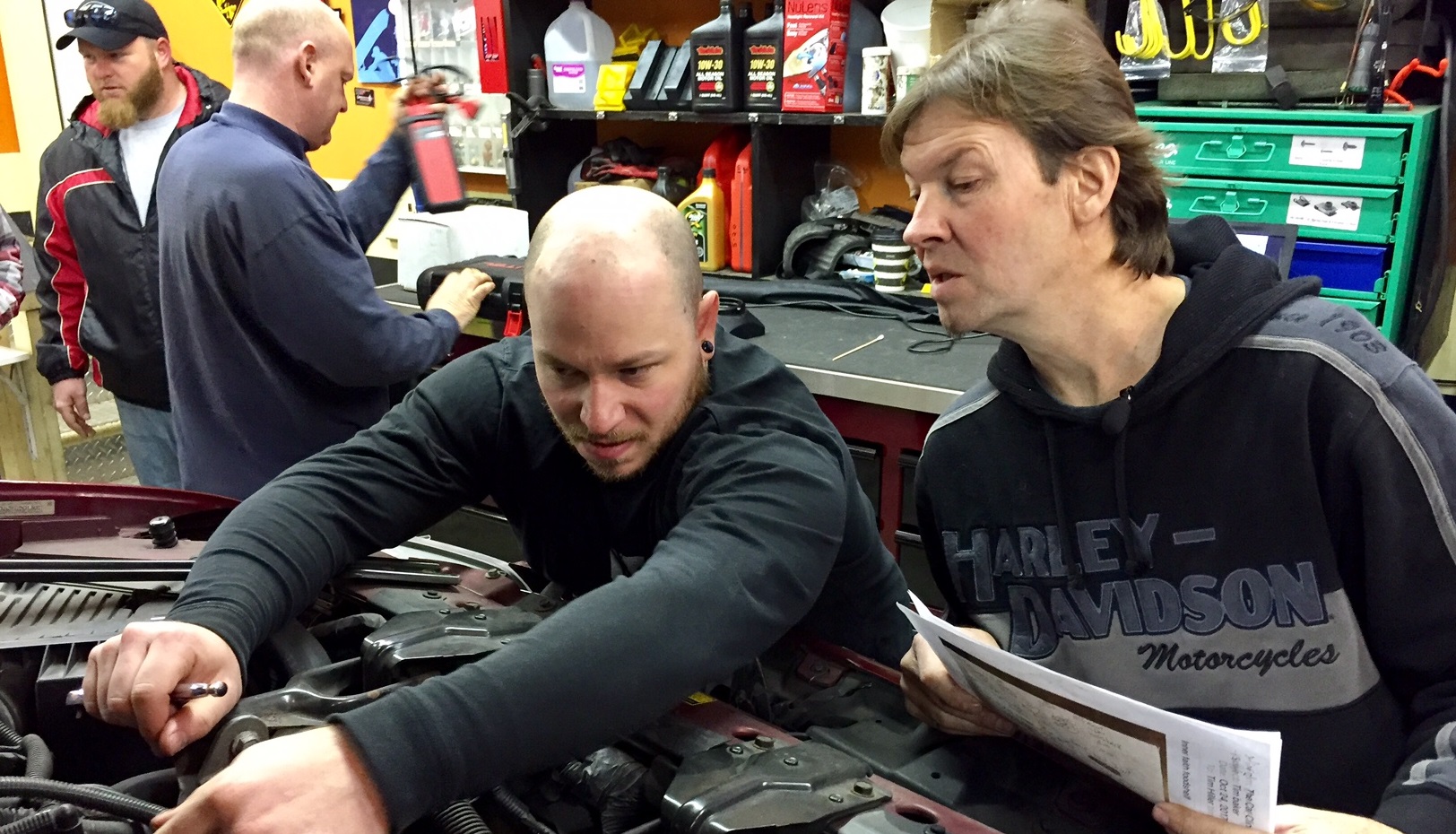 ELK RIVER, Minn. – His ongoing cancer battle was bad enough. But Milton White didn't need the diagnosis that followed: a broken water pump in his 13-year-old Ford Taurus.
A car repair shop presented White with a $600 estimate for the water pump repair. Instead, he had the work done for $95, which included a new set of rear brakes.
"For a while I thought I was never going to get my car fixed," said White, a former Marine. "And then when this happened, I couldn't believe it."
Disbelief is not uncommon among car owners fortunate enough to stumble upon the volunteer-run Car Clinic operating out of a three-car attached garage in a residential neighborhood in Elk River.
"It's not just about fixing the cars, but it's about loving the customers," says Tim Hiller, who founded the Car Clinic in his garage.
"Twelve years ago we started out with a very small tool box and we did oil changes and spark plugs, and that's all I knew how to do, and now we'll rip the whole front end out of your vehicle and do your full suspension," Hiller says.
Hiller, a heavy equipment operator, had volunteered for a similar program at his former church before bringing the concept home.
One Saturday a month, Hiller and a dozen volunteers repair cars for the price of the parts. All labor is free.
"We don't get paid for it, we don't get gifts, we don't get any perks - just a way to help out," says Marc Selchow, a Car Clinic volunteer mechanic.
It gets better.
While their cars are being repaired, Car Clinic customers are treated to breakfast and lunch served up by Hiller's wife, Michelle, and her own group of kitchen volunteers.
"There's more to their story than a car being repaired, so it's important to me to connect with them and love on them," Michelle Hiller says.
The Car Clinic serves primarily seniors, veterans, and single moms, particularly those feeling financial stress.
Genu Bordiano was among the Car Clinic's first customers, a single mother of three, with a broken car and no money to fix it.
"I had to take the bus and it would take two hours for me to get to work in the morning and two hours to get home on a 15-minute drive," Bordiano says.
When the Hillers couldn't fix her car, they helped raise the money at their church to buy her a different car.
Bordiano is now a Car Clinic volunteer, helping in the kitchen as other single moms come through the door as desperate as she once was.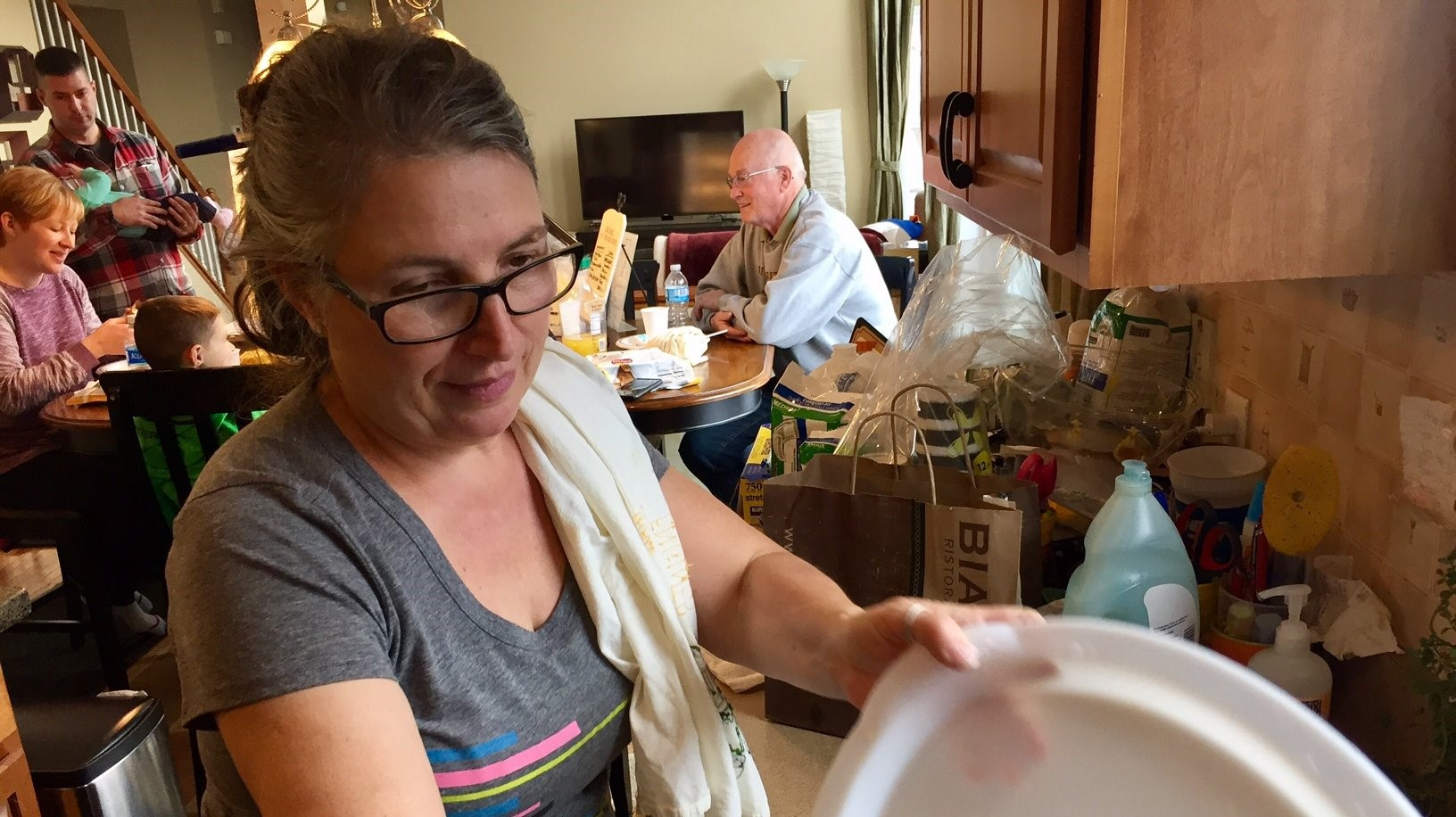 "This coleslaw is going to be a little salty with my tears," Bordiano jokes as she chops cabbage in the Hillers' kitchen. "It's a big deal for me," she says, fighting to contain her emotions.
The Hillers accept donations, which help cover shop supplies and other expenses. But Tim Hiller says their ultimate goal is to inspire others to start car repair clinics in their communities.
The need is great. The Car Clinic currently has a three-month wait for an appointment.
"We don't care what color you are, we don't care where you live, we'll just take care of you," Hiller says.
The Hillers give credit to their neighbors for putting up with the extra noise and traffic the Car Clinic brings to their subdivision one Saturday a month.
Josh and Alison Marcelino live across the street. Both are Car Clinic volunteers, Josh in the garage and Alison in the kitchen.
"When someone needs help and you're able to help, I think you should help," Josh Marcelino says.
Milton White, the cancer patient with the broken water pump, will now have a working car to get to his doctor appointments.
"I pray and thank God all the time," he says. "'Lord, thank you for letting me meet them.'"
PHOTOS: Land of 10,000 Stories: Car Clinic