(NEWS CENTER Maine) — Animal rights organization PETA is thanking China for its new tariff on United States lobster exports.
"[It] may have the industry in Maine scrambling, but it's got PETA grinning," the nonprofit said in a news release Thursday.
Washington last week imposed 25 percent tariffs on $34 billion worth of Chinese products, according to The Associated Press. Beijing responded by imposing similar duties on the same amount of US imports.
PETA's thankful gesture toward China included sending members to the embassy office of Chinese Ambassador to the United States Cui Tiankai in Washington D.C. They brought a gift basket of vegan "faux lobster" and a giant card showing a lobster's face with the words "Thank You, China! I'm ME, Not MEAT."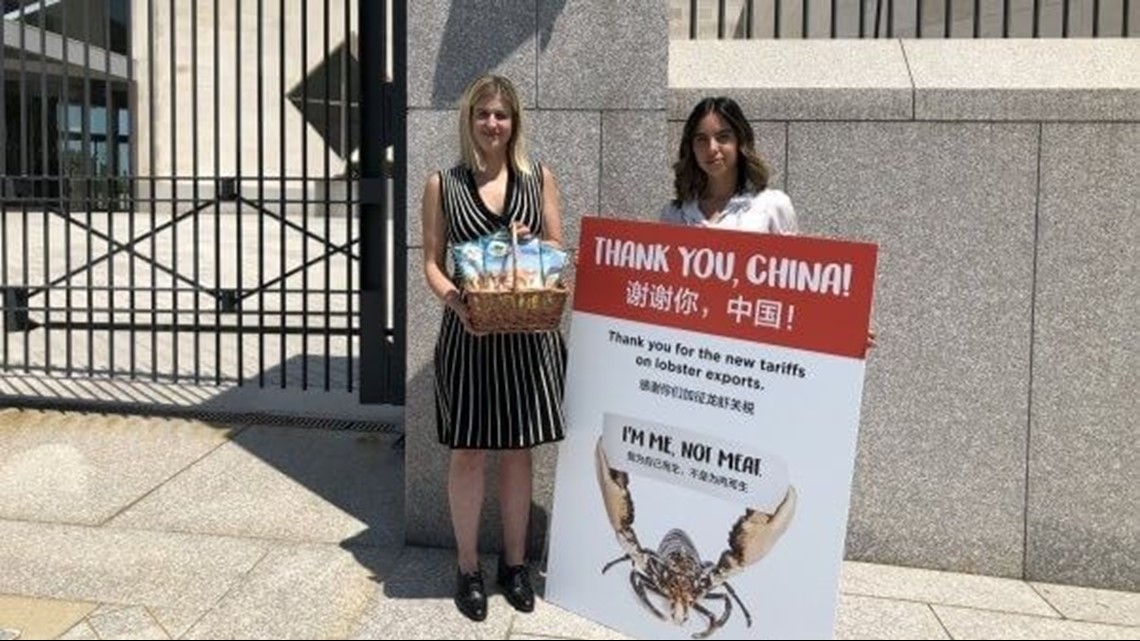 "Just like humans, lobsters feel pain and fear, have unique personalities, and value their own lives," said PETA President Ingrid Newkirk. "PETA is thanking China for reducing the number of sensitive animals who will be yanked from their ocean homes, shipped overseas, and thrown into a pot of boiling water."
PETA said an investigation of a "crustacean slaughterhouse in Maine" conducted by the organization revealed that "live lobsters were impaled, torn apart, and decapitated — even as their legs continued to move." Switzerland earlier this year banned the practice of boiling live lobsters.
CNBC reports that several million dollars worth of American lobster, largely from Maine, were exported to China last year and that some Maine lobster distributors had agreed-upon deals that may now be in jeopardy.