AUGUSTA, Maine — Testimony on behalf of the Maine Public Advocate's Office, filed Friday with the state Public Utilities Commission, found that Central Maine Power's implementation of its SmartCare system in October 2017 deviated drastically from what's considered best practices, and that issues associated with its billing and metering are still ongoing.
"It is not clear if CMP leadership and staff possess the knowledge of best practices and have experience to apply them," the testimony claims. "It is possible that some or all of these best practices were purposely ignored."
Concurrently that month in 2017, a windstorm caused the largest power outage in the utility company's history, and multiple overcharging complaints followed.
Maine consulting firm BerryDunn was recently hired by the OPA to review whether CMP "used sound practices" to put into effect its SmartCare system, which replaced a "legacy system" and was implemented on Oct. 30, 2017. The firm's testimony and review covered May 2018 through June 2019.
The findings, BerryDunn said, differ vastly from a MPUC staff analysis released Tuesday linking high bills to weather and a rate increase.
Testimony Regarding Ongoing Errors
One testimony publicly released Friday focused on how significantly different BerryDunn's work was compared to that of Liberty Consulting Group, which was hired by the MPUC in 2018 to conduct a forensic audit of CMP.
BerryDunn said it looked specifically at 1,370 accounts involving customers who complained about what they called inaccurate, high usage invoices. Its goal was to identify whether these customers' issues were still ongoing more than 20 months after the implementation of CMP's SmartCare system.
Through an analysis of more than 5,400 invoices, the firm said it found "numerous ongoing errors in the billing process," and that current invoices "are depicting incorrect information" in the following areas:
Meter readings
Meter read dates
Number of days not actual days usage was recorded
Calculation errors in total kWh
Total kWh delivery charge differs from 'Your Meter Details'
Displayed details not factoring into delivery charge
Duplicate numbered invoices with different amounts
Sales tax when it shouldn't be applicable
Lake of delivery rate benefit
BerryDunn said it was unable to "isolate a defect, set of defects or root cause for the numerous complaints relating to high usage," but also said it couldn't "rule out that [the] complaints [had] merit." In conclusion, it said, "Based on the results of our analysis, the SmartCare system continues to produce countless invoices that contain inaccurate and misleading information."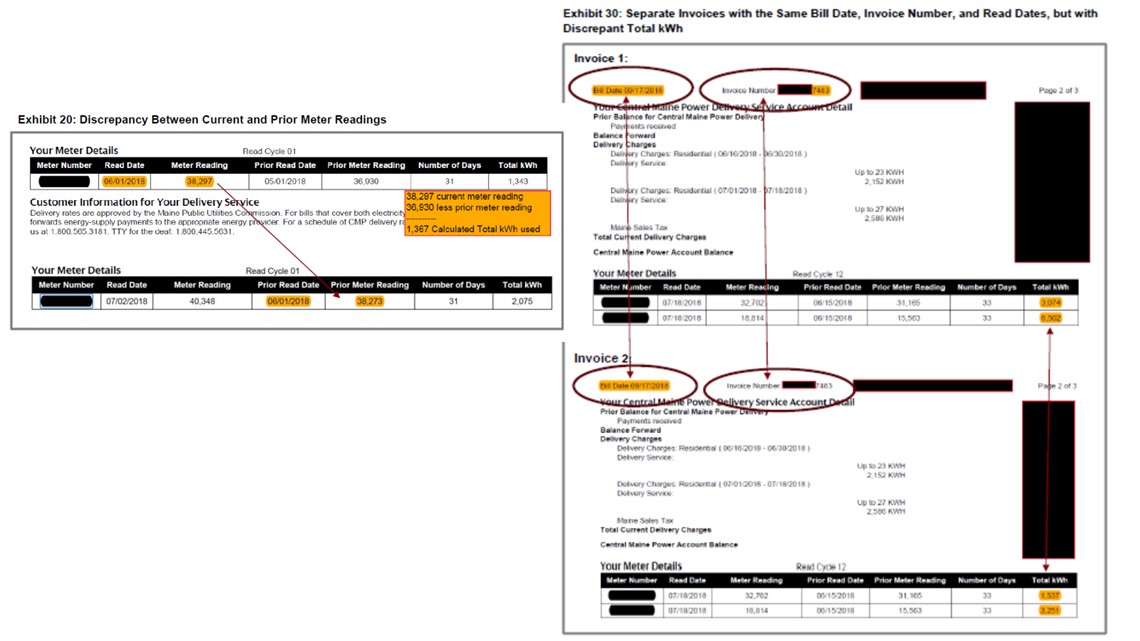 "We do not understand how two invoices with the same bill date, invoice number, and read dates, but with different Total kWh displayed, could be printed and sent to a customer," BerryDunn's testimony states.
In its conclusion, it also said it "identified instances in which CMP personnel had manually changed the coding in the SmartCare system to indicate that a meter reading had occurred when it had not," an "apparent deficiency in internal control" that possibly contributed to issues at root of customers' complaints.
"… we cannot conclusively determine the extent or pervasiveness of these problems; however we believe the nature and extent of the issues we identified call into question the overall integrity of the system and its ability to provide accurate, timely and reliable invoices to CMP customers," BerryDunn said.
The firm recommends CMP fix a number of highlighted defects, figure out if that defect affected anyone else and notify both customers directly involved and the MPUC, describing how it might impact their invoice.
Testimony Regarding Best Practices
Another testimony publicly released Friday focused on "the subset of processes and practices" for which CMP was primarily responsible.
The firm examined CMP's initial planning decisions, its actions in response to circumstantial changes, and also compared its management of the SmartCare project to practices accepted both generically and within the industry.
Within that testimony, the firm listed the following as key findings:
"CMP management practices for testing, defect management and requirements did not align with best practices."
"CMP management did not develop and use a complete and objective status of system readiness prior to Go-Live."
"CMP did not manage project risk consistently and effectively."
Additionally, it concurred with a section of the Liberty's 2018 report assessing CMP's SmartCare system and its implementation:
The project schedule "was not effectively used to manage integration of effort," understand the implications of delays, "or effectively mitigate risk."
"Inconsistent practices in status reporting negatively impacted efforts to identify and resolve problems prior to Go-Live."
"Conflicting information" in status and readiness reports, and a defects list, "demonstrate a lack of recognition of the magnitude of the existing issues."
"Management's decision to allocate a fixed time period or 'time box' … required a significant modification … introduc[ing] risk, increasing the likelihood that defects would remain undetected until after Go-Live."
In its conclusions, BerryDunn writes, "Project practices employed by CMP in the implementation of SmartCare significantly deviated from those that would be considered prudent for a project of this size and complexity."
These deviations, the firm claims, increased project risk and the likelihood that defects would go unnoticed prior to implementation.
It also states that CMP's responses as recently as June give no indication that their practices within the areas in question have improved.
"This does not provide confidence, even now, that testing is adequate or that all defects are currently being documented, effectively managed, reported or accounted for in decision making," the testimony report states.
The firm recommends CMP should be required to test the system, identify impacted transactions, disallow or have shareholders pay for testing costs and develop an action plan informed by testing to restore public confidence.
It also believes an independent third party selected by the MPUC should verify that this future testing aligns with best practice, confirm it followed a plan and validate the results are complete and accurate, and issue a report.
Overall, BerryDunn estimates the SmartCare project cost more than $57 million, requiring nearly two years to complete and involving more than 240 resources, 32 vendors in six locations and interaction with 52 interfaces.
MPUC is expected to rule on their review of complaints Dec. 20.