PORTLAND, Maine — A new U.S. Immigration and Customs Enforcement office, known as ICE, is opening an office in downtown Portland and that has many people angry.
The Department of Homeland Security agency, which was created after 9-11, will be located on the 4th floor of One City Center. The new office prompted two protests in downtown Portland.
Several dozen people took to the streets holding signs and chanting "Abolish Ice."
But the ICE office activists were protesting will not focus on detaining undocumented immigrants facing deportation; that directorate of the agency is called Enforcement and Removal Operations, or ERO.
ERO identifies, arrests, and removes undocumented immigrants who are a risk to public safety, a danger to national security or are engaged in criminal activity.
ERO has an office in South Portland and it's agents have been in Maine for decades.
The other division of ICE is Homeland Security Investigations or HSI and it's role is vastly different. These agents handle more than 400 transnational crimes like human trafficking, child exploitation, financial wire fraud, narcotics and gang activity.
HSI has offices in Houlton and Bangor, as well as two in the Portland area that will now move into the new space at One City Center. Jason Molina is the Acting Special Agent in Charge for HSI Boston, which includes all of New England.
Molina thinks the general public is misinformed about everything Immigration and Customs does, particularly HSI.
"We enforce more than 400 federal statues as criminal investigators. We are responsible for investigating, disrupting and dismantling terrorist transnational and criminal organizations that are looking to exploit the US trade, travel and financial systems" Molina said.
Within the Northeast region, including Maine, the agency is hyper-focused on human trafficking and targeting those who exploit children.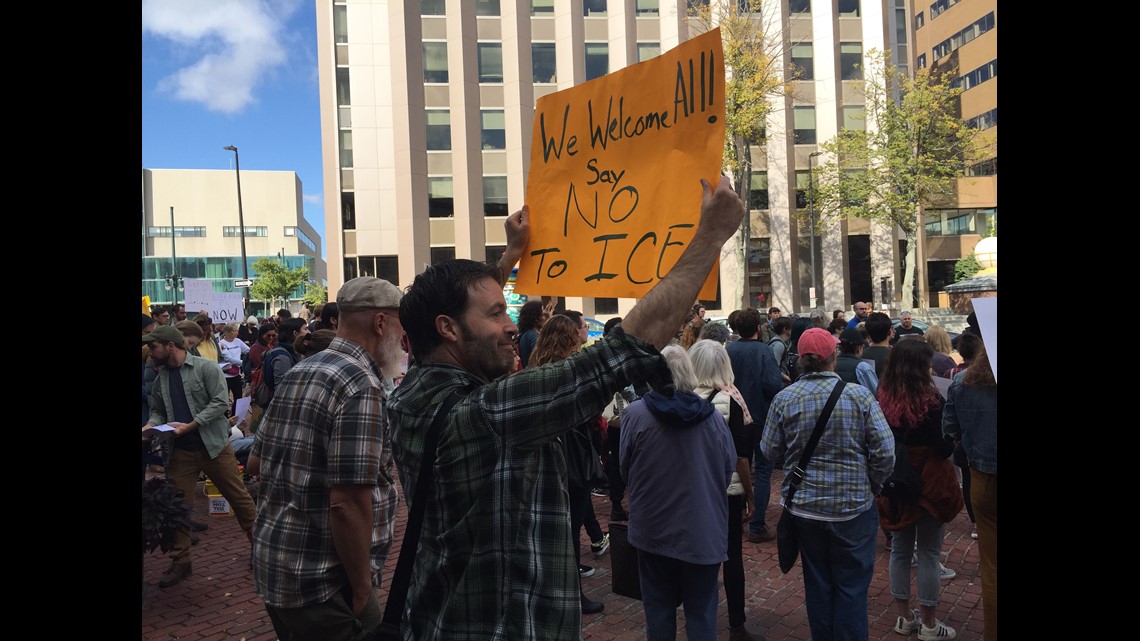 "It's absolutely mind-blowing that there is that many people interested in victimizing children," Molina said.
Molina pointed out the room where agents will work undercover on the darknet, a little known place where many people prey on the vulnerable.
The agents have a dark and difficult job that's netting some impressive results.
Within the last three years, HSI in Maine identified and/or rescued 70 children being victimized by child exploitation.
They identified and/or rescued 25 victims of human trafficking and they've arrested 222 people on a list of charges including child exploitation, human trafficking, narcotics, and financial crimes.
"It's cutting edge stuff we're doing in the darknet room, intrusion room, and in computer forensics in general," Molina said.
Some of those cases made headlines in Maine.
In December 2018 Rashad Sabree of Boston was sentenced to 17 years in prison for his role in a sex trafficking case involving two young women from Maine. Sabree used violence, threats, and drugs to compel the women to perform sex acts for his profit.
In July 2019 Timothy McGowan, a former school bus driver in Bath was sentenced to prison for taking upskirt photos of girls on his bus and then posting those photos on a foreign website.
And in August, Vincent Graham, a gang member from New York, was sentenced to more than 26 years in prison. He forced a woman from Maine to engage in prostitution by either denying her drugs, physically abusing her or threatening to kill her.
"When you're protesting HSI, that's what you're protesting," Molina said.
The latest protest was Monday in front of Portland City Hall. Demonstrators were demanding city officials keep ICE from operating in Maine's largest city.
"I don't believe ICE has a place in downtown in Portland, not with a holding cell in a commercial building," says Bre Kidman, a criminal defense attorney who is running for the U.S. Senate and spoke at the protest.
Diane Russell, a former state legislator compared ICE to the Gestapo at a protest on Indigenous People's Day. Molina says his agents don't deserve this.
"The fact that any of them (agents) have to turn on the TV after doing everything they can to safeguard the great people of Maine and be called the Gestapo and Nazi's, it's appalling to me."
And as for that holding cell Bre Kidman mentioned - there is a cell at the new office but it will not house detainees.
"If there's a time we're waiting to transport (prisoners) we'll place them in the cell," Molina said.
The one cell in the prisoner processing center will temporarily hold people arrested in criminal investigations. This is the type of work HSI agents in Maine have been doing for years.
"In Portland we have an agent working on an international case. Through a lot of his undercover activities he's identified or rescued 150 children worldwide and these are children currently being actively victimized."
Molina says he's proud to be apart of ICE.
"I'm very proud of the men and women here with HSI who are doing this great work every day protecting our neighborhoods."
And it's not just HSI, Molina says ERO, the agency of ICE that enforces our immigration laws, is also doing important work keeping our country and communities safe. When asked if ERO agents are going to crackdown on undocumented immigrants in Maine, Molina said, "no, that's not the reality."
He says similar to HSI, ERO's focus is on criminal activity not civil or administrative arrests.