NEWS CENTER Maine's 2023 Feed Maine Telethon raised $184,525 for Mainers in need of food and included $25,000 from Hannaford and $10,000 from Reny's Charitable Foundation.
This means 369,050 meals will be provided by Good Shepherd Food Bank to Mainers.
Thank you to all who donated. Your generosity is what made this possible, and your donations will go to Good Shepherd Food Bank to feed Mainers who are experiencing food insecurity.
There's still time to donate to NEWS CENTER Maine's Feed Maine Telethon here.
Original story
Food insecurity is a crisis in Maine, impacting an estimated 11.4 percent of households in the state. That's roughly equivalent to the combined populations of Maine's four largest cities.
Today, over 180,000 Mainers rely on Good Shepherd Food Bank and its network of partners with nearly 30 percent, or 54,000, being children.
Doing Good Together, we can help Feed Maine.
NEWS CENTER Maine launched Feed Maine in September 2017 with the goal to raise enough money to supply one million meals to the people of Maine when and where they need it. We are happy to report that we reached that goal, but Mainers are still dealing with food insecurity, and we need your help.
All donations will go to Good Shepherd Food Bank to feed Mainers.
You can also donate online to NEWS CENTER Maine's Telethon by clicking here.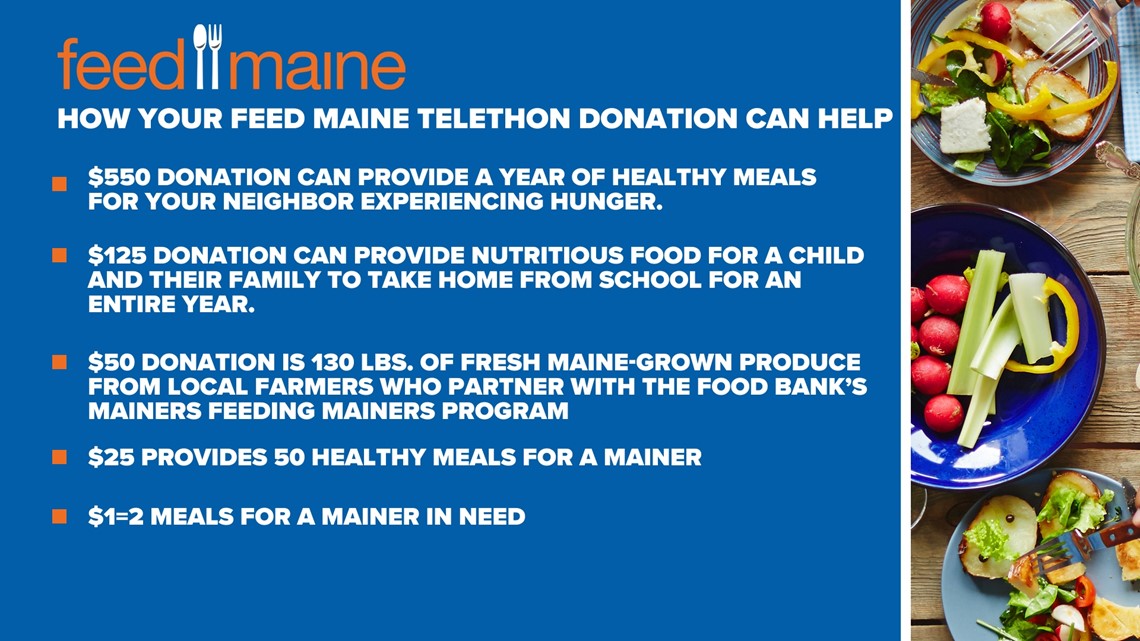 If you would like to send a check in support of NCM's Feed Maine Telethon to Good Shepherd Food Bank you can mail that check to the address below and remember to add FEED MAINE TELETHON in the memo.
Good Shepherd Food Bank
3121 Hotel Road
Auburn, ME 04210
Hannaford will be sponsoring a Matching Mainer's hour, in which all donations made from 5:30 p.m. to 6:30 p.m. will be matched up to $25,000.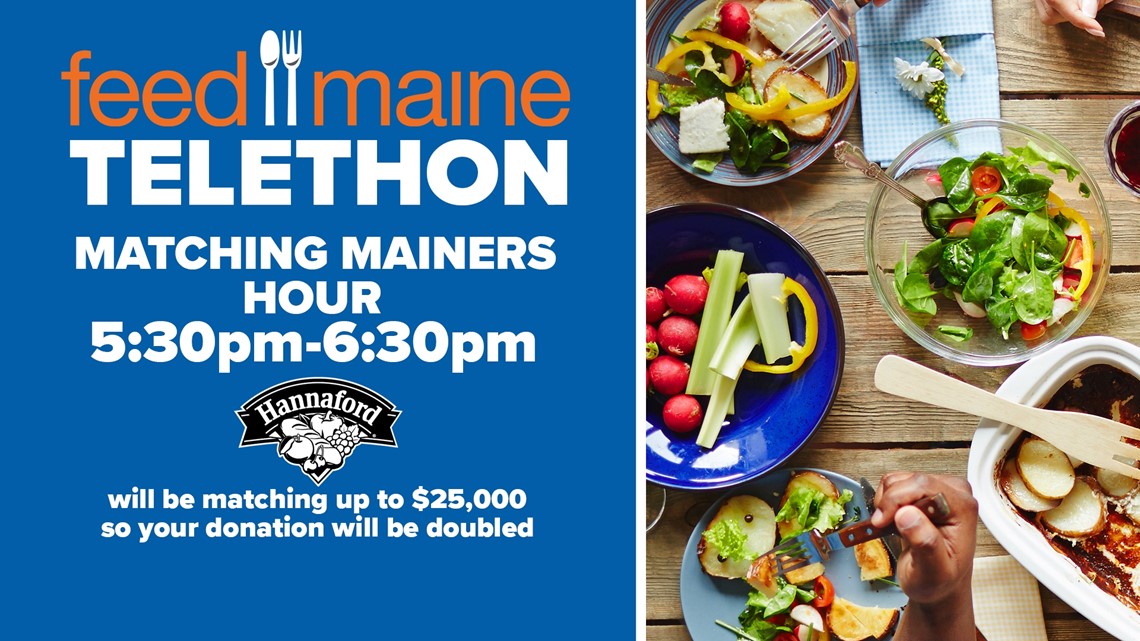 NEWS CENTER Maine is proud to partner with Good Shepherd Food Bank to help end food insecurity in Maine.
Reminder: $1 can help serve two meals to a Mainer in need.
Funds for the telethon will be used for the Good Shepherd Food Bank's programs – statewide food distribution, purchasing from Maine farmers, child hunger programs including school pantry and backpack, nutrition education and cooking lessons, and more.
Good Shepherd Food Bank is committed to providing Mainers in need with nutritious food. Since GSFB is a primary source of food for so many Mainers, they are proud in helping to provide nutritious food to improve people's health.