Breaking the silence about pregnancy and infant loss
Health experts say one in four pregnancies end in loss every year, but many parents grieve in silence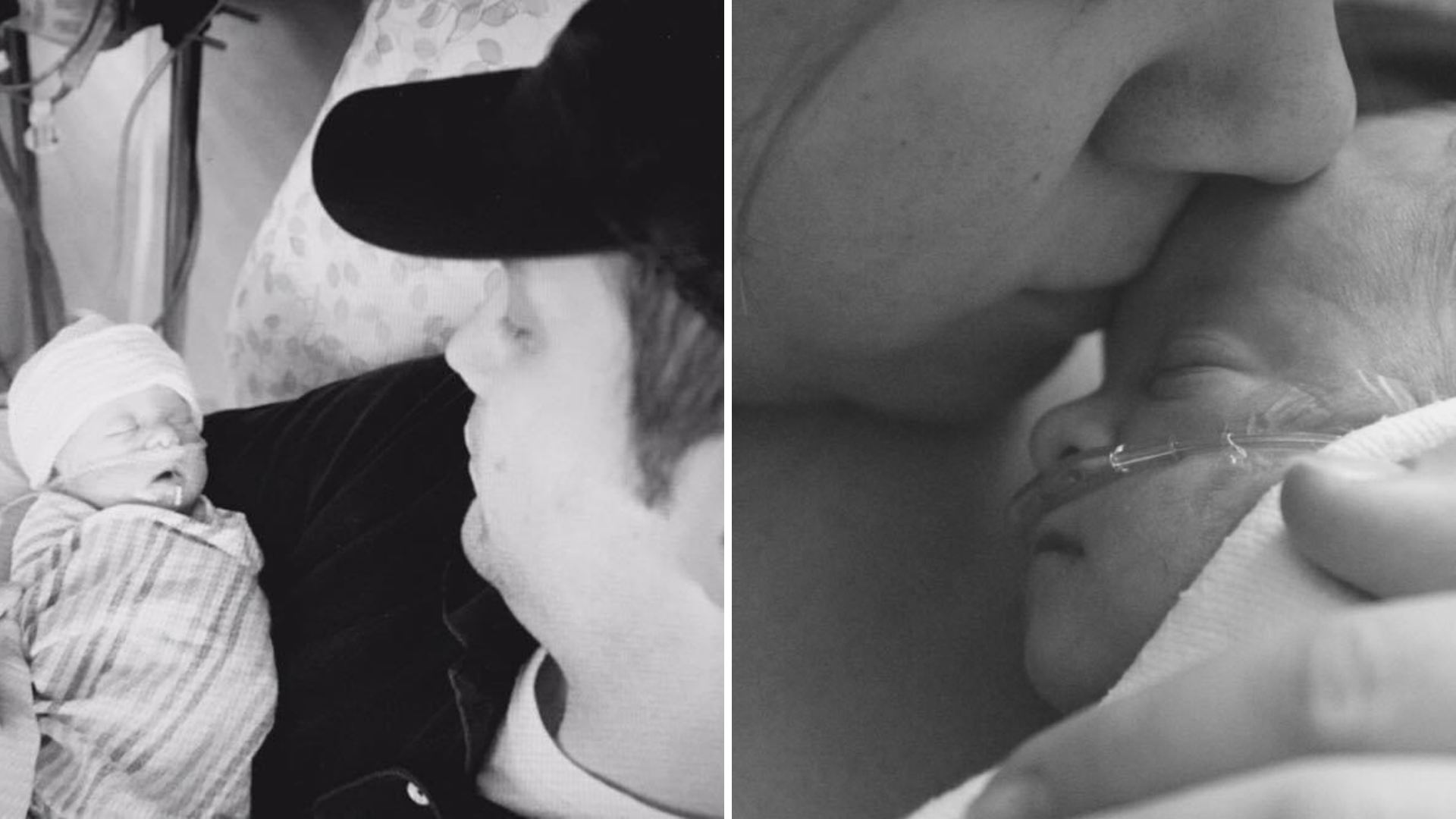 Millions watched on social media as model Chrissy Teigen mourned her son Jack, who was stillborn. That public grief is helping other families heal by breaking the culture of silence.
According to the CDC, one in four pregnancies end in loss every year, but many families choose to grieve privately because losing a baby is rarely talked about openly.
Charlie's Story
:
"We were fortunate enough to have 17 days with Charlie"
Nick and Nicole Bowie-Haskell were excited about adding a baby boy to their family, which included 7-year-old Jenna and 8-year-old Jack.
But an ultrasound at 13 weeks revealed a condition called hydrops, fluid built up in a baby's tissues and organs. Only half of babies survive after birth and the couple was advised to end the pregnancy.
"We weren't willing to do that and we had the faith and we went back at 18 weeks and the hydrops were gone," Nicole said.
Tests later revealed their son Charlie had Down Syndrome but was still developing normally. After a scan showed an enlarged liver, Nicole underwent an emergency C-section at 35 weeks. Charlie was diagnosed with a condition known as TMD. Similar to Leukemia, it results in the rapid growth of abnormal white cells.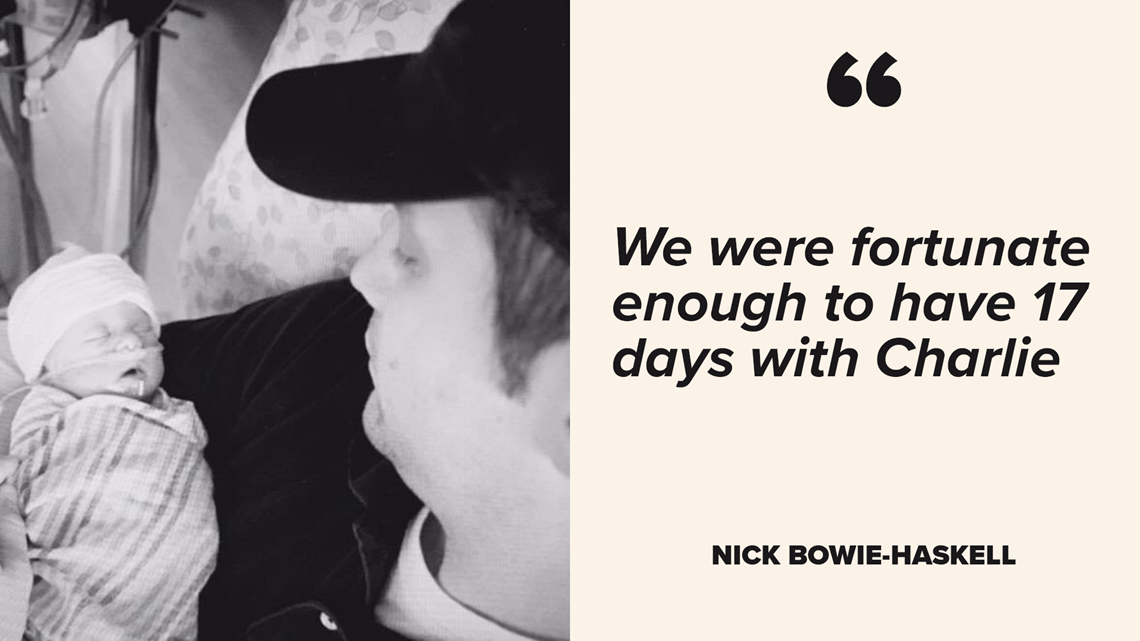 Charlie was given a thirty percent chance of survival and underwent chemotherapy. More than two weeks later after his birth, Charlie's organs started shutting down. Family members said goodbye and made the decision to take him off life support.
"He blinked three times and then he shut his eyes and I just knew it was time," Nicole said.
Family, friends, and co-workers wrapped their arms around the family. The couple attended infant and pregnancy loss support group meetings and grief counseling. But openly talking about Charlie was tough because there is often a stigma attached to losing a baby.
"People are like 'oh, oh, sorry sorry.' I don't want anyone to apologize for Charlie. He was our son, he passed away and we honor him every single day," Nicole said.
Eight years later the couple now has two more boys, Henry and Hudson. The family also takes trips during the holidays around the time when Charlie was born and left this earth—another key part of their healing journey talking about the baby they lost too soon.
"We have three children and that was a huge step in shaping the loss, it counts and it matters. Now we are saying we have five children," Nick said laughing.
Mitchell's Story
:
"I want him to be remembered, I want people to know he was here."
"It's a taboo topic, but it shouldn't be. It's a loss we experienced just like if an adult died," Butler Carmichael said.
An unforeseen complication in the third trimester led to the loss of Butler's son Mitchell.
Doctors said it was due to a placenta abruption, which happens when the placenta separates from the inner wall of the uterus before birth. After a scan showed no brain activity, Mitchell lived for 27 hours. Butler is so grateful for those precious moments she got to spend with her baby.
"You hold them you sing to them you kiss them, all the things you want to do with your new baby," Butler said.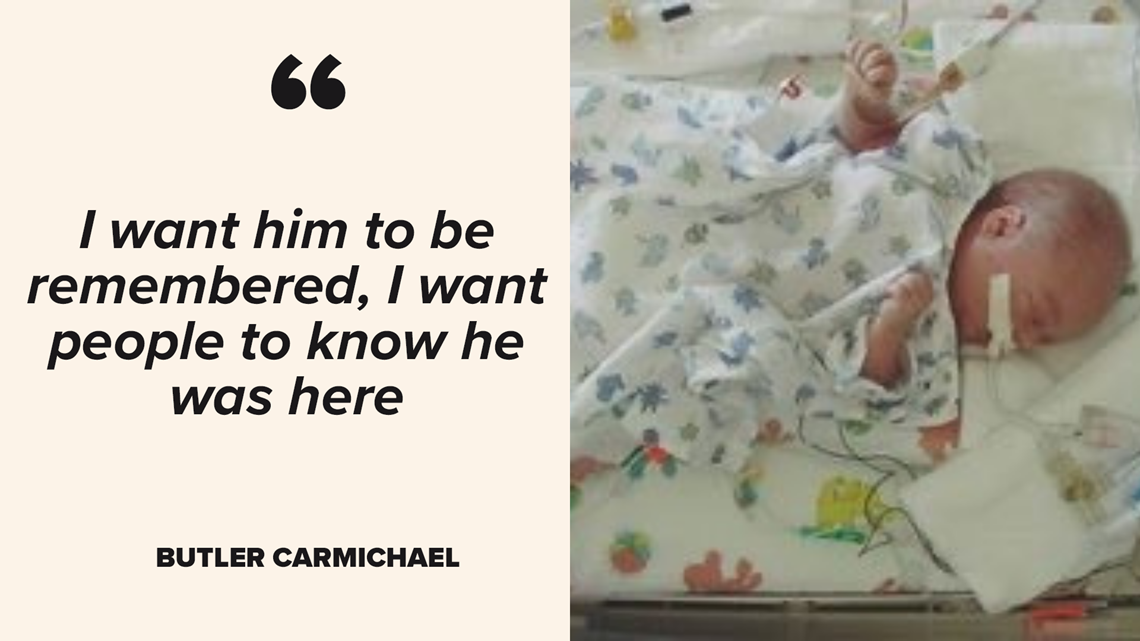 A few years later, Mitchell's memory gave her the courage to beat colon cancer. Butler's family celebrates Mitchell's birthday each year to honor his life. Years later the longing in her heart will always remain.
"It still hurts, it's a child I feel I should be raising, a little boy now a 16-year-old boy," Butler said.
Sophie's Story
:
"We celebrate her birthday every year."
Aimee Gerbi's daughter Sophie was stillborn due to serious complications in her third trimester. Aimee had a molar pregnancy which is when a non-viable fertilized egg implants in the uterus but doesn't come to term. That produced very high hormones normally measured in a routine pregnancy test, which a very toxic environment for both her and her unborn child.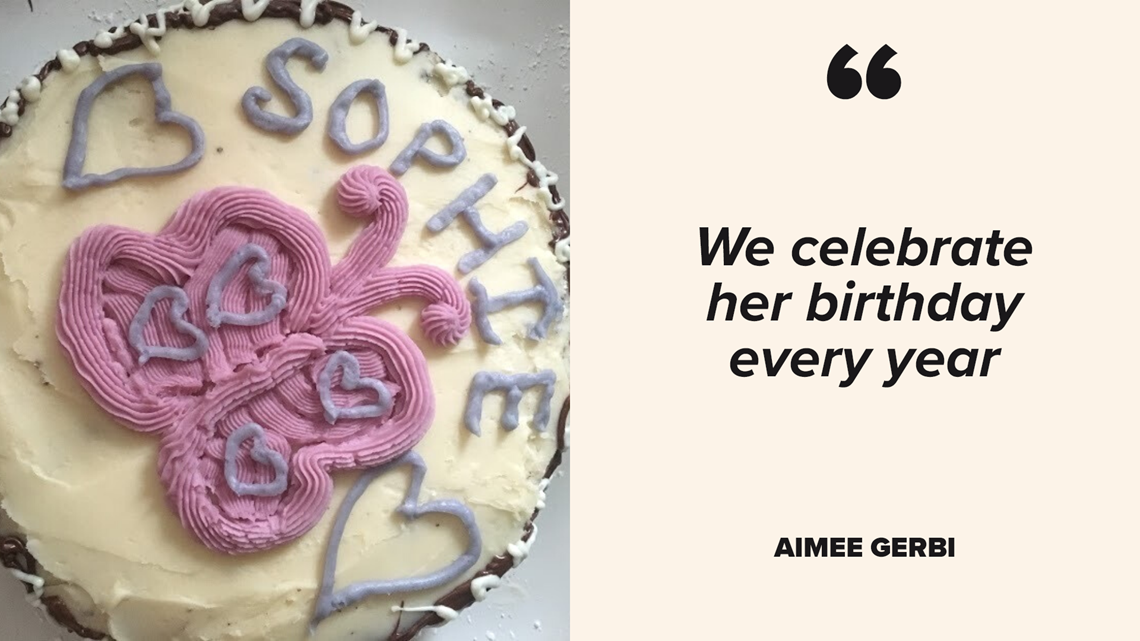 Aimee struggled emotionally and physically to cope after the devastating loss. By chance, she discovered an Empty Arms support group in Western Massachusetts for moms who had similar heartbreaking experiences. She started Empty Arms of Greater Bangor in 2007 the year Sophie passed. There are monthly support group meetings where parents can talk about their loss.
A group of dedicated volunteers organize funeral arrangements, visit with parents at Eastern Maine Medical Center who experience a pregnancy or infant loss, and provide comfort boxes to take home with them after they leave the hospital. The non-profit holds annual Empty Arms Remembrance Walks and created the Empty Arms Memorial Garden, located at Mt. Hope Cemetery in Bangor. Where metal butterfly plaques with names and birthdates of babies adorn granite pillars.
Mason and Marshall's Story
:
"I feel through my loss and experience, I can help others."
Erin Hatch and her husband Scott tried to become pregnant for 8 years. Their dreams came true when they found out they were expecting twin boys. But at 17 weeks Erin's water broke, despite being on bedrest for several weeks she went into labor in March of 2015.
'It wasn't safe for them to stop the labor, just too early at 20 weeks," Erin Hatch said.
Severely premature, Mason and Marshall lived for only minutes, but the couple was able to spend time with their babies.
The couple received amazing support and love from family and friends but it took time to process their grief. Talking about the babies they lost was often uncomfortable.
"When I would bring up anything about my experience. I felt like I was ruining someone's day," Erin said.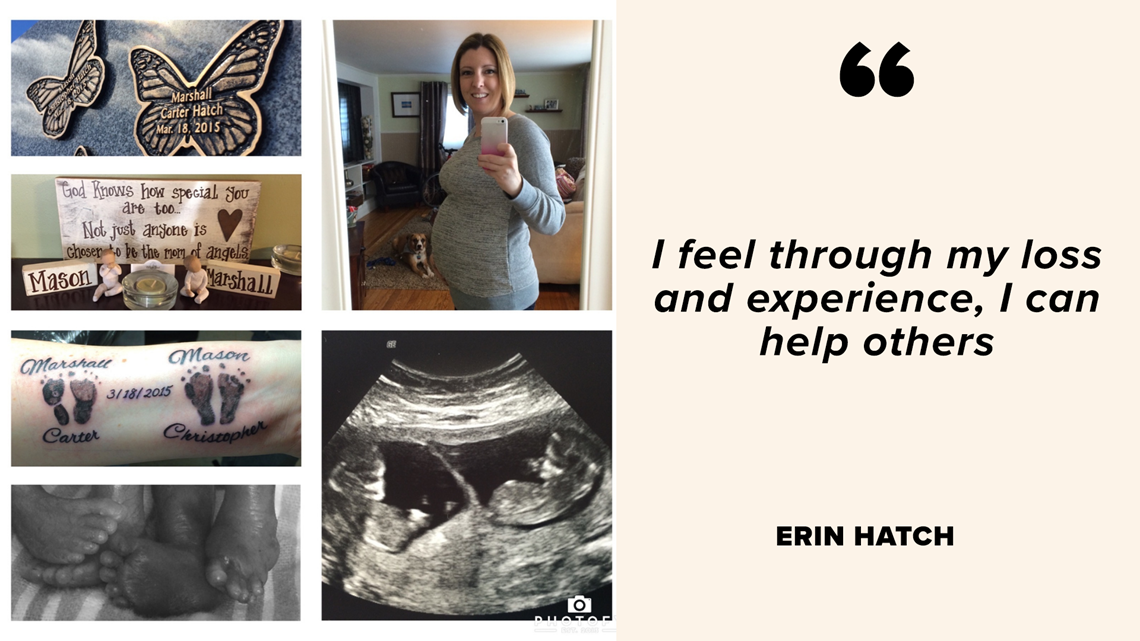 Following another loss, a miscarriage, a mom they didn't know, heard about what happened to their twins and named them parents of a baby boy with Down Syndrome. Maddox was later joined several years later by a baby sister Madilyn who's birth happened through embryo adoption. Erin carried her daughter to term but it was a stressful pregnancy.
"That was difficult for us too, because we were very worried about this is even possible," Erin said. "I have not had a successful pregnancy."
Erin started attending Empty Arms of Greater Bangor support group meetings—a safe place to share her emotions with other moms and that she wasn't alone. She started meeting with parents at the hospital after they lost a baby, providing comfort boxes to casting hands.
Erin is now the president of the nonprofit which raised $15,000 with it's virtual Empty Arms Virtual Walk this year. The funds go to comfort boxes, book libraries, a butterfly scholarship program, family trainings, education, and awareness.
Because of the pandemic, support group meetings are virtual and open to parents across Maine as a resource for healing and connection—a bond that Erin relies on especially during the moments of pain and longing for her twins who would have started school this fall.
"All the things I am missing out on and I say that in the support group and everyone says 'oh my gosh, yes, 5 was really tough,'" Erin said.
For information on pregnancy and infant loss from the Centers for Disease Control and Prevention, click here.
For information on resources for yourself or loved ones who have experienced pregnancy and infant loss, click here
Contact email for Empty Arms of Greater Bangor.
For information on Madeline's Mission, a Maine non-profit that works offer hope, comfort and guidance following the loss of a child.
This story will be updated.