VASSALBORO, Maine — A Maine guide said he witnessed a swarm of 10-12 bald eagles attack and kill a deer trapped on a frozen pond on Saturday.
Adam Raven is a guide specializing in recreation, fishing, and whitewater and sea kayaking. Raven said he was walking his dog when he heard some kind of commotion on Webber Pond near Vassalboro.
Going into his home and getting a pair of binoculars, Raven spotted the birds about a quarter of a mile from shore. The group contained both adult and immature eagles pulling at a struggling dear on the east side of the lake.
"Yeah, it was an interesting experience," he said.
The guide told NEWS CENTER Maine he checked on the scene about 45 minutes later and found the animal gutted and ripped apart.
"Pretty metal, but not surprising," Raven said.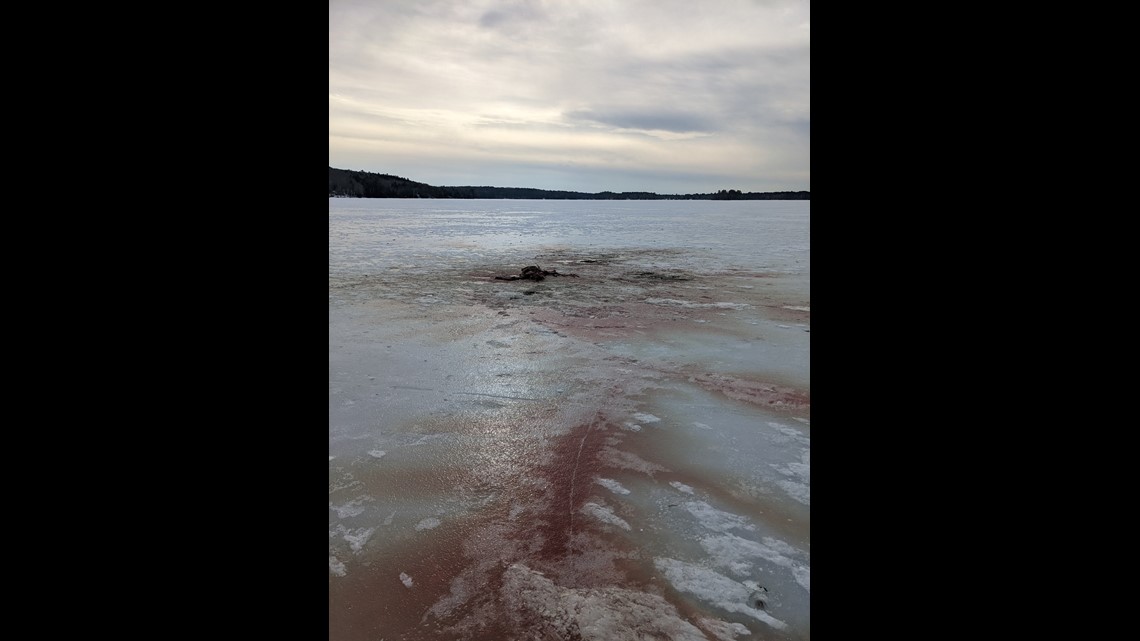 Having volunteered to work with injured birds before, the guide said he was familiar with the behavior of bald eagles. Raven said he handled a couple of permanently injured bald eagles at the Southern Vermont Natural History Museum.
"We had to attend a safety training on how to deal with them as they had injured a worker once by sinking their half-inch talons into the worker's side and puncturing his kidney," the guide said. "When we fed the eagles fish it was a matter of, move slow, drop the fish, and get the hell out of the enclosure."
Raven told NEWS CENTER Maine he and his wife have traveled plenty, but the last time he saw eagles eating something this large was in Alaska where they preyed on caribou.
"Didn't really surprise me when they took out this deer," he said.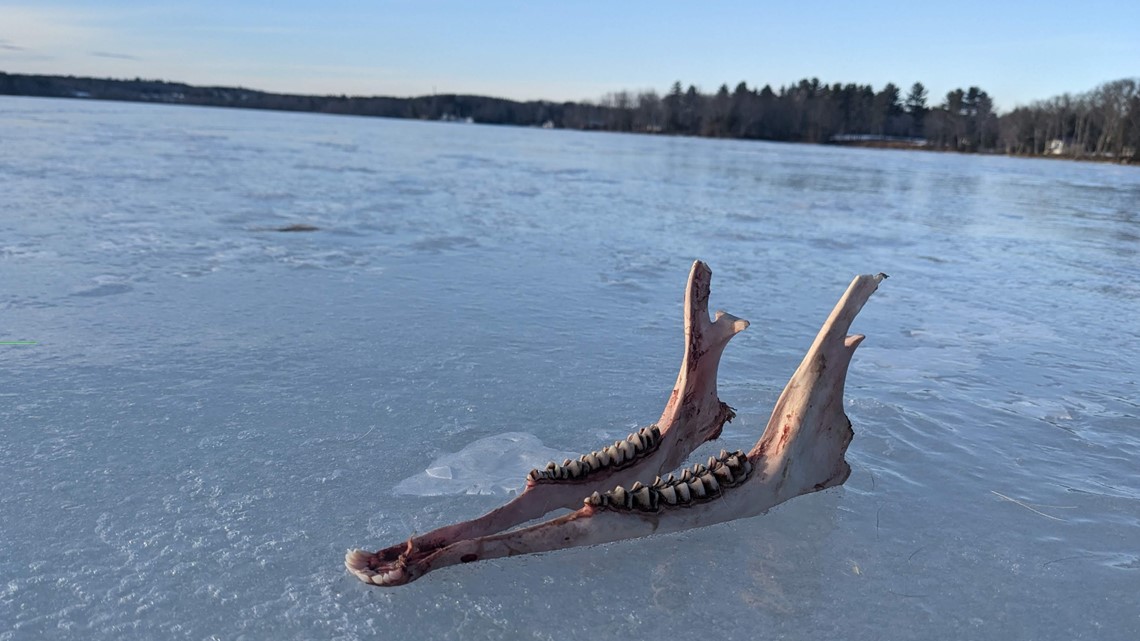 On Tuesday afternoon, the guide said he went back out to the site and only found two bones remaining, including the jaw pictured above.
Raven is trying to buy a house in Allagash and hopes to work on the waterway as a guide or for the state as a ranger in the future.
Maine Audubon
Doug Hitchcox is a staff naturalist with Maine Audubon. He said the white-tailed deer is one of the most common "mammalian prey items" for bald eagles (along with raccoons).
"But those are almost all previously dead animals, be it of natural causes or from vehicle strikes [or] shot by a hunter," the naturalist said.
Being trapped on the lake could make this deer a meal an eagle would pursue, but Hitchcox added a healthy deer would be too aggressive or hard to kill for an eagle, even a swarm of them.
"I'd bet that it had a broken leg or some other injury or illness that was slowing it down enough for the eagles, which are typically scavengers, to be able to feed on," he added.
With that said, Hitchcox expressed some skepticism, telling NEWS CENTER Maine that based on the evidence available, he'd suggest the swarm of eagles was only foraging on a long-dead carcass based on how picked over it as in photos posted on Reddit.
"It looks like this was a longer process than what a swarm could quickly accomplish," he said. "I'd love to see more evidence, rather than just the aftermath photo."
More NEWS CENTER Maine stories