BRUNSWICK, Maine — A 4-year-old pit bull terrier mix is looking for his forever home after spending more than 525 days at shelters in Maine.
"He originally came to us locally. He lost his home, then he lost his home again, then he went to animal control, then he came to the shelter, all in one day," Ben Bricker, Midcoast Humane's training and behavior supervisor, told NEWS CENTER Maine.
That same day, Jasper was brought to a gathering with a lot of people where an unleashed dog attacked him, according to Bricker.
For the past year, Bricker, staff members, and volunteers have worked with Jasper to try to ease his anxiety and trauma levels.

"Jasper, at 4 and a half, is in the middle. He is old enough to know, kind of, the world and to be fearful of some things from previous negative experiences, but he is not so old and low energy that you take him outside for five minutes and he is good for the day. He needs a little bit more activity than that," Bricker explained.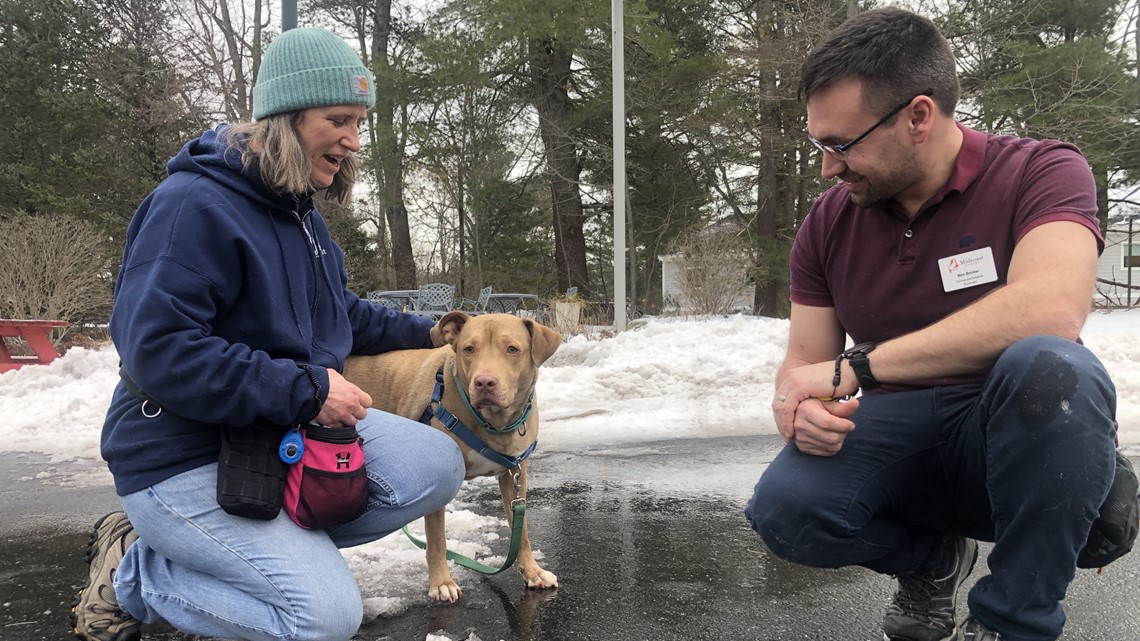 Twice a week, volunteer Suz Fisher has focused her energy on giving Jasper the love, walks, treats, and activity he deserves. But it's been weeks and weeks, and Fisher said Jasper gets overlooked at the shelter.
"He will comfort you if you are down," she said. "He really feels that connection to people he bonds with."
One day after playing with Jasper, Fisher went to a local store and bought markers and a poster. She decided to spark her creativity in an effort to bring attention to the dog.
"He's been here, by my count, for 525 days. So, that's a long time to be homeless," Fisher said.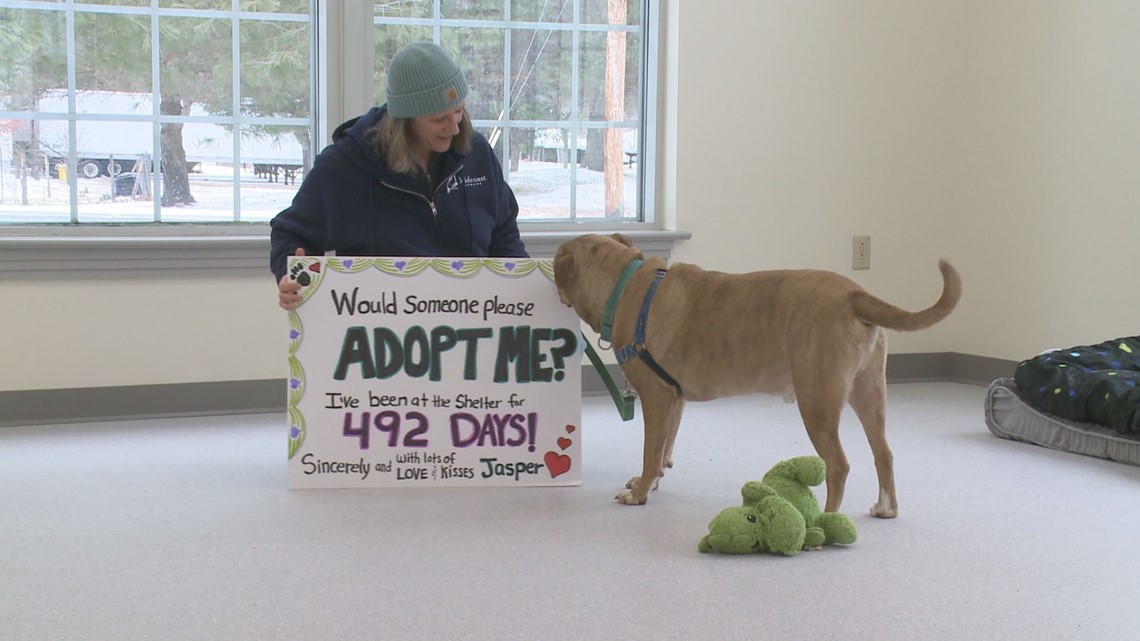 Fisher can't say enough about what she sees in Jasper.
"He's very smart, like, he learns so fast. He is so sweet," she said. "He loves to play with his toys."
Fisher and Bricker both recommend that Jasper be "the king of the house," meaning no other pets or small kids.
"Probably not sharing a home environment," Bricker said of what would be best for Jasper. "I think he would do best as the apple of someone's eye."
If you want to see Jasper in person and potentially adopt him, you can visit Midcoast Humane in Brunswick Tuesday through Sunday from 11 a.m. to 3 p.m.

"Spend time with him, give him a couch to sit on next to you, take him for his walks, and be patient because he is a little shy with strangers," Fisher explained. "He needs a family of his own. He needs somebody to take him home and make him theirs."
"We are no substitute for a family," Bricker added.
More details about Jasper can be found here.