(NEWS CENTER Maine) — Thirty-five years ago, a young girl from Maine received a letter that would change the course of her beautiful, albeit short, life.
Samantha Smith became a household name, not only in Maine but in the whole country and in Russia — especially in Russia. That letter was a response from the then head of the Soviet Union, inviting Smith and her family to visit their country in hopes of achieving a better understanding of each other.
It turns out hers was not the only life changed by that letter and its message.
A boy in the next town over and two years younger than Samantha was so captivated by her and the response to her message of peace that the trajectory of his life, too, was forever altered.
Robert Kelley is now an International Relations Scholar and a professor at American University. He chose his field of study because of the change one person, Samantha Smith, was able to effect in the midst of the Cold War.
Her simple letter, in the words of a child, telling the head of the Soviet Union that she was worried about nuclear war, set off a most remarkable chain of events that, in the end, highlighted how much we, as human beings, have in common.
Now Kelley's goal, even though he never got the chance to meet her: to keep Smith's memory and message alive. To that end, he is writing a book about Smith. It is something he hopes will be a comprehensive look at her life, something, he says, that does not currently exist.
"From a historical perspective, I'm really fascinated by ordinary people making history," Kelley said.
This summer he will head to Russia to retrace the Smith family's steps.
"I think there is a preciousness to this legacy that has become more precious every year," Kelley said. "I think she is remembered in Russia, but in the United States her memory is at risk because, it's not just her, but even the memories of the Cold War overall. I have been watching them subside in a remarkable fashion."
In 1982, when Smith decided to write Yuri Andropov, he had just been elected to head the Soviet Union, and the Cold War was getting colder. The U.S. was looking to put more missiles in Western Europe. The threat of nuclear war was palpable.
Smith saw her mother reading Time magazine one day. Andropov was on the cover. Jane Smith took about 10 minutes to explain the current state of affairs to her 10-year-old daughter who then asked, "Why don't you do something? Why don't you write a letter?"
Smith's mother responded, "Why don't you write a letter?"
A short time later, Smith produced a letter and asked her mother to mail it. In it, Smith congratulated Andropov on his new position, said she was worried about nuclear war, asked if he intended to vote for war and said, "God made the world for us to live in peace, not to fight."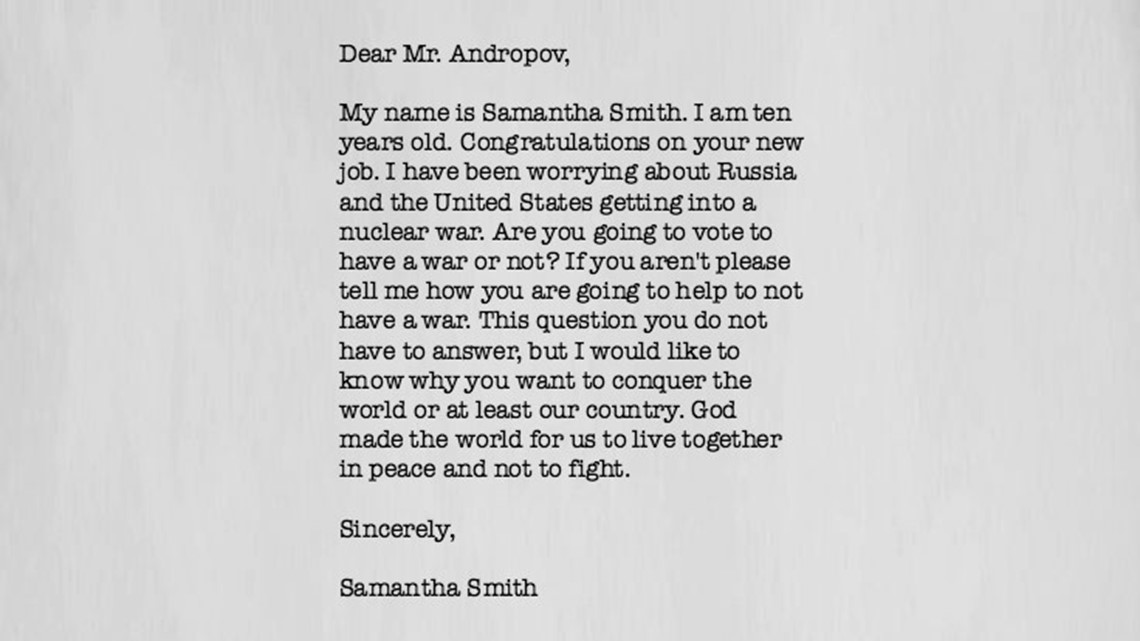 Someone at the Kremlin took notice. It took six months to get a response, but Smith did — from Andropov himself. He told her the Soviets did not want war and invited her and her family to visit the Soviet Union so she would understand that "everyone is for peace among peoples."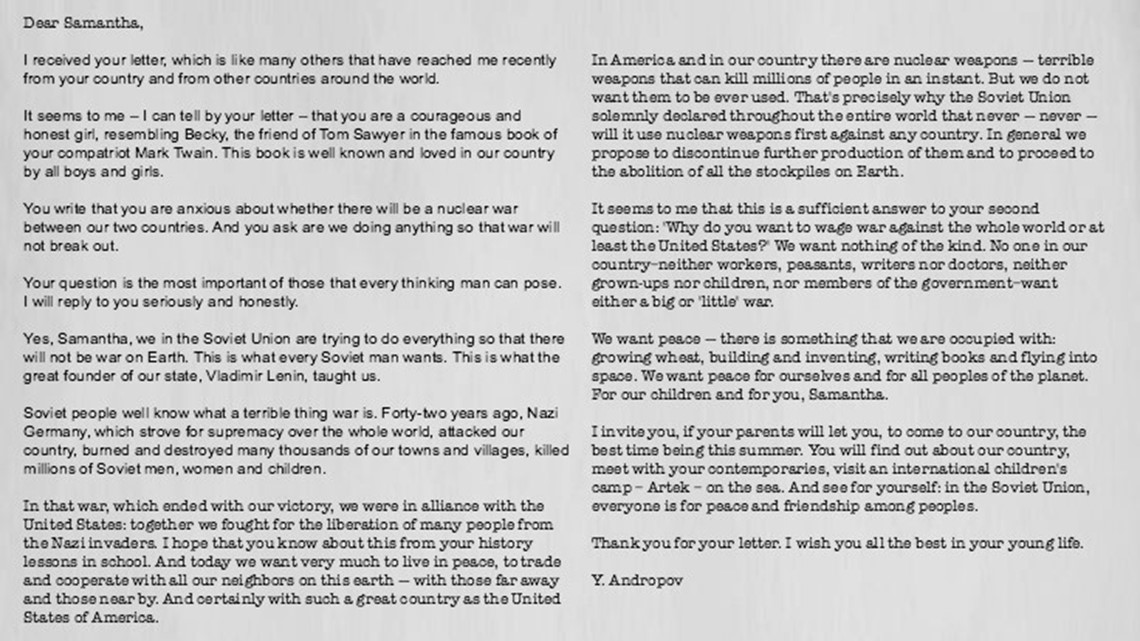 "The Soviet Union was seeking to win a war of hearts and minds in Europe, and one of the ways it was trying to do this was inviting the Smiths into the country and inviting the international media with her, tracing her journey at every stage," Kelley said. "They were with her every day. So that the exposure was unmissable."
That it was. It was on network news every night in the States. In Russia, it was everywhere.
The Russian people were smitten. Smith became a celebrity and a symbol of hope for peace. In the U.S., she made the round of network talk shows, speaking thoughtfully about how much Americans and Russians were more alike than they realize.
"She was freelancing peace," said John Dougherty, a reporter from WCSH who chronicled Samantha's trip. "The U.S. government didn't really know what to do with her."
Smith caught the eye of Hollywood producers, too. She was beautiful, photogenic and authentic. She did a couple of TV shows, gaining fame, but remaining, according to her friends, forever humble.
It was returning from a shoot for the show "Lime Street" in London in August 1985 when Smith's plane crashed in Auburn. The crash killed all on eight aboard, including Smith and her father Arthur Smith.
She was just 13 years old.
A thousand people attended her funeral, where a letter from Russian President Mikhail Gorbachev was read as part of the service.
"The resounding message at the funeral was, 'we will never forget you,'" Kelley said. He now worries the U.S. is forgetting.
In Russia, they erected monuments to her, issued commemorative stamps, named flowers and diamonds and mountains for Smith. They teach about her in their schools. Every Russian child knows about Samantha Smith.
While there is a statue in Augusta, outside of her hometown of Manchester, Smith is not part of the curriculum.
"We don't teach her in schools, we don't have commemorative programs to remember her story. What's out there?" Kelley said. "When I talk with people about their memories with Samantha Smith they say we need her back here because she would speak to power in an honest and candid way that only a child could."
Kelley said right now "there's a level of disarray at this level of politics but, as people, we can share a common humanity. That's what Samantha brought out."
SamanthaSmith.info is a site dedicated to the life and memory of Samantha Smith, America's youngest ambassador, as well as the work of the Samantha Smith foundation.
Valery Kostin was a counselor at the group of Russian camps Samantha Smith visited. He, too, is committed to keeping Smith's memory alive and is instrumental in bringing kids from Russia to a Maine summer camp annually to continue her mission of peace and understanding between our nations.
We will revisit Samantha Smith's journey and tell you how Kelley is determined to remind us all of it Thursday night on NEWS CENTER MAINE at 6.