SKOWHEGAN, Maine — Reverend Mark Tanner may not be foretelling the birth of Christ or when the next flood will hit the earth but he has made a pretty incredible Patriots prediction that has the Pine Tree state amazed.
Tanner is the pastor for the Skowhegan Federated Church. He is also a huge Patriots fan, not unlike a lot of Mainers, but those who know him say, "he is an amazing, crazy, Pats fan."
He took to the marquee sign outside his church on Friday, Jan. 18, three days before the AFC Championship game in Kansas City with what some may say is a prophetic prediction, but ended up being a statement of pure truth.
"GOD DOESN'T HAVE A FAVORITE TEAM BUT THE PASTOR DOES!! PATRIOTS 37, CHIEFS 31"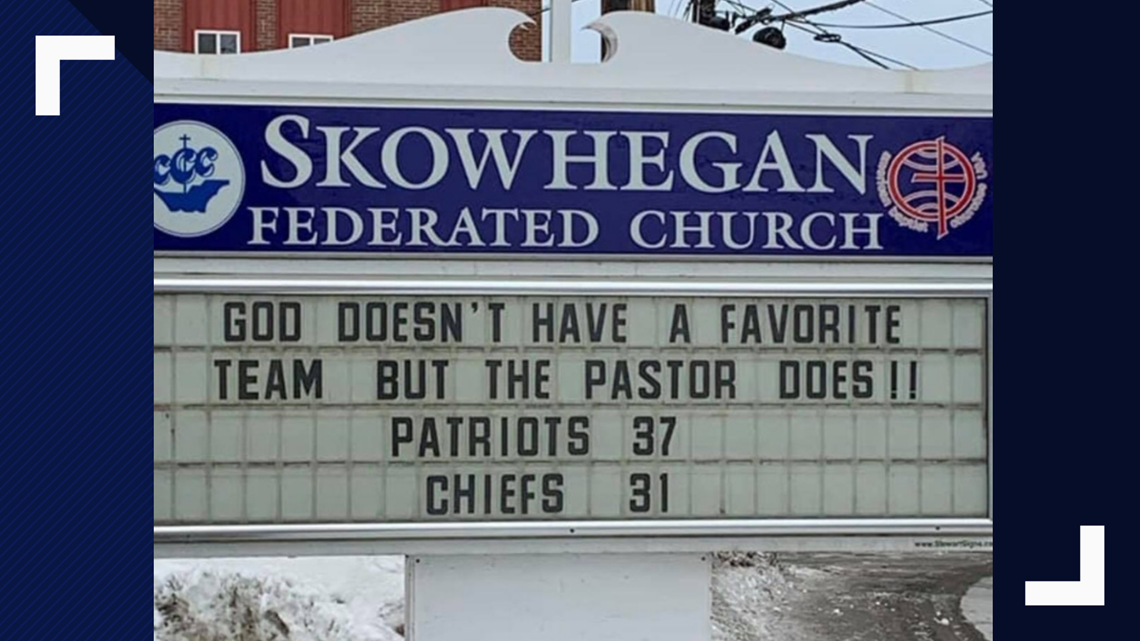 Tanner correctly called Sunday's Patriots vs. Chiefs game down to the score.
His sign is going viral on social media with hundreds of shares and comments Monday.
Still, Tanner said he's not in the "predicting business."
So was it just a lucky guess?
"Well, if you ask my daughter she'll tell you that I'm pretty good at doing these things," said Tanner.
"He's probably not right all of the time," added Tanner's daughter, Kaley Brown. "I'd say probably 50% but when he's right, you just have to smile and laugh."
Tanner's sign was making a lot of passersby smile outside the church Monday as they stopped to take photos out of their car windows.
"This is probably one of the first times it was right on," said Tanner of his prediction.
A friend gave Tanner the idea for the sign after seeing a similar one online.
"It was funny how it all came about really," said Tanner. "I called my secretary and I asked her if she might do me a favor and put the sign-up and she said, 'boy, I would love to do that.'"
Fast forward to Sunday night "and when it was tied, I looked at the kids and I said, 'oh my word, if they make a touchdown, Dad's prediction is going to be correct,'" said Tanner's wife, Deb Tanner. "So we were just on the edges of our seats."
The final Patriots touchdown, with Rex Burkhead getting into the end zone, sealed the deal for the Patriots, and Tanner.
"The phone blew up," said Tanner. "It just blew up."
He admits he's hearing from people he hasn't heard from in years and it's all because of his love for football and the New England Patriots.
"They are just one of those teams that you grow to love and as New England fans, you do," added Tanner. "It's no different than the Red Sox, or the Bruins, or the Celtics."
The New England Patriots are now headed to their third straight Super Bowl, after they won an overtime coin toss and then went on to beat the Chiefs 37-31, just as Tanner predicted.
"Now I've got folks who are waiting for my Super Bowl prediction," said Tanner. "I've told them they'll have to wait. I'm not ready to make that prediction yet but I believe it's going to be the Patriots [who will win] and it's going to be a very close game."
The Patriots will take on the Los Angeles Rams in Atlanta for Super Bowl LIII on Sunday, Feb. 3. We can't wait to see Rev. Tanner's Super Bowl sign!