PORTLAND, Maine — [Editor's note: This article is a critical analysis of a film and does not represent the views of NEWS CENTER Maine, but that of the author.]
Keira Knightley stars as a reporter investigating the infamous Boston Strangler in Hulu's latest movie.
Thirteen women across the city were killed in the 1960s, and two newspaper reporters teamed up to investigate, not just the supposed killer, but those chasing him.
Story
Loretta McLaughlin and Jean Cole were actual people who investigated the slayings in the 1960s writing for a newspaper. In "Boston Strangler," they're portrayed by Knightley and Carrie Coon.
The story shows a number of women who live alone being strangled by a faceless killer.
McLaughlin is stuck on the lifestyle desk at work and wants to report on bigger stories. Her grizzled editor, Jack (Chris Cooper), is resistant at first but finally lets her write about the murders when she proves some reporting chops.
As the killings continue, McLaughlin is teamed up with Cole, a more experienced reporter at the newspaper.
The film's story eventually leads to the man who confessed to being the Boston Strangler in real life, Albert DeSalvo (David Dastmalchian). Along the way, McLaughlin and Cole report on everything from incompetence in the Boston Police Department during the investigation to lingering doubt over DeSalvo's connection to the murders.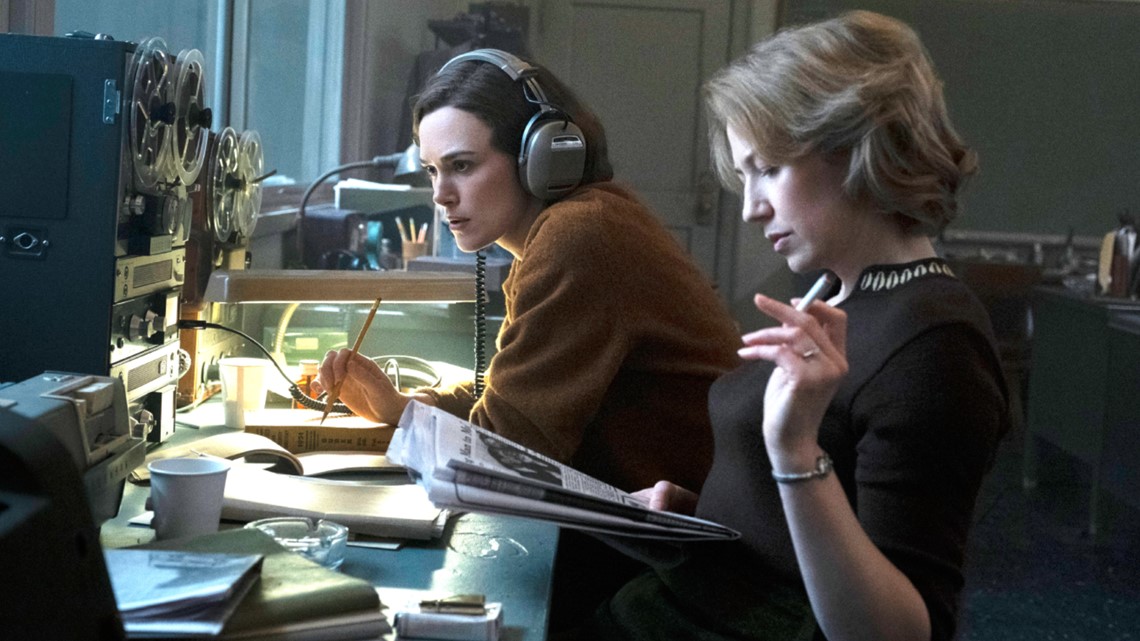 Analysis
Knightley makes for a decent reporter in "Boston Strangler." Audiences shouldn't have any trouble believing her drive and passion to see this killer brought to justice.
And her chemistry with Coon as they chase the story together makes for one of the best parts of the movie. They form a sisterly bond with Coon's character taking the younger reporter under her wing and helping out when roadblocks emerge.
Cooper also makes for a believable gruff newspaper editor begrudgingly giving these two women more and more leeway to chase the story.
The newspaper story in "Boston Strangler" may not reach the heights of "Spotlight" or even "The Paper," but it's certainly an interesting angle through which to look at this grizzly narrative based on actual history.
This film takes an entirely different path than the 1968 "The Boston Strangler" starring Tony Curtis and Henry Fonda.
Unfortunately, the narrative starts to unwind as characters like DeSalvo and George Nassar are introduced. The movie's second half seems to want to ditch its newspaper angle and move into that of a true crime series, creating an awkward shift.
Further problems arise as the pacing becomes awkward by the end, and the story can't seem to decide when it wants to conclude.
In wanting to create a commentary on the uncertainties about conclusions drawn over the killings in real life, "Boston Strangler," seems to lose itself juggling too many balls like McLaughlin's marriage falling apart, a quick trip to Michigan, and manufactured tension between the reporters.
The end result is a mixed bag as "Boston Strangler" leaves its strong lead behind for a more awkward ending.
Also playing this week:
A new superhero movie from DC Comics is opening in theaters this weekend. It's called "Shazam! Fury of the Gods." Check out the trailer below.
To see which movies are playing at a theater near you, click here.
For more movie thoughts, follow Courtney Lanning on Twitter here.
More NEWS CENTER Maine stories