PORTLAND, Maine — [Editor's note: This article is a critical analysis of a film and does not represent the views of NEWS CENTER Maine, but that of the author.]
DC Studios has a new family-focused superhero film out this week called "Blue Beetle."
The film features stars like George Lopez and Susan Sarandon.
Story
It's supposed to be an exciting time for Jaime Reyes (Xolo Maridueña) as he flies home to see his family after graduating college. But he arrives to bad news.
His family is losing their house as the landlord drives up their rent. To make matters worse, Jaime's father recently had a heart attack and lost the family auto mechanic business.
Jaime finds himself stuck working in the cleaning crew for a wealthy CEO named Victoria Kord (Sarandon). But he loses that job after intervening in a fight between Victoria Kord and her niece, Jenny Kord (Bruna Marquezine).
Things only get more complicated for the college graduate when Jenny steals a top-secret weapon called The Scarab from her aunt and gives it to Jaime, asking him to keep it safe.
While examining The Scarab, Jaime is changed forever when the weapon latches onto him and fuses with his body. It buries itself into Jaime's spine and transforms him into an android called the Blue Beatle.
After a chaotic trip through space and crashing around a city while the weapon tests its systems without Jaime's control, he returns home and passes out.
It doesn't take long for Victoria to learn Jaime has The Scarab, and she uses all of her company's power to try and get it back, sending her bodyguard named Carapax (Raoul Max Trujillo) after him. He has his own mechanical enhancements.
Jaime's family is targeted as well, and he soon finds himself having to quickly learn how to use The Scarab to keep everyone safe.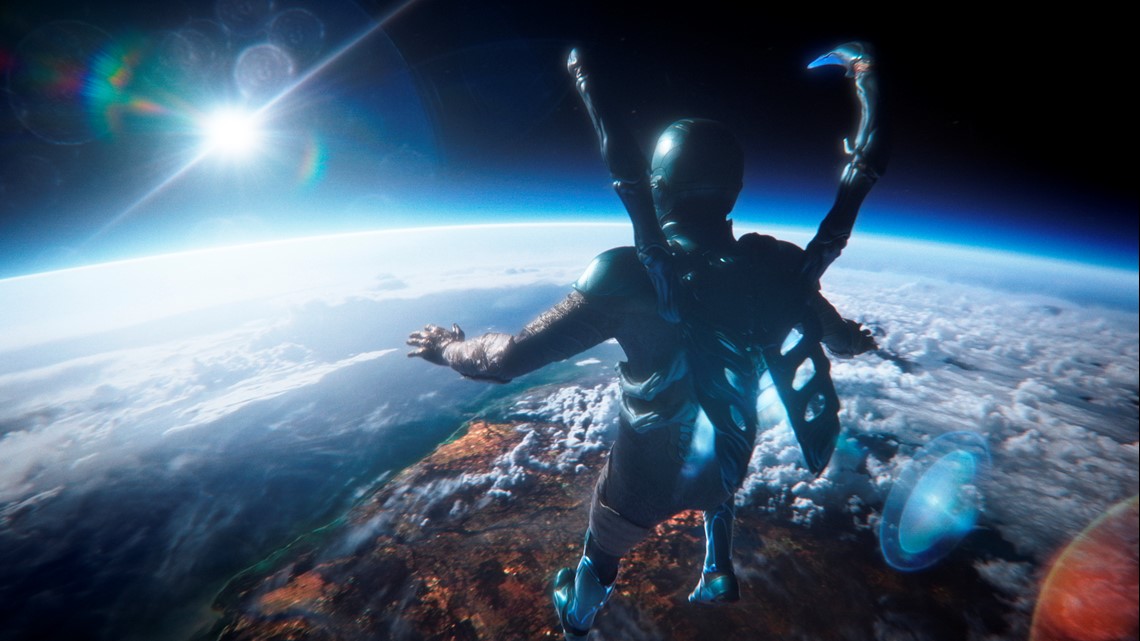 Analysis
"Blue Beetle" is supposed to start a sort-of reboot at DC Studios as James Gunn and Peter Safran take control. And the film takes a few different approaches to the "new superhero" formula.
The end result is a fun and weird little movie (in a good way).
"Blue Beatle" manages to avoid a lot of cliches as it navigates a movie release schedule full of superhero fatigue. And it really comes together in the final act.
Maridueña makes for a great new face to the world of superheroes, and as this is Blue Beatle's first appearance on the big screen, he has plenty of room to really establish himself and set his name apart from others like Batman or Spider-Man. Viewers will get a sense that Maridueña really is a college kid sucked into a vacuum of madness when he just wants to help his family.
He balances the humanity of his role with the growing desire to hurt those that target his family. And that family is the movie's secret sauce, whether it's tender moments with his father (Damián Alcázar), the unyielding resilience of his uncle (George Lopez), or the absolute madness of his grandmother (Adriana Barraza) as she wields a giant gun that mows down the bad guys.
"Blue Beatle" doesn't just treat Jaime's family as a weakness to exploit, but intelligently involves them heavily in the story, revealing them to be his true strength.
The final showdown keeps things fresh and entertaining by drawing on everything from the WWE to Final Fantasy. It's not like so many superhero movies that come down to two guys punching each other in a poorly-lit room.
Of course, the film isn't without flaws. Some of the dialogue teeters on the edge of being too corny, and Sarandon provides a generic and cliche villain who needed much less screen time. Her moments would have been better served growing Carapax's character throughout the film instead of at the very end.
But "Blue Beetle" still manages to do something extraordinary by being a unique comic book adaptation in a cinema landscape oversaturated with people in capes. It's not a bad start for Gunn's and Safran's reboot of DC Studios.
Also playing this week
Will Ferrell and Jamie Foxx have a new comedy out this week called "Strays." Here's the synopsis:
"An abandoned dog teams up with other strays to get revenge on his former owner."
To see which movies are playing at a theater near you, click here.
For more movie thoughts, follow Courtney Lanning on Twitter here.
More NEWS CENTER Maine stories