Using the NCM app? Go here to show multimedia
America's national parks — you've heard of the popular ones: Yellowstone, the Grand Canyon, even Maine's Acadia ranks No. 6 on a list of the most visited. But this isn't about popularity. We're about the fresh, the new, the underground stuff the hipsters are listening to.
The up-and-coming kid on the National Park Service scene is a rather large patch of trees in the Katahdin Region: The Katahdin Woods and Waters National Monument. It's 87,500 acres of former timberland, donated to the federal government by Roxanne Quimby, who helped found Burt's Bees.
In 2017, a small team at NEWS CENTER Maine planned a Maine road trip to top all road trips. The result is Maine by the Mile, a seven-part series highlighting unique places in Maine that aren't the first ones you'll find in guidebooks but are definitely worth checking out.
Welcome to the Katahdin Region.
Fast facts ✓
- Mount Katahdin is Maine's highest mountain at nearly 5,300 feet
- Katahdin, or K'tahdn, is Abenaki for "main mountain"
- It's the northern terminus of the 2,200-mile long Appalachian Trail
- Katahdin Woods and Waters Nat'l Monument was established in 2016
- Land was donated by Elliotsville Plantation and Quimby Family Foundation
- Made a national monument by presidential proclamation
- Initially inhabited by Penobscot Indian Nation and Wabanaki tribes
- Bedrock within monument dates back more than 150 million years
- Oldest rock in the monument is 500 million years old
Episode locations 📍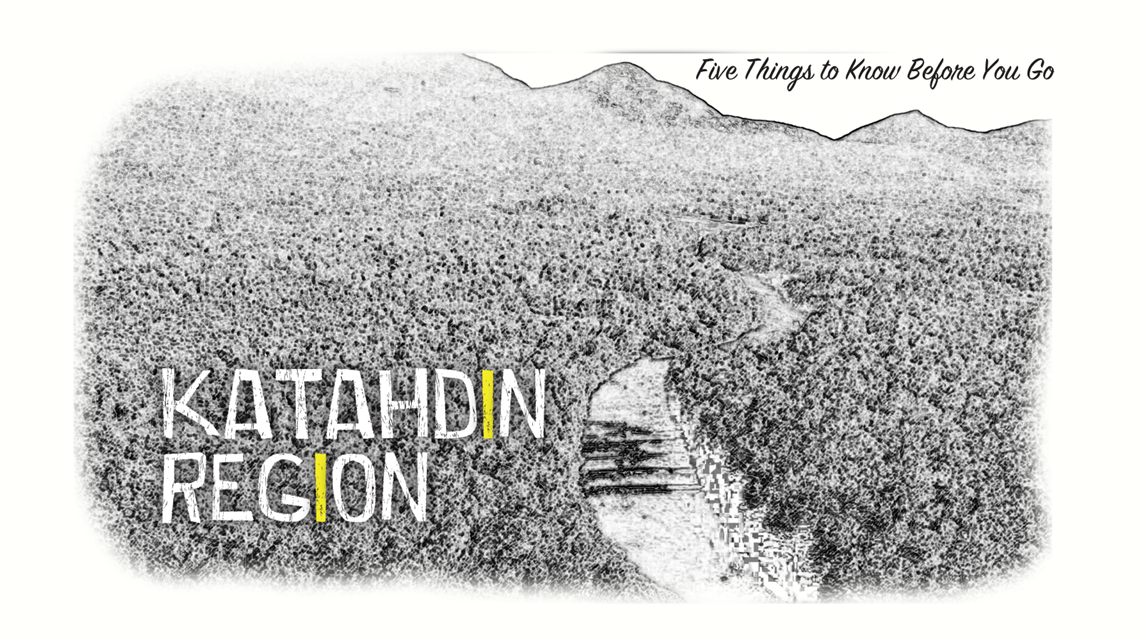 Road trip gallery 📸
PHOTOS: Maine by the Mile | E2 - Katahdin Region
Get there from here
- From southern Maine, take I-95 north to exit 144 in Medway, take a right off Main Street in Millinocket and follow signs north along roads that run adjacent to Schoodic Stream and Trout Brook
- From western Maine, head east on Routes 149 and 150 or Routes 201 and 16 to Route 6, continue on Route 11 to Millinocket, then go left on Katahdin Avenue, left on Bates Street, right on Stacyville Road and follow signs north
- From eastern Maine, head west on Routes 1, 6, 168, 157 and 116 to Route 157 in Millinocket, take a right off Main Street and follow signs north along roads that run adjacent to Schoodic Stream and Trout Brook
- From northern Maine, head south on Route 11 or I-95 to Sherman (exit 264 on I-95), travel west on Route 11 to Stacyville Road, take a left at Swift Brook Road and follow signs on Logging Road and Hauling Road 1
- Though not specific to the national monument, Appalachian Trail Lodge located at 33 Penobscot Ave. in Millinocket offers its Hiker Shuttle Service to and from the Bangor International Airport and bus terminals in Bangor and Hermon
- Locally, it also offers Katahdin area shuttles to and from Baxter State Park's Katahdin Stream Campground and Abol Bridge, as well as the bus terminal in Medway and locations along the Hundred-Mile Wilderness
- Millinocket Municipal Airport (MLT), a public airport owned by the town of Millinocket which, in addition to a landing space, offers car rentals, scenic flights and jump and raft skydiving trips, and more
Lodging options
Dining spots