(NEWS CENTER) — More than a foot of snowfall is possible, statewide, Tuesday through Wednesday. Some parts could see close to two feet. This storm will likely affect everyone in some way or another.
This storm could end up as a top 10 March snowstorm for both Bangor and Portland, according to chief meteorologist Todd Gutner. As meteorologist Keith Carson pointed out on Monday, the month of March is statistically snowier than February across southern Maine.
Little known fact: March is actually statistically snowier than February across southern Maine. pic.twitter.com/Ct0hsZPLZ9

— Keith Carson (@KeithCarson) March 13, 2017
Meteorologist Tom Johnston answered several questions Monday night during a Q&A-style Facebook Live, showing the expected timelines, anticipated power outages and more, while also comparing how each model differs in predicting snowfall totals…
» Click here to watch Tom's forecast from NEWS CENTER at 6
Tom is predicting 12-20 inches of snow Tuesday through Wednesday for more than 90 percent of the state. He says Downeast and the upper tip of Aroostook County will likely be in the 8-12 inch range.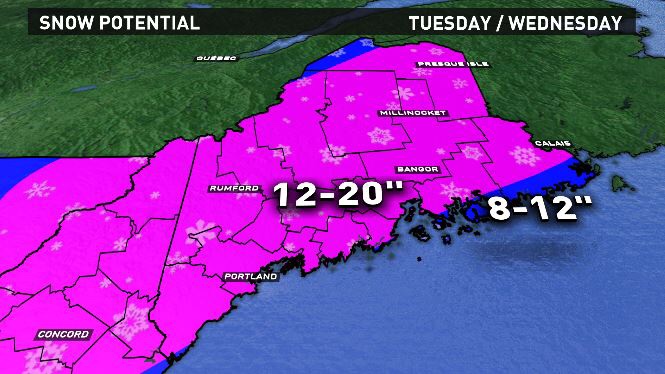 Keith and Todd earlier on Monday were predicting similar amounts: 12-18 inches of snow Tuesday through Wednesday for more than 90 percent of the state. They, too, said northern and downeastern edges could see slightly less amounts.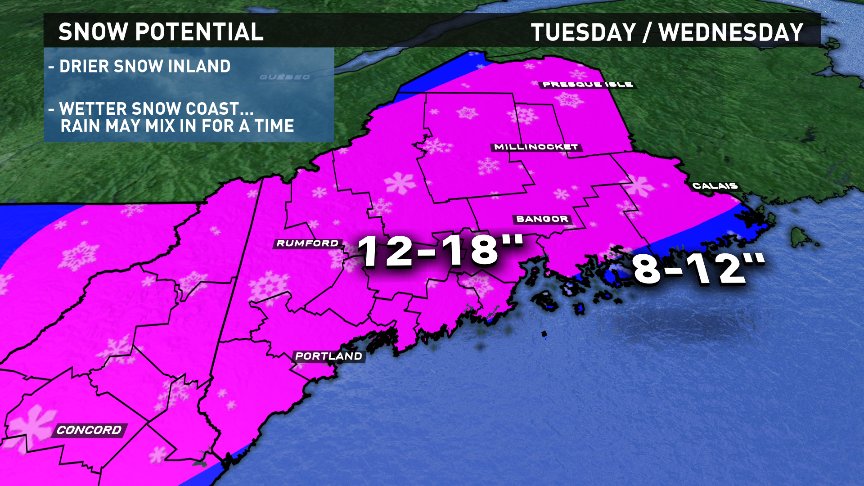 There were scores of closings and cancellations late Monday night, with likely several more coming Tuesday morning when the snowfall begins in southern Maine.
» Click here for a full list of closings and parking bans
A blizzard warning was issued Monday night for the Maine counties of Cumberland and York and New Hampshire counties of Hillsborough, Rockingham and Strafford. That warning goes from 7 a.m. Tuesday through 5 a.m. Wednesday.
For a blizzard to take place there must be at least three hours or more of the following conditions: heavy snow, 20-30 mph winds and visibility at times of a ¼ mile or less
» Click here for the latest weather alerts
The storm is expected to cripple travel. AAA Travel told NEWS CENTER's Jessica Gagne on Monday that "reschedule" was the word of the day. And late Monday night, the Portland Jetport canceled all flights between 8 a.m. to 8 p.m.
TRAVEL ADVISORY: Airlines have cancelled all flights between 8am and 8pm. Limited flight ops Tuesday morning and late Tuesday evening.

— Portland Jetport (@portlandjetport) March 14, 2017
Stay with STORM CENTER for the latest information on Nor'easter Stella.