It's been a while, but our first big Autumn storm is bearing down on us and it will have it all, rain, wind and even a little snow! Here are ten things you need to know about the storm.
1) Certainly no secret, most of Maine is entrenched in a serious drought. Since July 1st, Portland has only received 5.66" of rain, which happens to be a whopping 7.87" below normal. In Bangor, rain has totaled only 6.96" since July 1st, which is 6.02" below the norm.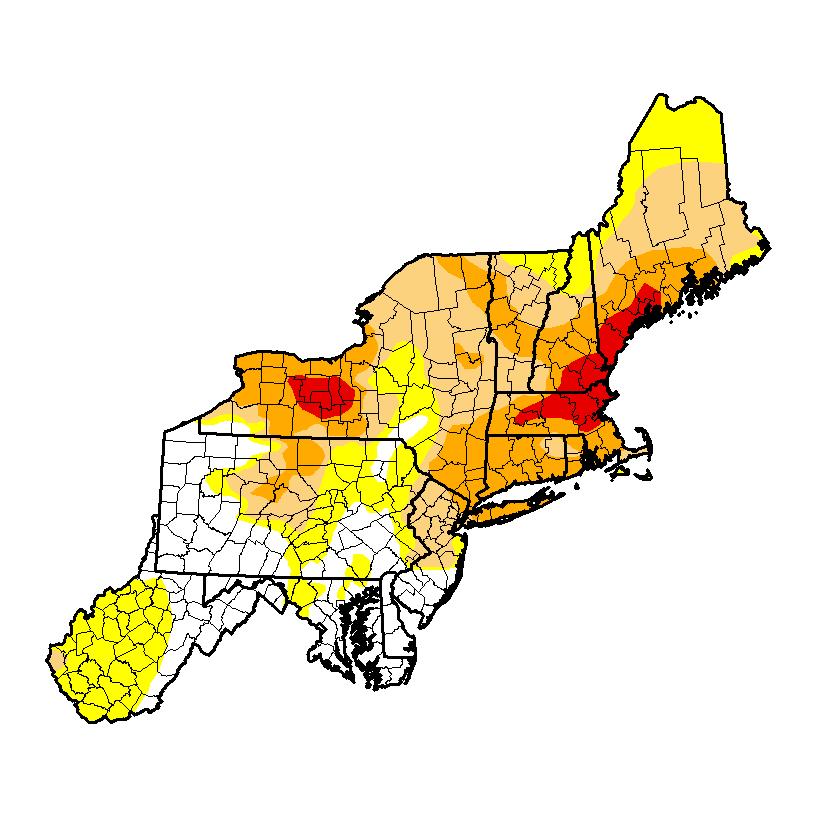 2) The last time Portland picked up an inch or more of precipitation in one day was back in June. For Bangor the stat is even more impressive, you have to go back to April! With that said, the ingredients are there for an inch or more out of this event.
3) Let's talk rain...some of our mesoscale models are printing out some eye-popping rainfall amounts and while they aren't as reliable as the global models, they can't be ignored. Mesoscale models are newer models that have better resolution than their older and wiser cousins, the global models (such as the GFS and EURO). That doesn't always make them better but sometimes they can pick up on convection or microclimates which can result in the these robust numbers. They may be on to something here in Maine...first of all, there's a tropical-like system north of the Bahamas that the National Hurricane Center has been monitoring all week for tropical storm formation. One hasn't formed, but the moisture is still there and it's flowing north, guided by an approaching trough and southerly winds through the entire column of air. Precipitable Water values are expected to approach 2.0", meaning that if all the moisture above a particular point on the earth's surface were to fall as rain, it would equal 2.0". Along with that, there will be a little extra elevated energy as very warm air works into the lower levels creating a convective environment which should lead to localized torrential rain. In the end, I'd say expect around one inch of rain with potential for up to three. This will certainly help and may even put a dent in the drought.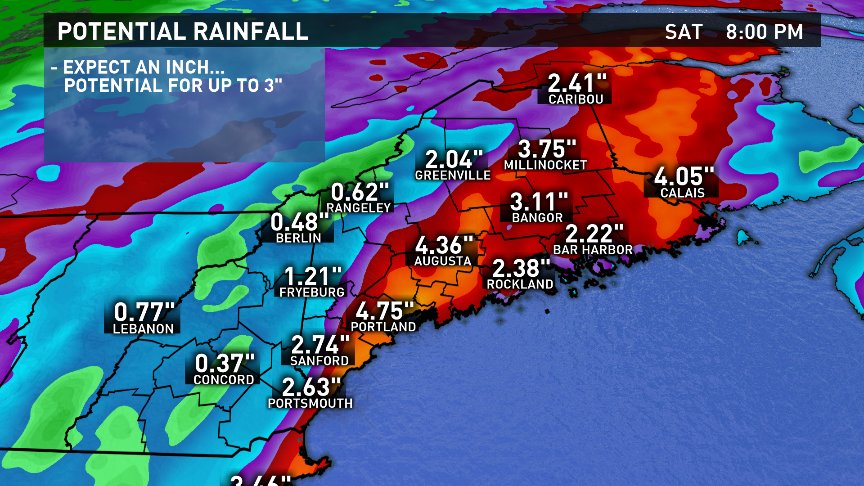 4) The bulk of the rain will fall after dark between 6 PM and midnight. Flash Flood guidance suggests over 3 inches of rain would need to fall in a 6 hour period for flooding to occur on rivers or streams, so we should be fine there. But I do have some flooding concerns, mostly for temporary street and pour drainage flooding from leaf-clogged storm drains...use caution driving around later this evening and night.
5) Luckily, the King Tides are getting smaller. If this storm had hit earlier this week we'd have some serious problems. But today's highs tide around 4 PM is a 10'6" tide and even with a small storm surge from onshore winds, any splash over would be minimal. Interestingly, next month we have an even higher King Tide...the biggest of the year...12 feet on November 15th! That will already be 6 inches above the 11'5" flood stage in Portland Harbor. Throw a storm on top of that and look out!
6) This storm will be one of the strongest storms we've seen since last Spring when we were still getting Nor'easters. In fact, the pressure is expected to get down to around 980 millibars, that's equivalent to a category 1 hurricane...so naturally I have concerns for wind. Preceding the storm an inversion, a very stable temperature profile of warm over cold, will protect us from the strongest winds. But on Sunday, after the storm passes, colder air will get advected in and chew away at that warm layer, breaking the inversion. That, along with a stacked storm system, will allow for the stronger winds at higher altitudes to translate down to the surface. Gusts over 40 mph will occur and with the leaves still on many trees acting like sails, limbs may crack and Isolated power outages are likely. Speaking of the leaves, we'll have a lot of raking to do following this storm.
7) OK Winter lovers, this paragraph is for you...snowflakes will fly! Right out of the gate, let me just say this will happen in the mountains and it's not unusual to get snow in the mountains in October. Temps are going to crash on the backside of the departing storm and while there won't be much moisture leftover, air blowing up and over the terrain will squeeze out some snow...this is know as upslope snow. It can be a rather efficient snow producer under the right conditions. In this case, the highest peaks in New England could see as much as 6 inches with just coatings possible below about 2000 feet. Regardless, this will provide a great photo opportunity.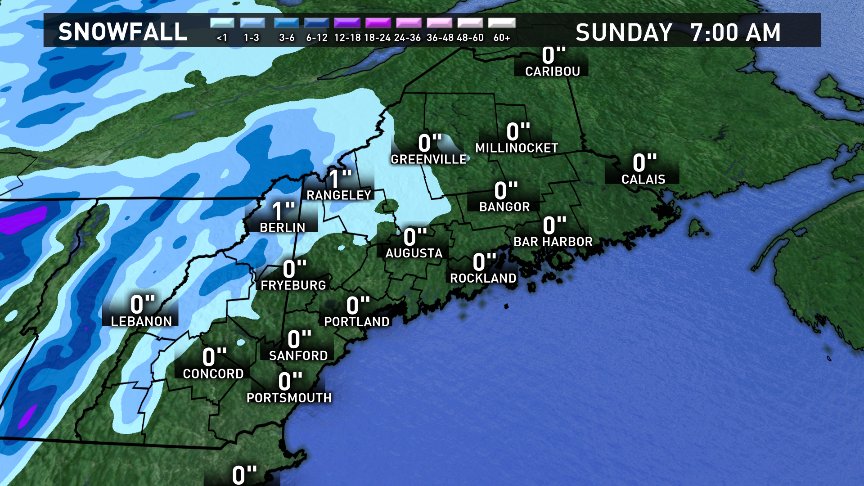 8) It is rare to get snow in the bigger cities and closer to the coastline in October but it did happen a few years ago. Do you remember the Halloween snowstorm of 2011? Portland picked up 5.2" of snow. The largest October snowstorm in Bangor was 7.8", it fell on October 26th, 1962. In case you're curious, the average first 1" snow event is November 27th in Portland and November 20th in Bangor.
9) The cold following the storm will hang out for several days keeping temps below average through most of next week. In fact, this will be the coldest air since early May when daytime highs only reached the upper 40s.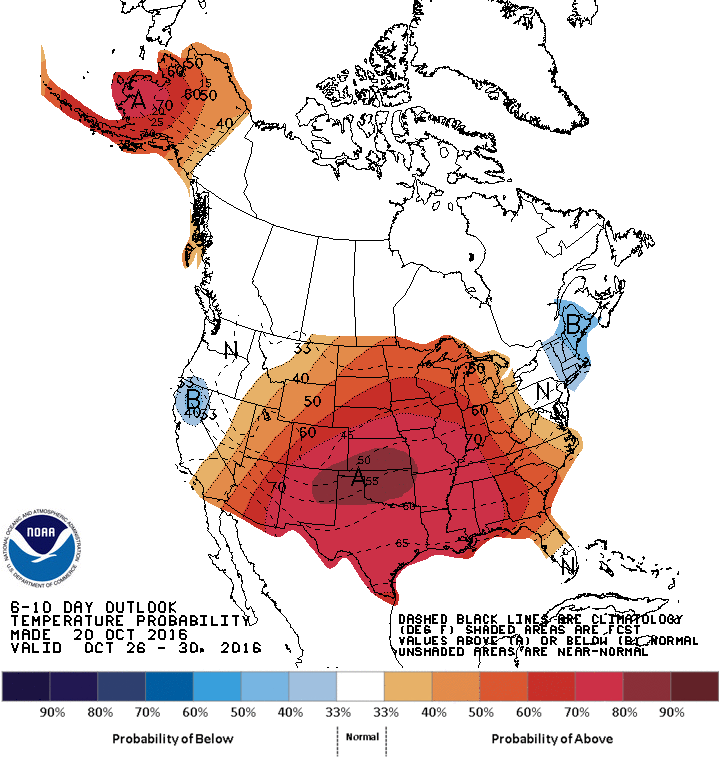 10) NOAA released their Winter Outlook yesterday but it doesn't offer up much insight. They are calling for near normal precipitation and slightly above average temps. So it doesn't appear like they are thinking we'll have another epic Winter like two years ago. But it also doesn't look like it will be an epic fail like last Winter either...probably somewhere in the middle. Stay tuned for our personal NEWS CENTER Winter Outlook coming in early December.
Have a good weekend. -Todd @ToddWCSH