Seems like it wouldn't be Thanksgiving in the Northeast without at least the THREAT of a storm around the holiday. I can see the headlines now "Travel Trouble on Turkey Day?", "Brutal Black Friday?", "Busiest Travel Day of the Year Ruined!".
By the way, the last one isn't true. The day before Thanksgiving is NOT the busiest travel day of the year. Consider this from Troy Green from AAA:
"There are about five to 10 days during the summer that are busier than Thanksgiving."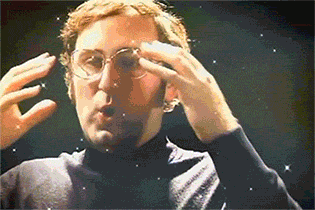 But I digress. (As usual)
There is indeed something to talk about around Thanksgiving. But let's talk about the next few days first.
Friday: Another beautiful day. High pressure anchored to our south will promote mild highs in the upper 50s to low 60s under mostly sunny skies.
Saturday: It'll be a squeeze between an approaching front and a coastal low to our east, but I feel confident the nice weather will hold out for one more day. I'll go partly cloudy with highs in the mid 50s.
The pattern change arrives on Sunday as an upper level low develops over New England. This low will be the combination of the dynamics from the coastal low and the front from the west. The net result will be showers along the coastline and some snow squalls in the mountains. These squalls could reduce visibility so just be aware of them.
Monday and Tuesday will be MUCH colder than the past few days with lows in the 20s and teens and highs in the low 40s. The persistent northwest flow will create upslope snow showers from time to time, which will add up over the course of a few days: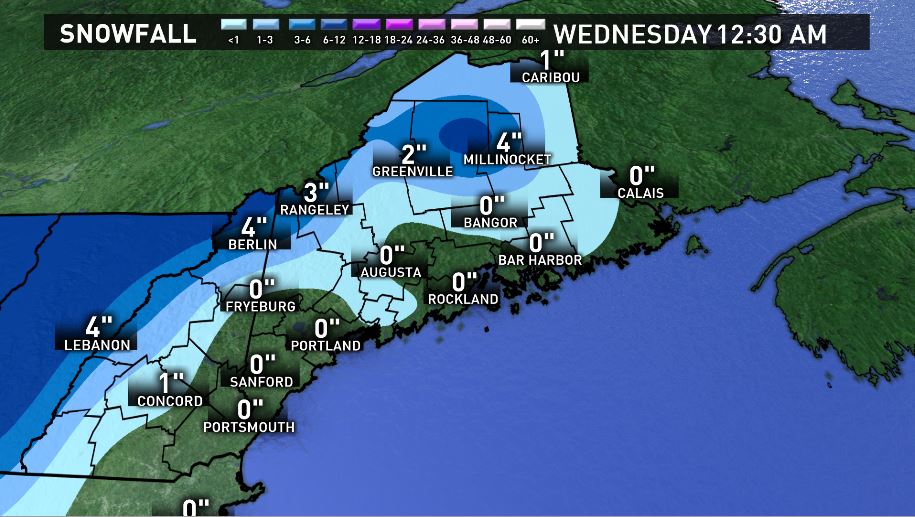 Nothing amazing, but Stoke Level 9 for those skiers who are dying to get the season rolling.
Ok, so what's this about a storm around Thanksgiving.
For the past few days the the computer models have hinted to me that there will be an active jet stream path that takes storms right over New England in the mid range. What that means is that it appeared likely we would deal with SOME sort of storm on either Thanksgiving or "Black Friday."
Sure enough, the latest EURO model came in this afternoon with a big, honking low pressure system for Black Friday: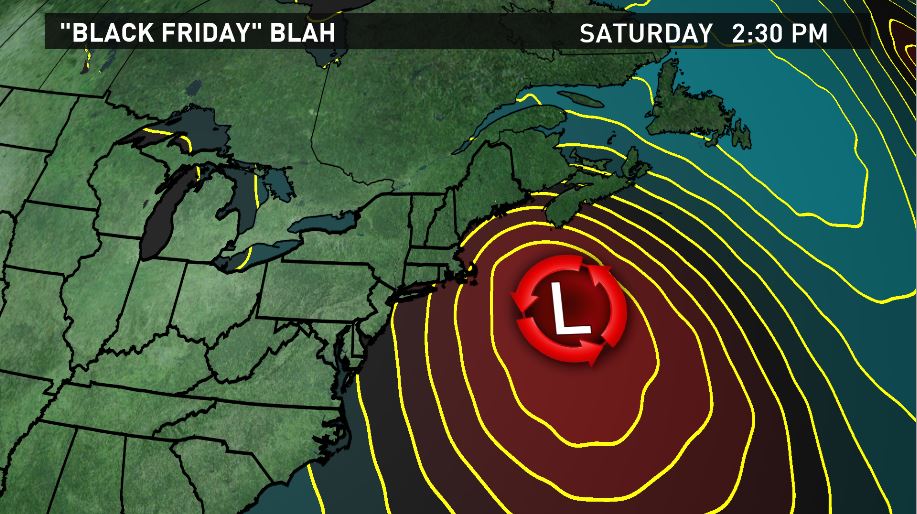 In that particular position we would be looking at rain. A cold rain, but rain.
And if this signal is right, it would be a lot of rain:
Pro Tip: It's a bad sign when your weather map looks like it got in a barroom fight.
The heaviest precipitation looks to be Friday into Saturday.
BUT...it's 8 days out, so let's just Netflix and Chill for now. Just wanted to give you a heads up, because it's what I do.
Carson Out.
https://twitter.com/KeithCarson