Earlier today all the computer models agreed, the track was locked down and meteorologists all across New England were feeling real good:
Then the afternoon EURO model came in...
And it came in much farther East.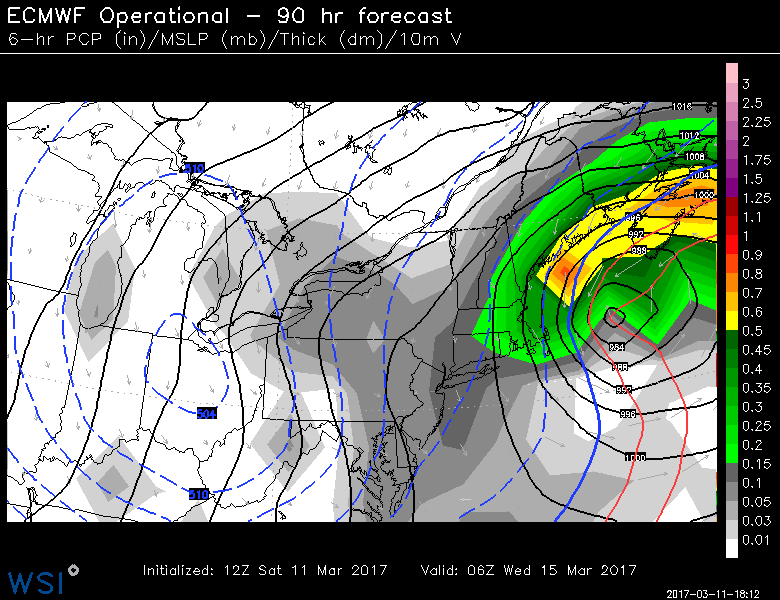 East would be colder, so no mixing with rain. But East would also threaten the total amount of precipitation that would hit Maine. Also known as QPF.
So that left me with a real dilemma.
It's the stuff of bad forecasters to react to every computer model run...BUT I've had concerns about an eastward trend on this storm from the beginning. From Thursday's blog: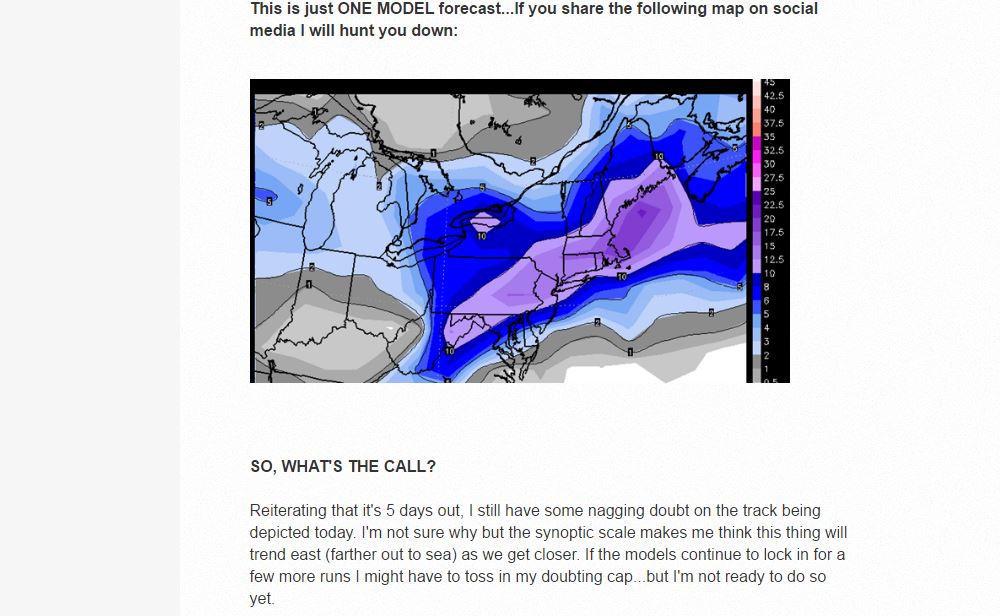 Ok now that you're done with that vision test, here it is in normal, legible, text.
"Reiterating that it's 5 days out, I still have some nagging doubt on the track being depicted today. I'm not sure why but the synoptic scale makes me think this thing will trend east (farther out to sea) as we get closer. If the models continue to lock in for a few more runs I might have to toss in my doubting cap...but I'm not ready to do so yet.""
It was kind of a gut feeling, but it was also based on my experience that storms that rely almost solely on a "negatively tilted" trough to swing them into position are more vulnerable than average to track changes. If the trough is just a bit LESS negatively tilted than modeled, the resulting eastward spin is substantial. The reason for this is somewhat unclear, but I think it's because a negatively tilted trough is a bit of an atmospheric anomaly, so it occurs fewer times than global computer models would like to think.
So where does that leave us?
Well, it's still going to snow...but my numbers are going to be lower than some others you'll see because I respect that eastward trend idea and think it has some merit. (Also, as of writing this...no one else had a snowfall map out yet, so maybe I'm just fighting with myself) It's important to realize where this map is coming DOWN from; most initial thoughts were 1-2 FEET.
Notes:
1) Timing: Starts mid morning Tuesday over southern Maine, snow heaviest Tuesday night through Wednesday morning, but continues to snow through Thursday morning...generally on the light side. So it's a long duration storm.
2) Jackpot: Feels like northern Midcoast to Downeast to me due to the curvature of the coast and the fact it will be snowing there for the longest.
3) Snow Type: Not the usual March paste snow, it should be just kinda "standard" snow with temperatures in the upper 20s to low 30s during the heaviest precipitation rates.
Carson Out.