Our first Autumn Nor'easter is on the way and it's going to have all the fixings with it including rain, snow and wind.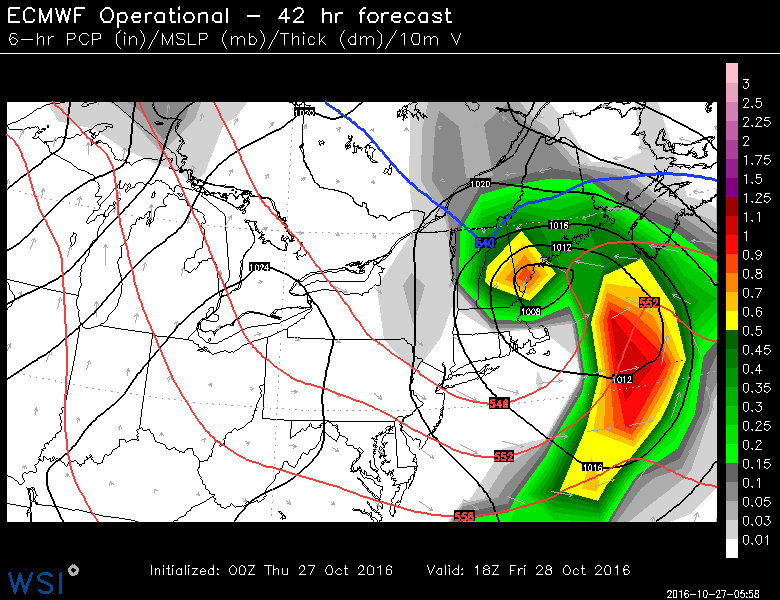 RAIN: Preceding the storm, a little ocean-effect light rain will break out later this afternoon and evening along the coastline. This will make for a damp evening, especially in Southern Maine. But the heaviest rain will hold off until tomorrow morning and the timing doesn't look good for the commute. Upper-level energy and a 60 mph low-level jet creating rapidly rising air will lead to torrential rain between 6 AM and Noon. Over an inch of rain will fall and thunder may enhance the rain pushing numbers up closer to 2 inches. I suggest being a good Samaritan and clear the storm drains of leaves to limit any street flooding.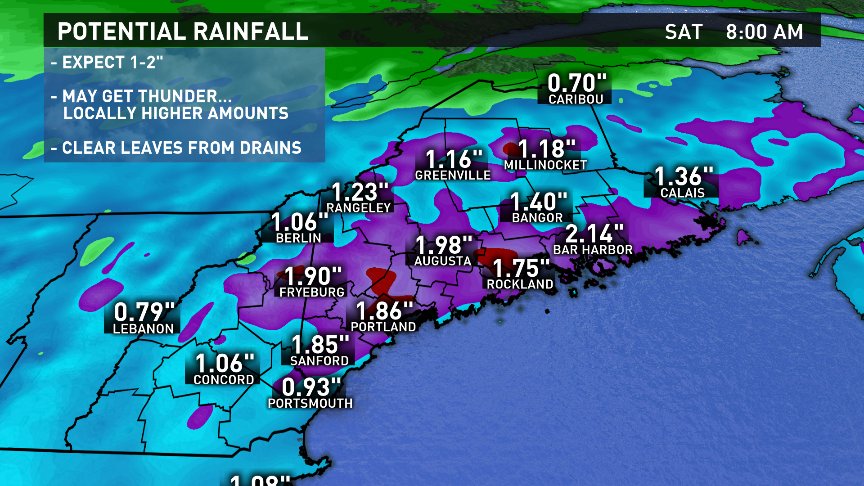 SNOW: Cold high pressure will drift into the Maritimes allowing an easterly wind to bring in milder air for most. But in the mountains, the air should remain just cold enough for a heavy, wet, clingy snow to fall most of the night and day tomorrow. This storm will be loaded up with moisture, if this were January we'd be talking about over a foot of powder...it's not January, so your typical 10 or even 15 to 1 snow to liquid ratio has to be sliced down. Still, the highest peaks will see over 6" of snow with the lower elevation picking up 1-3". Mountain roads will get sloppy and slushy too. Limbs will bend and may crack under the weight, power outages will be possible. There may be a few wet flakes that mix in with the rain in Bangor, Augusta and Lewiston but I'm thinking you really need to get up near Route 2 and Route 6 to see any accumulations and even there it would likely only accumulate on the grass, decks and car-tops.
WIND: This storm won't be overly strong, only getting down to about 1008 millibars, so there isn't much of a pressure gradient to manufacture the wind. But I am concerned for some of the wind aloft to work down to the surface. When heavy rain falls in a convective environment, like the one we'll have tomorrow morning, it drags down the air with it and therefore some of that strong wind in the low-level jet tomorrow morning could result in gusts close to 40 mph near the coast. Isolated power outages are possible.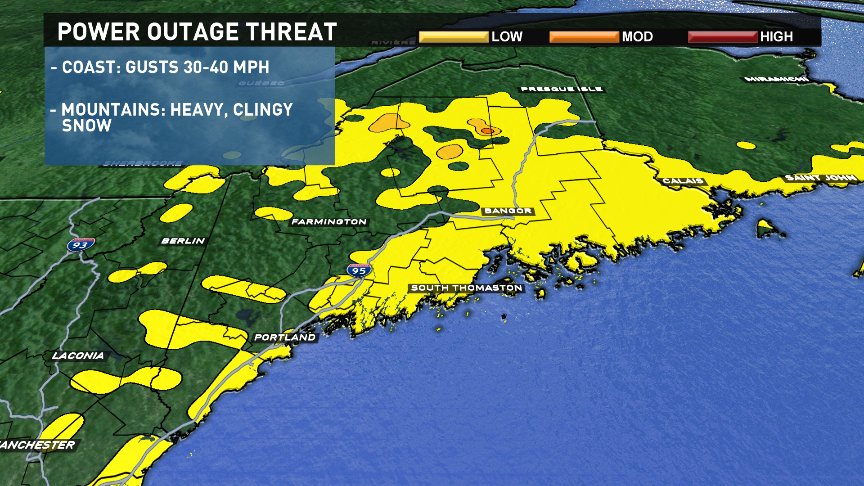 After this storm, the pattern will quiet down quite a bit and temperatures actually look a lot milder next week.
-Todd Gutner @ToddWCSH