NAPLES, Maine (NEWS CENTER) — The Lakes Region is in the sweet spot of Stella's punch. Folks there are preparing for perhaps two feet or more of snow.
For them, it's part of the joy of living in western Maine.
The wind whipping across Long Lake, coupled with the snow and cold in mid-March, is not surprising to anyone who lives in the region. March brings out crazy weather and madness in people who brace themselves by dreaming of summertime: boating, swimming and, well, hanging out in their bathing suits.
"We have bubblers in the water to keep the pilings open and just to keep the water open and to keep our hopes of spring alive a little bit," said Will Monson, who heads up sales at Moose Landing Marina, where 400 shrink-wrapped boats await their finest hour: summertime in Naples.
But for now, the key is to keep the snow off of them.
"It's a pretty wet snow so that's kind of a problem for us," Monson said. "You're worried about things sitting there and freezing."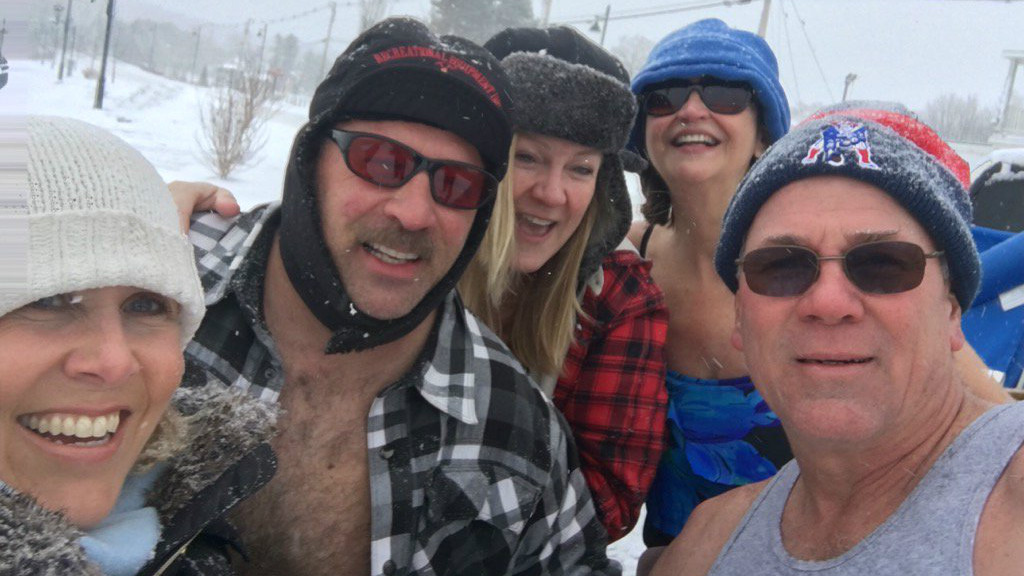 And already, demand for summer 2017 is high, from pontoons to bowriders to speed boats.
"They're getting excited for the season," Monson said. "We have a lot of people buying boats, reserving dock space, rental boats, all that. It's definitely getting ready."
And spring fever at the lake is difficult to cool.
"We are Mainers and we are celebrating Stella," Jim Theofilos explains, from the back of his black pickup truck. It's parked next to the Causeway Marina.
He's wearing his swimming suit, Bean boots and a big smile. His brother in law, Tim Neelon is visiting from Texas with his wife Connie. "When we left," Tim said, "Texas it was 76 degrees."
Stella's chill couldn't dampen their spirit or their bravery — bathing suits in single digits with winds whipping across the lake.
"It's our spring break and we wanted to make it special with Stella."
I ask them how they are going to top this and quickly Jim's wife Paula Banks responds: "We're jumping into the hot tub when we get home, then we'll sit around the fire. We will remember this storm for a long time."
In unison, they raise a toast: "To Stella!"