RENO, Nev. (NBC News/Phil Helsel and Ali Vitali) — Donald Trump was rushed off stage by the Secret Service while delivering speech in Reno, Nevada, Saturday night after someone in the crowd yelled "gun" but no weapon was found.
"Immediately in front of the stage, an unidentified individual shouted "gun". Secret Service agents and Reno Police Officers immediately apprehended the subject," the Secret Service said in a statement.
"Upon a thorough search of the subject and the surrounding area, no weapon was found," the statement said.
Trump was removed from the stage mid-speech at around 9:05 p.m. ET. The Republican nominee returned to the stage minutes later and was defiant.
"Nobody said it was gonna be easy for us, but we will never be stopped," Trump said. He thanked the Secret Service, and continued his speech.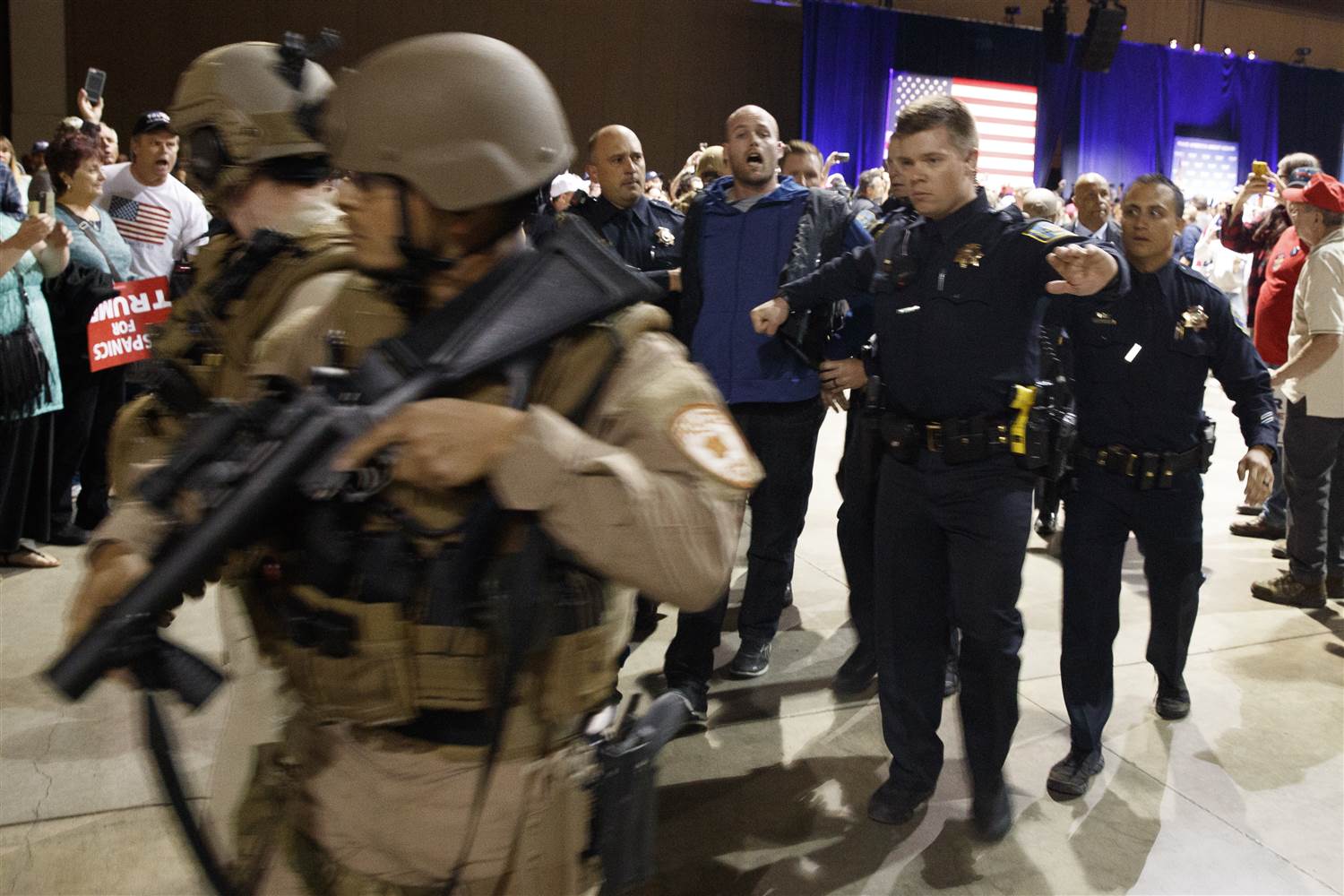 The person taken from the crowd by authorities was a white man in a jacket who appeared to be handcuffed.
"I would like to thank the United States Secret Service and the law enforcement resources in Reno and the state of Nevada for their fast and professional response," Trump said in a statement shortly after the rally.
"Nothing will stop us — we will make America great again!" Trump said in the statement.
In Las Vegas in June, a British man was arrested after allegedly trying to grab a gun from a police officer at a Trump rally and he later told investigators he wanted to kill Trump, authorities said. He never got the weapon.
Suspect Michael Sandford, then 19, told investigators he tried to grab the gun "to shoot and kill Trump," and that he thought he would be killed by police in the attempt, a Secret Service agent wrote in an affidavit.
Prosecutors said Sandford went to a gun range a day before and practiced shooting a Glock handgun. Sandford's mother said her son had "a lifetime of mental health problems."
In March, Trump was rushed off stage at a campaign event in Dayton, Ohio, after a disturbance broke out behind him. A 32-year-old man was arrested and charged with misdemeanor counts of disorderly conduct and inducing panic in that case, authorities said at the time.
Trump is crisscrossing the country to hit several key battleground states in the final sprint to the Nov. 8 election.
Read the latest at NBCNews.com