So here's the thing...I don't normally blog. Been meaning to, of course. Just like I've been meaning to early vote. But I digress. Such a procrastinator, really. I put the "pro" in procrastination. Doesn't make me a bad person...I don't think.
Anyway, when I do blog, I choose a weather forecast that gives me several elements to discuss. This is one such occasion.
First of all, how about the Hump Day beauty that we saw?? Low 60s for highs in many Maine neighborhoods, including 62 degrees in Bangor and 61 in Portland. Hope you got outside a bit.
I see things changing in a hurry on Thursday, though. A Midwest system brings us rain, and it will be steady.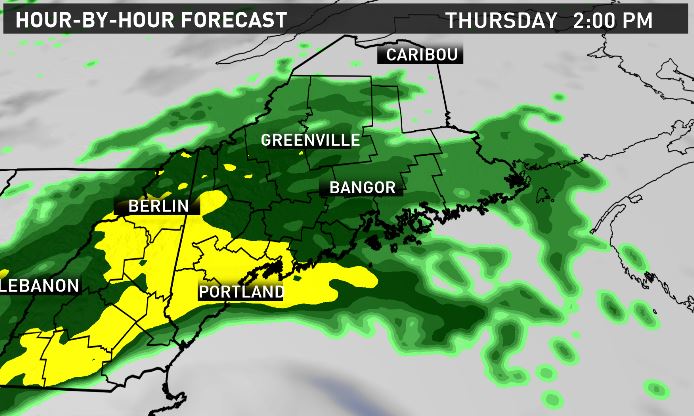 Take your rain gear. This is the 3rd good soaker over the last two weeks. Back on October 21st, 3.81" of rain fell on Portland (for example), and 2.24" fell on the 28th. A nice 1-2 punch to help a state greatly affected by drought.
*Side bar: We received almost as much in October alone (8.36") as we did in September, August, July, and June COMBINED (8.88").
At last analysis, this system doesn't promise quite as much. HOWEVER, the latest higher-resolution computer guidance does allow for some localized amounts over an inch.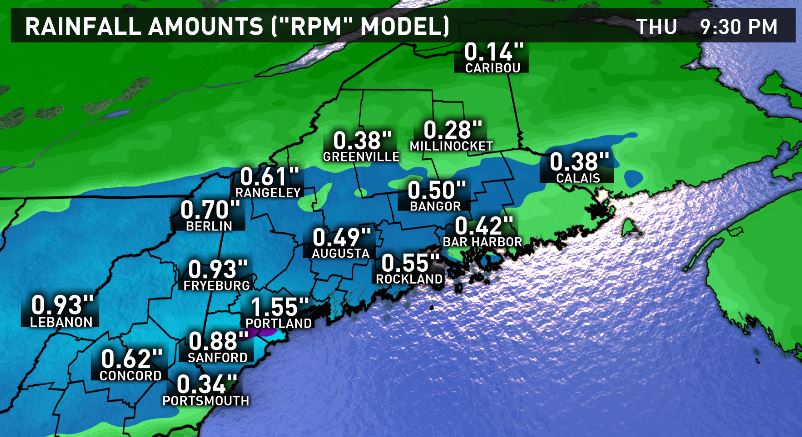 Maine meteorologists posing as Vegas bookies would put us between 0.5" and 1 inch. That's where I'm putting my money. *Gambling reference a metaphor...not actually being placed...as far as you know. Then again, forecasting is a little like a gamble. I think you get my point. Digressing yet again.
In the wake of the rain, we return to the more familiar chill of Maine in November. This is in stark contrast to what's happening nationally. MONTHLY records are falling in many U.S. cities.
Slew of record daily/monthly record highs set yesterday and today! Details: https://t.co/sHAneJJYez pic.twitter.com/HRgpimT46K

— Capital Weather Gang (@capitalweather) November 2, 2016

I mean, just look at the forecast jet stream for Friday. Maine is cool indeed...while everyone is keeping shorts and t-shirts handy. This jet pattern, by the way, continues over the weekend. It remains "trough-y" for New England.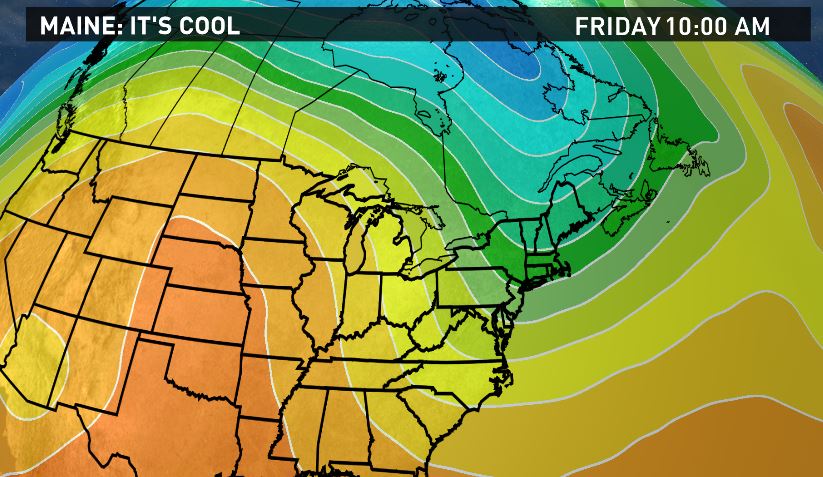 And that brings me to the final element of this late-week/weekend outlook: the risk of flakes. Look, it's not a big deal. But I'm doing my due diligence, and covering my you-know-what, by telling you of the risk of flurries or scattered light snow showers for a spell on Saturday.
Maybe it puts you in a holiday mood.
Speaking of the holidays, can we stop with the Christmas stuff already?? Find me a SAVE THANKSGIVING bumper sticker, and it's going on my car. Thanksgiving has always been a favorite holiday of mine. Let's not overlook it, eh?
But I digress..