PORTLAND, Maine (NEWS CENTER) — Alex Gray, founder of Waterfront Concerts, pleaded guilty to domestic violence assault charges Friday in Cumberland County Superior Court following a heated incident earlier this year.
The 41-year-old changed his original plea of not guilty under a plea agreement between both parties just days before a trial was set to take place. His conviction will be deferred for one year and the charge will be dismissed after that time as long as Gray meets certain conditions set by the court, which include no contact with the victim and Gray's former girlfriend, Erica Cole.
In the courtroom Friday, 32-year-old Cole tearfully read a statement directed at Gray, "I hope that throughout your lenient probation period, you evaluate why you got here and get the help that you need."
In her statement, Cole described her relationship with Gray as abusive and controlling, and said the entire process showed her why many women choose to stay quiet about domestic abuse.
The argument between Gray and his former girlfriend took place at Nicholas Court on March 12, 2017, after Gray reportedly demanded to see his then girlfriend's cell phone and she tried to leave. Cole told police that during the incident, Gray knocked her to the floor, strangled her and repeatedly struck her head on the floor.
In a statement read by Gray in court during the change of plea hearing Friday, he took responsibility for the ordeal, apologized to Cole, and expressed his past desires to some day start a future and a family with her.
While Gray did admit to "violating" Cole's "personal space" during an argument that caused them to "fall to the floor," he denied Cole's account of what happened that night in March.
"Erica and I very much disagree about what happened that night," Gray read from his statement.
He went on to say, "I did not put my hands on her in any violent way. I did not choke her, and I did not slam her head onto the floor. I have never and would never put my hands on a woman like that. I would never do anything to intentionally harm Erica."
Waterfront Concerts founder pleads guilty to a domestic violence charge against a woman who was his girlfriend. https://t.co/gHuWyDLD0B pic.twitter.com/1f7ljiCpod

— WCSH 6 (@WCSH6) October 27, 2017
Outside the courtroom Friday, Gray apologized to the city and the sponsors of Waterfront Concerts, "I would first like to say to Erica that I am very sorry for what occurred on the morning of March 12th," Gray said. "As I've said to my sponsors and the city, I am sorry, I wish I could take it back."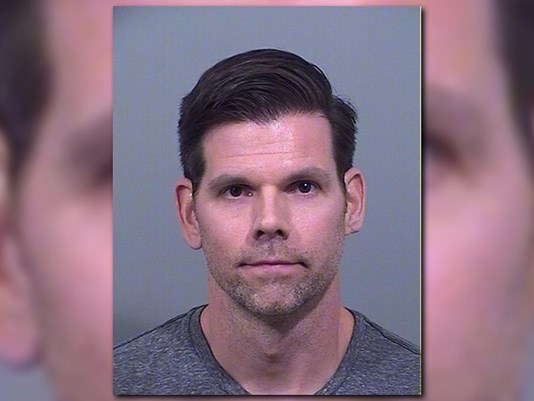 Gray was arrested on March 17, 2017. The Waterfront Concerts take place in Bangor and Portland.