FREEPORT, Maine (NEWS CENTER) — The man who placed second in the Maine men's category at the 20th annual Beach to Beacon 10K got the gold treatment Thursday.
Rob Gomez was given a 2017 Beacon Box for his outstanding display of sportsmanship at this year's race.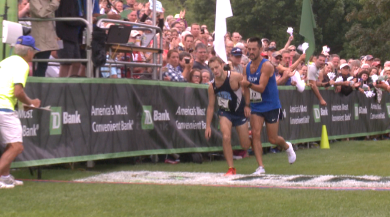 Gomez helped falling runner Jesse Orach cross the finish line first, giving Orach the title of Top Maine Men Runner and a cash prize of $1,000. Gomez finished in second place.
.@therealrobgomez to receive honor from @Beach2Beacon10K for his sportsmanship https://t.co/6mufLLDvtE (via @PressHerald) pic.twitter.com/oWSS2NyN04

— Liam Nee (@LiamNee) August 10, 2017
Beacon Boxes are awarded annually as trophies for the winners of the race.
Race founder and Olympic gold medalist Joan Benoit Samuelson presented Gomez with the Beacon Box at 4 p.m. at Thos. Moser Showroom in Freeport.