RUMFORD, Maine (NEWS CENTER) - Twenty-two people are displaced after a raging fire quickly spread through a Rumford apartment building Saturday.
Sunday, several neighbors were there to watch firefighters continue to put out hotspots. They say everyone managed to survive the fire and make it out of the building thanks to an unlikely hero.
"It does feel good to know everybody got out," said Walter Fish Jr. He spent the entire day Sunday watching firefighters work on the burned down building at 206 Cumberland St.
Just thinking about Saturday's fire makes him emotional. "When you see people lose stuff like that, it's just a really sad thing," he said. He doesn't even live there - but he was visiting his girlfriend when the fire broke out, and he became a hero.
"He said, 'You guys need to get out now,'" said his girlfriend Donna Ulmer. "I grabbed the kids wrists and I came over here and then he went back in. Scared the crap out of me. I still can't get it out of my head."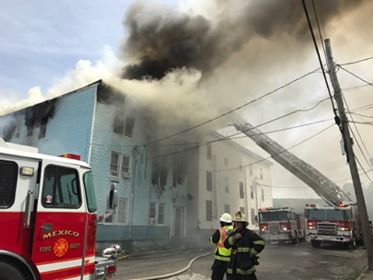 Walter went back inside the burning building to make sure everyone made it out safely - from older residents like Richard "Red" Downs, to the animals. His arms and stomach are covered in scratches from throwing cats out of apartment windows.
"Red" didn't understand what was going on at first. He says Walter kicked his door in and forced him out of his first floor apartment. "He practically had to drag me down the stairs," he said. "If it wasn't for him, I'd be gone."
"If he didn't go back in, I know red would have died," added Ulmer. "He would've died. He dragged him out. And if it wasn't for Walter, me and the kids wouldn't be here."
Walter is humble, and doesn't react to all the praise. "When you're the first person to see it, you've only got so many minutes," he said. "You've either got to help or not. And I just wanted to go help."
The fire marshal will be at the scene on Monday at the earliest. At this time, firefighters still don't know the offical cause of the fire.
Residents lost all of their belongings inside. Much of the top floors crumbled down, but firefighters aren't sure if any of the structure can be saved.